Make Your Photos Insta Worthy with the Instagram Bag from Paper Bag Co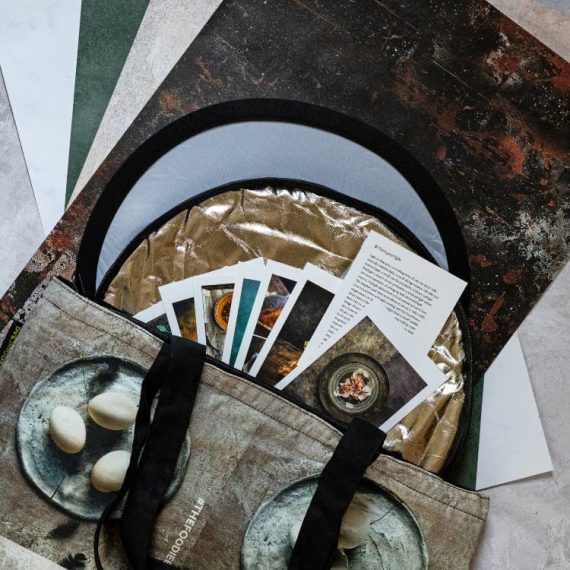 This is a commissioned post in collaboration with Paper Bag Co.
With an estimated 500 million active users uploading 95 million photos and 250 million stories every day, Instagram has become an everyday part of life for many. For a huge part of the Instagrammer population, capturing the perfect photo of their food is now just as crucial as the food quality. Food photography is a big deal!
As we strive to create content to engage and increase our number of followers whilst battling with the Instagram algorithm's enigma, creating fabulous food photography and styling becomes even more important. Let's face it, the better the photos, the more engagement you will receive and the more popular your Instagram will become; and, subconsciously at least, that is the goal.
Purchasing professional food photography equipment, props and backdrops can become very expensive, and I daren't think how much I've spent over the years on building up my trustworthy kit. One of the biggest problems I and other freelancers, bloggers, and hobbyists face is 1) kit storage space and 2) space to set up a shoot.
Here's where Paper Bag Co's Instagram Bag comes to the rescue. Featuring a pop-up reflector/diffuser, four photographic backdrops and eight postcards filled with photography tips from food photographer Matt Inwood, the super-sized Instagram Bag is the ultimate kit for any passionate foodie looking to take their [phone] camera skills to the next level. All, for the bargain price of £39.95 incl. P&P (correct at time of publishing).
Tote bag
Not only does the Instagram Bag contain an array of helpful items, but they're housed in a stylish black tote bag with a generous size shoulder-length handle. There are two food inspired different designs on either side of the bag. Inside, you have an internal pocket and mesh divider section. The bag has a zip closure to keep your valuables safe. The bag is ethically sourced and made in a Sedex compliant factory. It's lightweight and durable, so perfect for easy carrying.
Reflector and diffuser
The 15″ five-in-one pop-up light reflector and diffuser that comes with the Instagram bag have been beneficial.
This 15-inch photographic reflector and diffuser will help you to brighten and enhance both highlights and shadows on your photos. You can either subtly or dramatically alter the lighting and colour in all of the images you create to make that special to your brand. The diffuser is particularly helpful to put in front of a window to soften the sunlight and prevent shadows.


Reflectors take a little practice to get used to, but they soon become an invaluable tool in the photographers' box of tricks.
Beautiful backdrops
One of the biggest selling points of the Instagram Bag is the four photography backdrops included inside the bag. Created by the fabulous Black Velvet Styling (a backdrop and prop company I have used many times), these beautiful, top quality backdrops will enable you to transform your plate of food into a culinary masterpiece fit for the 'gram. In the bag, you get a variety of starter colours and textures to experiment with.
However, the backdrops are made from heavyweight paper and as a result, they're not water-resistant; they're not overly durable or long-lasting if you're not very careful with them. Similarly, as they're A2 in size (42.0 x 59.4cm), they work well for capturing small plates or for product photography, but you might need to invest in larger backdrops to shoot bigger scenes.
If you're new to the world of photography backdrops, experimenting with the backdrops included in the Instagram Bag could help you to gain a feel for what kind of backdrop you might like to invest in for use on a longer-term basis. Plus, as they're made from sustainable materials, you can recycle them once you've finished using them too.
Expert photography tips
Renowned phone photographer Matt Inwood shares some of his knowledge on how to get the most from shooting with your phone camera. Matt has been running critically acclaimed phone photography workshops for more than three years. He has created an exclusive set of ten beautiful postcards for the company, with tips on the reverse of each explaining how to use light, think about composition, choose your background and much, much more. I love these.
Is the Instagram Bag worth it?
At just £39.95, including next-day P&P, the Instagram Bag offers exceptional value for money; I reckon if you bought these items separately, you'd be looking at spending over £100.
If you've been wondering whether to buy this, do it – you won't regret it. Similarly, if you know a passionate photographer looking to up their skills, this would make for a truly thoughtful gift.
The bag is marketed as great for food bloggers and content creators for Instagram, but I think it would suit all niches and platforms.
Order your Instagram Bag from the Paper Bag Co now
Pin for later
Keep up to date with Culinary Travels
Make sure you subscribe to my newsletter to avoid missing out on any of my bonus content. I promise not to spam you or bombard your inbox. You can also follow me on my social media, Facebook, Instagram, Pinterest and Twitter. I love to interact with my followers and truly appreciate it if you share any of my content.