The Irish Cookbook by JP McMahon - Book Review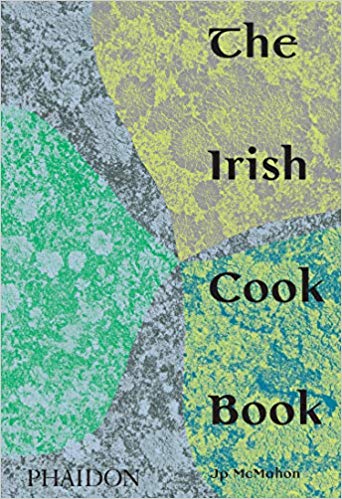 What do you immediately think of when you hear the term "Irish food"? Stereotypically, it's often thought to be potatoes, bacon & cabbage, stew and cooked breakfasts but there is so much more to it than that.
While much of Ireland's cultural heritage has been collected and archived by folklorists and historians over the years, there is a lack of knowledge on Irish food, recipes and cuisine.
Curl up with some tea and The Irish Cookbook and prepare to be immersed in food. Let McMahon take you on a comprehensive tour of the past, present, and future of Irish cooking through this thoroughly researched collection; which evokes the warmth, hospitality, and culinary spirit of the Emerald Isle. In this hefty book, McMahon attempts to tackle Irish cuisine with a scope that goes far beyond modern restaurant food, delving back to pre-Neolithic times, and in a scholarly introduction titled A Little History of Food in Ireland; he forms an attempt to answer the question; What is Irish food?
The book is, as with all the Phaidon publishing, pleasantly laid out with two or three recipes per page, opposite a spacious full-colour photograph of a plated dish. The photography is stunning, the kind that makes you want to grab some cutlery and dive right in.
Organised into 15 chapters, McMahon comprehensively covers Ireland's rich and diverse natural larder from the superlative seafood, poultry and wild game, pork, lamb and beef dishes to cooking with wild plants and seaweeds.
Recipes for bread, cakes, desserts and preserves are also featured in absolutely divine recipes. The hard part is deciding which to cook first. This is a book you can turn to whatever your Irish food needs.
JP McMahon is a renowned chef, yet his recipes are not 'chef-y' and follow a mostly 'home cooking' style, rather than complex recipes. On the whole, the recipes do not require you to obtain obscure or particularly expensive ingredients that are used only the once and then get relegated to the back of a kitchen cupboard never to see daylight again. There is, as with McMahon's restaurant menus, a strong reliance on using local, seasonal produce from the best suppliers you can afford - after all ingredients matter.
In addition to the recipes, McMahon provides a useful foraging guide for the more adventurous cooks. Included are a variety of wild plants, seaweed, and mushrooms. Plus a fabulous bibliography so that you can continue to expand your knowledge of food history as you wish.
Overall, The Irish Cookbook is an impressive read and one that will put an often undervalued cuisine in the spotlight. As the Telegraph points out, The Irish Cookbook is "A tome of recipes to savour, peppered with the Emerald Isle's food history". If you have an interest in Ireland and the country's culinary history you need to add this beauty to your bookshelf.
Hardcover: 432 pages
Publisher: Phaidon (2020)
Language English
ISBN-10: 1838660569
ISBN-13: 978-1838660567