A Guide to Cork - Travel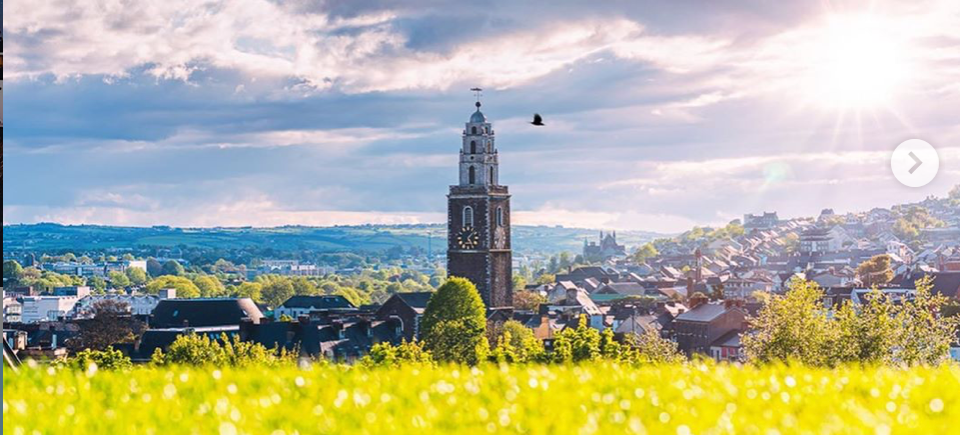 "It's always Cork first and Ireland second," said Roy Keane in RTE documentary, Have Boots Will Travel. Cork (Corcaigh) is a city with a little bit of everything and a touch of magic. In this guide to Cork we will explore the magic of the city.
Ireland's second city is located in the south-west of Ireland, in the province of Munster. The city centre is an island positioned between two channels of the River Lee which meet downstream at the eastern end of the city centre, where the quays along the river lead outwards towards Lough Mahon and Cork Harbour, one of the largest natural harbours in the world.
Ireland's 'rebel city' is often just a starting point for exploring the rugged wild Atlantic west, but with a cracking food scene, great pubs and fantastic historical sites, there are plenty of reasons to linger
Known to be rather hilly Cork offers some fantastic walks and views. In the fantastic The Glorius Heresies, McInerney describes Cork as looking "spread out in soft mounds and hollows, like a duvet dropped into a well" and I suppose when your looking down from the Northside that is true enough. Beautiful city, so.
Not only is the city beautiful but it is exceptionally friendly too. So friendly in fact that it was recently voted the world's third most friendly city. It is a small but bustling city (referred to locally as 'town'), full of charm and a locale who are likely to acknowledge you and engage in friendly conversation.
As Stevie Grainger points out Corkonians are "blessed to have an amazing selection of great cafes and restaurants having an amazing community for food which also feeds into arts and culture so it's a great place to live". I am not (yet) lucky enough to enjoy life in Cork permanently but I do try to visit the Rebel County at least once a year, often more so. Not being able to travel as made me "home away from home" homesick and hence this post was born.
Please, do be aware that due to the current pandemic many of the below-mentioned places are not currently open. Don't be disheartened, bookmark them to visit later. It will be more important than ever to support small, local businesses who will have to work harder than ever to keep their livelihoods going with new regulations and social norms.
Where To Stay?
Whatever your budget Cork City has an accommodation option for you. There are many places to choose from and I have featured one Southside hotel, one Northside hotel and a budget hostel option.
The Imperial Hotel on South Mall in the heart of Cork City is my 'go too' hotel when I'm staying in this beautiful city. The Imperial's location is unrivalled being only a short stroll from the main shopping streets and probably most important of all the world-famous English Market.
The hotel was the first in Cork and is steeped in over 200 years of history and tradition, probably most famously for having Michael Collins stay the night before his assassination. The Imperial is often being referred to as the 'Grande Dame' of Cork.
The Imperial manages to hold on to its old-world charm both through the luxurious decor and the exquisite customer service offered - the staff could not be more helpful and welcoming.
The Imperial Hotel is also home to a couple of fantastic places to eat and drink, but more about them later. If you fancy a little pampering you could always head to the Hotel's Escape Spa where they offer an array of relaxing treatments. How bad?
Hotel Isaacs is a gorgeous boutique hotel located on the North Side of the River Lee.
The Hotel in the heart of Cork City's Victorian Quarter which is an absolute gem to stroll around and take in the City's history and find some great 'local' shopping too.
Unusually for a city centre hotel, Isaacs has a view of a waterfall (in their somewhat secret garden).
As with the Imperial Hotel, Hotel Isaacs has a fabulous restaurant and bar on-site, which is a great selling point to a solo female traveller like me.
Kinlay House is a hostel located in the shadow of St Anne's Church, Shandon. Centrally located budget accommodation which offers both dormitory or individual rooms (single or double) for those who like a little more privacy.
Where to Eat & Drink:
Ali's Kitchen Cork is owned and run by chef Ali Honour. She specialises in creating seasonal, "flavour busting" food. Ali changes the menu changes every week meaning that you'll be forever spoilt for choice no matter how many times you visit.
Ali has also recently begun offering a variety of takeaway options so you can grab a tasty treat on your journey too. "Ali's vision is to bring a new sort of food vibe to Cork. She aims to share her pure love of food with people and to make them smile with her food" And, this she does day in day out with her magnificent bakes.
My favourite is her French Toast, in fact, I've never tasted better. From cakes to brunches, to lunches and splendiferous dinners, Ali's has it all. Don't these photo's make your mouth water?
Arthur Maynes or Maynes as your more likely to hear, is a pub on Pembroke Street, literally around the corner from the Imperial Hotel, and as such, it generally becomes my 'local' when I'm in Cork. No bad thing as this pub is full of atmosphere, fabulous drinks (local craft beers, wines and spirits etc) and a fabulous, albeit small, menu with the food freshly cooked to order. As with many places in Cork the ingredients are sourced locally and seasonally.
Upstairs at Maynes is another atmospheric seating area, but up there they specialise in some rather splendid cocktails.
The building itself was previously a pharmacist and, thankfully, all the old apothecary is kept on show behind the bar and in display cases.
Mayne's is a very cosy pub and very old fashioned feeling building but the vibe is young and friendly. A definite must-visit.
Is it just me or does it feel like the cast of The Wind That Shakes the Barley, with Corkman himself Cillian Murphy, should be sitting around those tables?
Cafe Izz is a taste of Palestine in Cork. Run by an immigrant family, they aim to bring Palestinian food with a modern twist to the city. Right now they are offering take away food but hopefully, it won't be long until full-service return.
Cafe Izz turned one last month and they wanted to say they are "amazed by the kindness and support Cork has shown them as refugees
.
Cafe Marius is located in the English Market; their mission is to "take pride in offering local products, working exclusively with County Cork farmers and traders at the market to promote the importance of shopping local and supporting other traders". They're a great place to stop for a coffee and a chat or to pick up some items for a picnic.
Dennis Cotter's Cafe Paradiso is an institution in the Cork dining scene. First opened in October 1993, Paradiso has continued to gain national and international acclaim for the innovative and groundbreaking vegetable cuisine. Once again, Cotter emphasizes seasonal, local produce, cleverly combining them to create some outstanding dishes.
Cask is a sister venue of neighbouring Hotel Isaacs Cork and Greenes Restaurant. Opening in 2007 Cask embraced the quirkiness of the property and worked hard to keep the original features, making a comfortable, interesting stop for a cocktail or two and bite to eat from their delicious menu or perhaps pre/post eating at Greene's.
Cask has a seasonal and seasonal-inspired, farm-to-glass drinks menu. The seasonal cocktail menu changes every twelve weeks and is based around what wild ingredients are available to access at that time of year. Cork stories and characters often influence the names of and flavours in their cocktails, e.g, a Farran Woods cocktail features young spruce shoots and new season nettles that are foraged from Farran Forest Park in Co Cork.
A commitment to using local and Irish ingredients wherever they can is also important to the Cask team. Cask is apparently the only bar in Ireland that doesn't use citrus on their menu, as it doesn't fit with their otherwise sustainable practices.
Fairly expensive but well worth it for the experience.
Coqbull Restaurant opened in Cork City 6 years ago and combined the old industrial feel with a cool and funky interior look, They focus on casual dining focusing on serving delicious chicken, burgers and pizza with a host of interesting accompaniments, craft beers and their signature Coqbull Coqtails.
The interesting name CoqBull originates from the simplicity of the locally sourced ingredients (chicken and beef with a few extras), with a tongue in cheek attitude! Coqbull is great for friends or family wanting an informal dining experience. the menu is laden with great sharing options like platters, wings, ribs, as well as a range of burgers, rotisserie chicken & chorizo fries, plus some healthy options like organic salads etc.
They also have a great outdoor seating area, which given their location on French Church Street is great for soaking up the laidback Cork vibes.
Electric is housed in a beautiful blue art-deco building. Split over three main areas, there is something for everyone - bar, restaurant, fish bar and a gorgeous sun trap of an outdoor area next to the boardwalk between Grand Parade and South Mall. Riverside eating for the win.
Farmgate Cafe One of the first things I do when I return to Cork is head to the Farmgate Cafe, located above the English Market.
My aim, to get a pot of tea and a scone or slice of brac and sit looking down over the rail at the activity below. The Cork lilt, noisy around me and, that's when I know I can relax.
The Farmgate Cafe is split into two sections. One the self-service section where I get my tea and scone and the other, a table service section where I often go for breakfast or late lunch. If you only get to the Farmgate once make sure it's for breakfast - their Market Breakfast (yes, you guessed it, all produce sourced from the English Market) is stunning. The menu consists of traditional Irish / Cork favourites with a modern twist. Do give the Cork dish tripe and drisheen a try for the experience in it.
Good Day Deli is described as a "Sustainable Foods Cafe" serving a mix of healthy, local, seasonal, organic and fair trade foods with a commitment to sustainability throughout their food chain. There is a presiding influence of the South Pacific, particularly from New Zealand and the Cook Islands where co-owner Kristin is from.
For me, the highlight of the Good Day Deli is the location, in the sanctuary of Nano Nagle Place.
Hillybilly's Fast food isn't my usual go-to option when I'm holiday but, to leave Hillbilly's out of this list would be to do a disservice to Cork. Hillbilly's is now a big brand and have stores across Ireland but they began in Cork. They became famous for their secret recipe chicken, which features in the "breast in a bun" and signature gravy which remains unchanged to this day. Only open for takeaway at the moment and with altered hours, but, on any normal weekend, I'd say they'd be pretty popular after a good night out in Town.
Idaho is run by the fabulous Richard & Máiréad Jacobs, Richard front-of-house and Máiréad the chef. Their cafe is bijou but the small space is always 'jointed' - Cork slang for full to the rafters. No matter though, Richard and co are always full of fun and banter, and the best thing, you get welcomed like an old friend.
Located on Caroline Street just behind Brown Thomas it is rather a hidden gem and perfectly located for a treat mid-shopping spree.
Richard describes Idaho as "a small, daytime café, serving breakfast, brunch, lunch and rather good cakes. We use the English market as our walk-in cold room, using great Cork food products daily, on our menu since 2001. Recently we have started growing all our own herbs, lots of vegetables and apples from our orchard. We serve the food we love, with love".
Iyers is a South Indian restaurant on Pope's Quay, run by Gautham Iyer. Iyer is quoted as saying "I really like food. My core philosophy is this: you could eat poison, but if it is served in an attitude of love and you consume it in an attitude of calm, you will digest it. It's the Prana, or life force, in the food and in your presence that matters: it either costs you effort or it gives you power." The food is vegetarian and flavour packed; you will certainly not be missing the meat.
Lafayette's Brasserie Located in Cork's Imperial Hotel, Lafayette's is like stepping into a piece of art. The stunning decor is that of the 1920s and the brasserie is a hive of activity. From guests enjoying a relaxing break to shoppers enjoying a reviving tea and cake to business persons having a meeting over delicious meals. The ingredients are sourced locally, from the English Market, where possible.
Keep an eye open for their forthcoming "Once upon a Tea Time" menu, which is inspired by some of the Imperial Hotel's most well-known guests, the Princess Grace pastry is an elegant Pistachio Crust choux with Raspberry Gel & Pistachio Disk created and handmade on site. A Strawberry Macaroon Ruby Whipped Chocolate Ganache will tempt any taste buds, while the Michael Collins' Cocoa Berry Chocolate Mousse with Espresso & Midleton Rare Irish Whiskey and Charles Dickens' Banana Loaf provides a couple of sharper bites. For those that prefer more savoury mouthfuls, a Cold Smoked Irish Salmon and Fresh Dill sandwich served on Doty's Brown Bread catches the eye. Additional choices include an Ardsallagh Goats Cheese Tartlet, Hereford Beef, Rocket and Horseradish on Brioche Bun, Poached Egg & Chive with Light Mayo or the refreshing Cucumber & Yoghurt on O'Keeffe's Loaf. The finger sandwich selection is complemented by freshly made raisin scones, served with Irish butter and jams.
Bastien Peyraud General Manager of the Imperial Hotel says "Here at the Imperial Hotel, we're very proud of our unique history and the many tales we have from guests that have come to stay with us over the years. Some of those have inspired a new 'Once Upon a Tea Time' menu that we hope will capture the imagination and offer an enjoyable way to spend a couple of hours with family and friends while being well looked after by our hospitality team."
Mar­ket Lane is an award-winning restau­rant and bar sit­u­ated on Oliver Plunkett Street, which is lined with shops, cafes and pubs, Market Lane has a menu mixing traditional Irish ingredients with a dash of continental flair. It's a great spot for those planning a long night out in the town, as it also has a splendid early bird menu. Where pos­si­ble they use ingre­di­ents from The Eng­lish Mar­ket and local arti­san pro­duc­ers to make up the menu which has a wide range of fish, sal­ads, meat, game and sand­wiches, in addi­tion to coeliac and veg­e­tar­ian dishes.
Mutton Lane Located in a laneway next to The English Market, this small cosy pub would be easy to miss. It used to be where live sheep were run into the market for sale.
Venture inside this small dark and cosy pub, for a drink and some good conversation.
It gets very busy in the evenings with the crowd spilling outside to sit on beer barrels down the lane. Be sure to take a look at the stunning mural outside painted by local artist Anthony Ruby.
Nash 19 is located in the heart of the City on Princes Street, a stone's throw from The English Market. It is run by the lovely Claire Nash and has been in situ for 28 years. Run by a fantastic, friendly and welcoming team this is a true Cork institution that is superb for a long lazy breakfast, lunch or dinner. Popular with Corkonians and tourists alike which is always a great sign. Nash19 work closely with an amazing bunch of regional growers, farmers and producers.
O'Flynn's Gourmet Sausages O'Flynn's Gourmet Sausages are located in The English Market and on Winthrop Street, both stores run by a fabulously friendly bunch.
They are fabulous for grabbing breakfast or a quick snack on the run - sausage sandwiches with fabulous toppings and perfect fried potatoes. They also sell packs of their locally produced fantastic sausages in an array of varieties. Many of the sausages and sandwiches have a Corkonian twist on the names such as Cork Boi, Hodder's Lane, The Pana Dawg etc.
Be aware you'll get the taste for these traditional Irish sausages and will be needing to order them online too!
Quinlan's Seafood, a family business, have Seafood bars Cork, Killarney, Tralee and Killorglin. Quinlan's obtain all their fish and seafood from their own boats and fish factory. They offer fresh fish and shellfish that are locally and seasonably sourced. From the more traditional fish and chips to chowders and seafood platters, there is something for everyone at a really decent price.
Salt is another great place to eat, and again in keeping with most other traders, they shop locally sourcing most of their ingredients from The English Market. Their most popular item on the menu according to owner Celine is the Kiwi Brunch - "poached eggs, smoked bacon or artisanal smoked salmon, pickled onions, guacamole on toasted biggie bread" and it's easy to see why - what a flavour bomb!
They are currently only operating on a takeaway service but fingers crossed we can be back to normal soon.
Seventy-Six on the Mall Located in the Imperial Hotel Cork, Seventy Six on the Mall is a popular bar with a couple of light menu options - a meat and cheese platter. The interior of the bar was inspired by the work of the great Irish architect and interior designer, David Collins; in keeping with the rest of the hotel, the bar is opulent and luxurious, with a multi-tone blue decor. It is the perfect place to have a relaxing nightcap before returning to your room, or it makes a great location to have a relaxed evening with friends.
St Peters Cork Located on North Main Street, St Peters is somewhere you might wander past without giving another thought.
That'd be an awful shame as it is a recognised heritage centre with regular exhibitions and a fabulous hidden garden where you can take a moment for peace and reflection (and enjoy a rather fabulous cake & coffee) away from the hustle and bustle of city living.
The English Market is at the heart of Cork City. It has served the people of Cork in the face of famine, flood, war. recession, and continues to do so now in the face of a pandemic with an albeit altered system in place.
But, I hear you ask, why the "English" Market? Well here's a bit of history for you: "The Market was created in 1788 by the Protestant or "English" corporation that controlled the city at that time. It was a new flagship municipal market located at the heart of the new commercial city centre. When local government was reformed in 1840, and the representatives of the city's Catholic, "Irish" majority took over, they established another covered food market, St. Peter's Market (now the Bodega Bar on Cornmarket Street), which became known as the "Irish Market" to distinguish it from its older counterpart which remained associated with its English creators. It is thus that the name "English Market" dates from this era of transition." (Cork City Council).
Lisa McInerney's description in The Blood Miracles (a very Corkonian must-read by the way) is enough to pull my heartstrings for the City - "You could do it all day, inhaling. The coffee, the sugar, the chocolate and warm cakes, the rain kicked in on people's shoes, the cheese, the tang of olives, the butcher stalls at the entrance, the smell of salted, raw, clean, cold meat, the air then that hits you from the street outside".
Whatever you want, food-wise and often other items as well, you can find it in The English Market providing you are willing to shop locally, seasonally and thoughtfully. Who needs supermarkets?
Go on up to the Farmgate for a cup of tea and sit looking down over the shoppers and traders, take in the chatter - rough and rapid Hiberno-English dialect, accents, local colour. I'd go so far as to say the best language, not to mention accent in the country but I may be biassed, like.
The Hi Bi Another rather fabulous and quirky Cork pub. A great place for a pint of the local stout (Murphy's or Beamish) but beware there's a ban on mobile phones - this is a place to chat and make new acquaintances not sit screen watching.
The Long Valley
The Long Valley on Winthrop Street is a proper old fashioned type of pub. Famed locally for their huge doorstep style sandwiches (which you can also get toasted), a must-try is the local spiced beef. A fabulous stop for lunch.
The Roughty Foodie is located in the heart of the English Market and is a small Irish family-owned business. Run by the fabulous Margo, it is unsurprising they have won awards - namely Winner of Food Emporium of the Year 2017 and Cork Business Woman of the Year 2017.
Stop by to pick up your picnic essentials - fresh fruits, salad ingredients and cheeses amongst other local produce. Do not just walk on by,
Located on bustling Washington Street, just off Grand Parade, the Spit Jack is a popular place for meals throughout the day.
Fabulous food, drinks, staff and setting make this a great place to enjoy a relaxed meal with friends, family or solo. Grab a window seat if you can watch the world go by while you indulge in some beautifully cooked food. Traditional Irish dishes cooked with a modern twist.
The speciality is rotisserie-cooked meats, hence the Spit Jack name. My favourite dishes are the rotisserie chicken, bacon and stuffing sandwich and the porchetta with all of the trimmings. As with many places, Spit Jack is currently only offering take away but they have a vast menu and some great offers so do give them a try.
Located in a glass pod on Grand Parade Three Fools is the perfect place to get a great coffee whatever the weather. Grab an iced coffee to go and sit in Bishop Lucy Park in the summer, or in the rain take solace and sit looking out of the window watching the world go by. I like to savour a coffee or two and read a good book at Three Fools. Run by a fantastic, welcoming team there is no pressure to "hurry and leave", you are welcome to take your time but note it does get very busy as it is so popular.
Situated up Barrack street Tom Barry's is a little out of the way but it is a great pub with a really friendly, young vibe. The perfect place for a wood-fired pizza in their fabulous beer garden on warm summer evenings.
West Cork Burger Company offer mouthwatering burgers and accompaniments, homemade using local produce. Due to the current restrictions, they are offering a homemade burger box option - "Create your own West Cork Burger from the comfort of your home! This is a new experience, unlike anything you have ever done before. We will deliver our fresh ingredients to your house and provide you with detailed instructions on exactly how to prepare the burgers just like we do in our restaurant!" If I was in Cork I'd be jumping to try these out.
Places to Visit:
Most famous for the Blarney Stone which visitors can kiss and supposedly gain the gift of eloquence, but there is much more to Blarney Castle and Gardens than that. The gardens are a joy to stroll around, bringing you diverse surroundings from tranquil to serene, to mystical and magical places.
Plan to spend a whole day at Blarney, you'll need it to explore all it has to offer. Enjoy lunch at the Stable Cafe to refuel you for the rest of your days' adventures.
Located in the historic Shandon area of Cork, the story begins with the central role of dairy culture in the Island of Saints and Scholars. The Museum goes on to describe the internationally important Butter Exchange in nineteenth century Cork, the traditional craft of home butter making and the modern success of the Kerrygold brand. A great place for anyone interested in Irish or food history to spend a couple of hours visiting.
Take a trip out to West Cork to visit the town of Clonakilty and the fabulous Model Village.
Walking into the Model Village you step back in time and see life as it was in the 1940s. See the old West Cork railway line portrayed in delightful miniature serving the towns. The models and figurines are handmade at the Model Village to a scale of 1:24. A great experience, especially for families with younger children.
Cobh
Cobh (formerly Queenstown) is situated on the south coast of Ireland in County Cork, only a short railway or car journey from the city centre.
Cobh is most famous for being the departure point for 2.5 million of the six million Irish people who emigrated to North America between 1848 and 1950. These included Annie Moore and her two brothers – the first immigrants to be processed on Ellis Island in New York. On 11 April 1912 Queenstown was the final port of call for the RMS Titanic as she set out across the Atlantic on her ill-fated maiden voyage. The RMS Lusitania was sunk by a German U-Boat off the Old Head of Kinsale on May 7, 1915. The survivors were brought to the town of Cobh, and over one hundred victims lie buried in the Old Church Cemetery about a mile north of the town.
The Titanic Centre is well worth a visit, but also take the time to wander the town's streets and take in the brightly coloured houses. Maybe take part in a Rebel Walking Tour to gain more insight into Ireland's history too.
Cork City Goal is located in Sunday's Well and is walkable to from the city centre. Cork City Gaol, is a magnificent castle-like building which once housed 19th-century prisoners. Take a trip back in time and wander through the wings of the Gaol, accompanied by the shuffling feet of inmates and the jingle of the warders' keys.
The cells are furnished with amazingly life-like wax figures and Graffiti on the cell walls reveals the innermost feelings of some inmates. The audio-visual show will help you learn about the social history and contrasting lifestyles of 19th century Cork.
Crawford Art Gallery is a national cultural institution located in a significant heritage building in the heart of Cork city dedicated to the visual arts, both historic and contemporary. The gallery's collection comprises of over 3,000 works, ranging from eighteenth-century Irish and European painting and sculpture, through to contemporary video installations. The building is an oasis of calm in the city and it is all so easy to lose track of time as you wander through the exhibitions across multiple floors. There are regular tours to take part in also, giving you the chance to learn more about art history.
Make sure you pop to the cafe to indulge in a fantastic traditional lunch (the devilled kidneys on sourdough are a particular delicacy) or a sweet treat.
Elizabeth Fort offers free admission but if you'd like a tour there's a small fee of €3 (correct at date of publication).
Elizabeth Fort is a 17th-century star fort off Barrack Street. It was originally built in the 1600s as a defensive fortification on high-ground outside the city walls, the city eventually grew around the fort, and it took on various other roles – including use as a military barracks, prison, and police station. Even if you bypass the history, the Fort is well worth the visit for the views it offers across the city.
Fitzgerald Park on the Mardyke is just a short distance from the city centre. It is a great area when local and visitors can enjoy a stroll by the banks of the River Lee. It is a haven of quiet which has playground facilities, cafe and museum to explore. There are many sculptures in the park, one of which is of Michael Collins by Seamus Murphy. You can also cross the famous Shakey Bridge (Daly's Bridge( and wander across to the historic Sunday's Well area of Cork.
Fota House was designed by 19th-century architects Richard and William Morrison. From the beautifully proportioned rooms with exquisite plasterwork to the preserved service wing and kitchens, Fota House offers visitors an intimate look at how life was lived in the past, whether as a servant or as a member of the gentry. You can also stroll around the beautiful gardens.
Fota Wildlife Park, part of the Zoological Society of Ireland, is located on 100 acres at Fota Island. Their vision is to inspire people to understand and conserve the biodiversity of our natural world. The Park's core values of conservation, education, research and entertainment have ensured that they bring the best in facilities and animal care to the sanctuary.
A great day out for all.
Kinsale
Originally a medieval fishing port, historic Kinsale (from the Irish, Ceann tSaile – 'Head of the Sea') is one of the most picturesque, popular and historic towns on the south-west coast of Ireland.
Kinsale is a stunning place with its beautiful setting; its long waterfront, yacht-filled harbour, narrow winding streets and brightly painted galleries, shops and houses. The impressive fortifications of Charles Fort and James Fort guard the narrow entrance by the sea – giving clues to its rich history.
There are several guided walking tours (including an evening Ghost Tour) available and plenty of information at the Kinsale Tourist Office in the centre of the town. Known as Irelands Riveria it is twinned with Antibes, South of France, Mumbles, Wales and Newport, Rhode Island. Not only does Kinsale claim to be one of the most picturesque and oldest towns in Ireland, but it is also internationally renowned for the number and quality of its restaurants.
It has been hailed as 'The Gourmet Capital of Ireland', with no shortage of cafés, pubs and restaurants to suit every taste and budget.
Michale Collins House is located in Clonakilty. The "Big Fella" as Collins was often known, is a key figure in the fight for Irish Independence. The museum is dedicated to telling Collin's life story entwined with the history of Ireland's revolutionary history. The Michael Collins Centre is A family run interpretive centre and museum, located at Castleview just outside of the seaside town of Clonakilty. Tim and Dolores Crowley who are directly related to Michael Collins run the Michael Collins Centre. Tim's Grandfather, also called Tim Crowley was on active service during the 1916 Rising and was afterwards interned at Fron-goch Camp in Wales, in loft No 3 with Michael Collins. The Crowley Farmhouse at Letter, north of Clonakilty was HQ and safe house for the Clonakilty Battalion of the IRA during the War of Independence. One of the Crowley sisters Margaret was Adjutant of the (Cumann na mBan) in Clonakilty town, she used the Crowley farmhouse as a halfway house for despatches and other material being sent on to outlying IRA and Cumann na mBan units. You could easily visit both sites in the one day.
Honoria Nagle (AKA Nano) was born in 1718 to a wealthy Cork family.
Before her death in 1784, Nano had opened seven schools for poor children across Cork city, founded an almshouse for poor women, and most notably, founded the Presentation Order, who continue her education and social inclusion work today. The repressive Penal Laws at that time meant that education for Catholics was not available in Ireland (unless they were willing to attend proselytising Church of Ireland schools).
Since under the Penal Laws, operating a Catholic School could result in three months imprisonment, Nano had to work in secret. She began by opening a school next to our site at Nano Nagle Place in the early 1750s. This girls' school focussed on reading, writing, Catechism and needlework.
Within ten years demand for the education which Nano provided was such that she was operating seven schools across the city of Cork, teaching both boys and girls.
By day she visited each of her schools, and by night she visited the poor of the Cork city. This was dark and treacherous work. as the city streets were neither lit nor properly policed. Nano travelled by the light of the lantern she carried, and across the city of Cork she became known as 'the Lady of the Lantern'.
In 1771 she used money inherited from her wealthy uncle to build a convent for the Ursuline sisters, a teaching order, whom she invited from France. This convent survives as the oldest building at Nano Nagle Place today. Nano's tireless work in her schools across the city and for the poor of Cork could never have been done if she were a sister in an enclosed order, as the Ursuline sisters were. Thus, she founded her own order 'The Institute of Charitable Instruction of the Sacred Heart of Jesus' in 1775. She and three followers promised poverty, chastity and obedience to God until death, but they did not take enclosure and continued to teach and care for the poverty-stricken where they lived.
For five years, the small cottage near Nano's first school, on modern-day Douglas Street, just south of Cork city centre, was their first convent. Nano then built a small convent on the same street, where sisters from the order are again living today (albeit in a newer building on the site).
Nano Nagle Place is a place of sanctuary and peace in the city, offering space to sit and reflect, plus some great views over the city. Grab some food at the Good Day Deli whilst you while away some time contemplating. If Nano were alive today I'm sure she'd be the kind of person to be awarded a Nobel Prize for her efforts.
Saint Finbarr's Cathedral
At the top of town overlooking Grand Parade sits St Finbarr's Cathedral. It is a real Cork landmark and must be visited when you're in the Real Capital. The Church of Ireland property is very impressive architecturally with towering Gothic spires, but this belies an even more opulent interior. You can wander the beautiful grounds for free but there is a small fee to enter; well worth it though as there are guides to show you around and explain the fascinating history.
Seaside
There are many coastal areas to visit in County Cork, several are only a short drive from the city centre. Deirdre O'Shaughnessy recommends Shangarry, Inchydoney and Fountains Town being two other great places. If the weather is good, take a picnic and balm out on the beach. Just explore, Ireland's Wild Atlantic Way is beautiful altogether.
St. Anne's Church "Shandon Bells" is one of the oldest churches in the city built-in 1722. You can play the bells if you so wish but I'd recommend it for the 360-degree views of the city - you've to climb 132 steps to get that view though!
Spike Island is most famously known as Ireland's Alcatraz, but there's far more to the Island's history than that. In the last 1300 years, Spike Island has been host to a 7th-century Monastery, a 24-acre fortress, the largest convict depot in the world in Victorian times, a young offenders institution and centuries of island homes.
Today the island is dominated by the 200-year-old Fort Mitchel, the star-shaped Fortress which became a prison holding over 2300 prisoners. It was the largest prison in the world at the time and there has never been a larger prison in Ireland or Britain before or since. You can visit the island by boat from Cobh during the day, or if you're brave enough at night for a rather spooky tour.
The Triskel Art Centre is located in a renovated Georgian church and forms a cultural hub in the centre of the city; hosting musical events, art exhibitions, literary events and cultural cinema in a most beautiful setting.
University College Cork grounds are open the public to stroll around. It's well worth a look at the stunning architecture, which always reminds me of Hogwarts.
What a lovely place to study? I certainly wouldn't object to some Post Grad course completion there.
Wander the City Centre
Cork is a very walkable city. Have a stroll along the Lee to take in the sights and sounds of the city and the beautiful brightly coloured buildings. You'll never get bored.
If you think you're losing your geographical bearings just look for the Berwick Fountain on Grand Parade right in the centre of town.
Cork offers a wide variety of shopping possibilities. Patrick Street in the city centre is the traditional shopping area, with a wide range of department stores including Brown Thomas Penneys, Dunnes etc.
Opera Lane is the newest addition to Cork's retail district housing many well-known brands. Take a little more notice as you explore and you'll find plenty of independent, small stores offering an array of goods.
If you're feeling energetic head up Patricks Hill to the Northside and look down over the city. Hard work walking up the steep hill, but take your time and keep looking back, sure the view is worth it.
Wouldn't you like to be beside the Lee?
Pin for later
Thank you
With thanks to the following people for allowing me to feature their photography. Do have a sconce at their sites:
(Please also note that many of the companies featured also kindly provided photographic content).
Keep Up To Date with Culinary Travels
Make sure you subscribe to my newsletter to avoid missing out on any of my bonus content. I promise not to spam you or bombard your inbox. You can also follow me on my social media, Facebook, Instagram, Pinterest and Twitter, I love to interact with my followers and I'd truly appreciate if you were to share any of my content too.