Cold Brew Coffee with Lola's Coffee Bags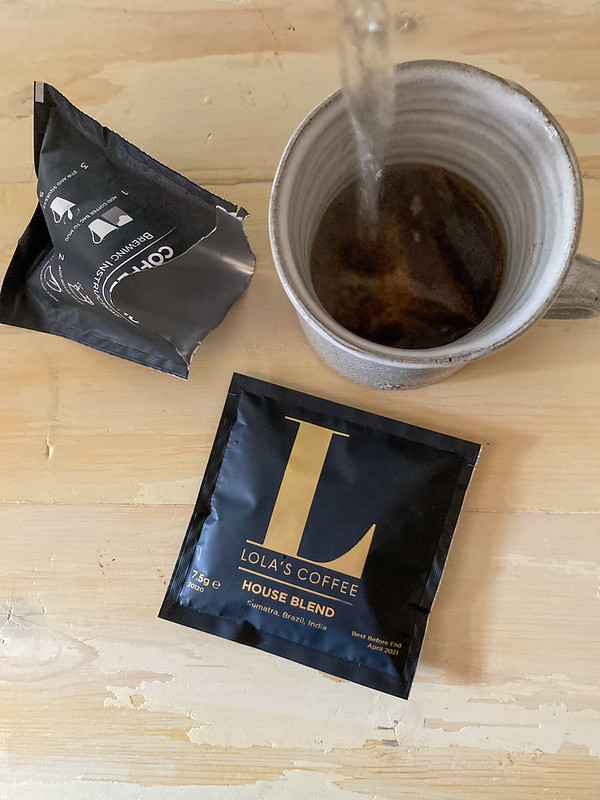 Commissioned post in collaboration with The Specialty Coffee Company (#TheSCCo).
The Specialty Coffee Company is an online business who as their name suggests specialise in all things coffee. If you are a coffee drinker like me, you'll be very interested in this post.
Coffee is the second-most traded commodity in the world, behind only petroleum, and has become a mainstay beverage, but there's quite a fascinating history behind this delicious drink.
The Specialty Coffee Company mission has always been "to find the best coffee from around the world and show everyone exactly how great specialty coffee can be", they clearly have a passion for 'real coffee', coffee that has been cared for, and loved from the moment it's planted to the moment it's brewed.
What is Specialty Coffee?
Isn't coffee, just coffee? No. As with most products, there is a definite change in quality across different types and brands. The term 'Specialty coffee' or 'Speciality coffee' is used to refer to coffee that is graded 80 points or above on a 100 point scale by a certified coffee taster or by a licensed Q Grader Specialty coffees are coffees at their peak and are different to other coffee because it has been grown at the perfect altitude, at the correct time of year, and then picked at just the right time. Giving you the most delicious end product.
We often think of speciality coffee as being a new trend, yet even as far back as the early 1900s, discerning customers like the Hotel du Crillon in Paris specified that their coffee was to be bought from select micro-lots on specific farms in certain regions of Guatemala.
The term "specialty coffee" was first used in the 1970s in the Tea and Coffee Trade Journal, just a few years after the opening of the first Starbucks store. Since then, there have been huge improvements in agricultural, roasting and brewing technology, and in fair trade with the coffee growers, though there is still plenty of progress to be made there.
Lola's Coffee Bags
I use a French Press or Gaggia Espresso Machine at home, but at work, I am reliant on the rather expensive Coffee Shop for my caffeine fix. Therefore when I was sent some Lola's Coffee Bags by The Specialty Coffee Company I just knew it would be perfect to take to work; I could pop the sachets into my bag and make a delicious cup of proper coffee whenever the mood takes.
These little black bags are not only good for work. They'd be great for when you're travelling, camping, hiking, for a post-workout boost. Basically, they're so handy you'll want one of these little convenient sachets in your bag at all times. It's truly staggering that it's taken so long for coffee bags to hit the mainstream, isn't it?
Ok, so I like my coffee in all forms. Cafe lattes, cappuccinos, espresso, americano - black, or with cream, cold-brewed black, frappuccinos. So long as the coffee is made with 'real coffee' not instant I will drink it. Yes, I am a fully-fledged coffee addict.
These bags are so simple to use - rather like using a teabag! But steeping for 5 minutes is really important to ensure you get the full flavour and aroma.
Lola's is a blend of Sumatra Gayo, Brazilian Arabic and Indian Robusta coffee beans which results in a rich dark blend with notes of smoke and black pepper and a high caffeine content; all the better to deliver that boost when you need it.
Will I be buying them? No question, I will be a regular customer. Not only is the coffee of an excellent standard, with the current pricing they are excellent value for money; for example a case costing £33 contains 100 bags, working out at 33p each! What a bargain?
Have you tried Lola's Coffee Bags? Did you enjoy them?
Drink, Coffee, Cold Brew, Lola's Coffee, The Specialty Coffee Co, #TheSCCo, Milk, Cream, Cold Drink, Review, Sponsored Post, Coffee Bags,
Drink, Coffee, Review, Sponsored Post,
Yield: 2 250ml servings
Cold Brew Coffee
Lola's Coffee Bags are an easy, convenient way to meet all of your coffee needs.
Ingredients:
Lola's Coffee Bag
Milk or Cream to your liking
Ice cubes
Instructions:
Put a coffee bag in a jug or container suitable for the fridge.
Pour around 500ml cold water (preferably filtered) over the coffee bag in the jug.
Poke and squeeze a few times to submerge.
Leave overnight.
Squeeze the bag then remove it.
Pour the coffee over ice.
Enjoy black or add milk/cream to your liking
Recommended Products:
https://www.culinarytravels.co.uk/blog/06082020150146-lolas-coffee-bags-reviewed/
Copyright Georgina Ingham | Culinary Travels
Did you make this recipe?