Stanage Edge, UK - Travel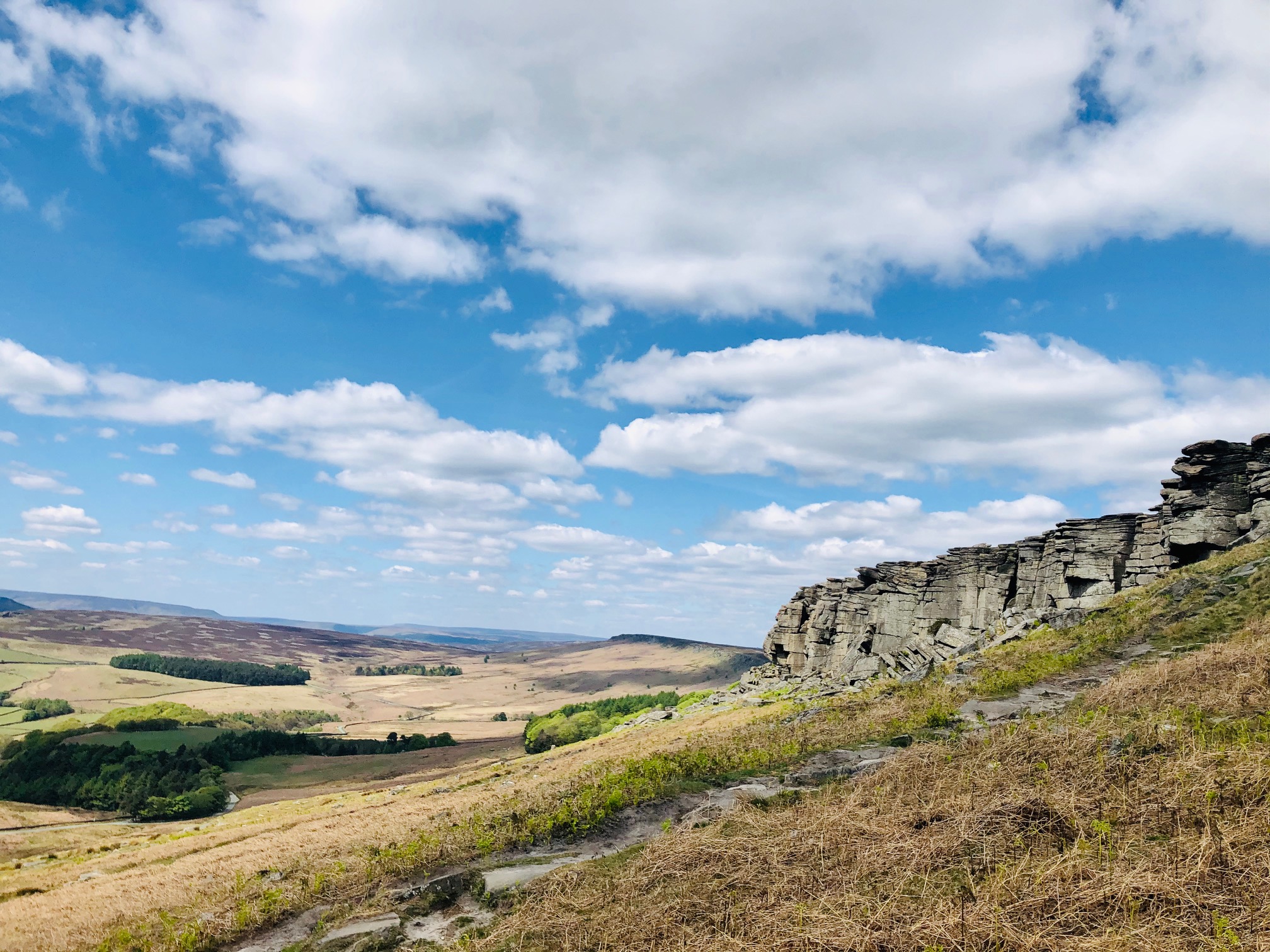 With foreign holiday plans on hold for most of us, why not travel to some of the fabulous sights the UK has to behold. There are plenty of reasons to Visit England.
Stanage Edge, near Hathersage, Derbyshire, is in the stunningly beautiful Peak District. It lies a couple of miles to the north of Hathersage (known locally as The Gem of the Dark Peak), and the northern part of the edge forms the border between the High Peak of Derbyshire and Sheffield in South Yorkshire.
Stanage Edge is a popular place for walkers and rock climbing. It holds stunning views of the Dark Peak moorlands and the Hope Valley. The gritstone edge stretches for approximately 4 miles and was recently featured in the classic film 'Pride & Prejudice' starring Keira Knightley.
To do the full Stanage Edge Walk is around 6 miles and takes you through a beautiful valley landscape, which inspired many of Charlotte Bronte's literary classics, and up onto the iconic Stanage escarpment where you can marvel at the brave and ambitious climbers below you.
These brave souls travel from all over the country to take on the many challenges provided by Stanage's sheer faces. Stanage runs for almost four miles roughly north to south, from Moscar Moor to Burbage, rising to 458 metres at High Neb, its highest point.
This place is a little gem not only are there areas that are not too much of a climb (great for children aged 3 and above) plus the journey there is an adventure itself. Once you get to the top there are loads of large rocks which the little ones can treat like a mini obstacle course.
Overall this is a wild place, often harsh and brooding, with sharp winds that will take your breath away. But the views from the top are just as breath-taking, and in warmer months its slopes are softened by blooming purple heathers and bright bracken. Here and there are abandoned millstones, evoking memories of the industrial past of this area.
There aren't that many facilities around so make sure you bring a picnic and check the weather forecast before heading out, I can't imagine it'd be too much fun on a wet and windy day.
This post was inspired by Sebrina's fabulous Instagram diary of her family trips to Stanage. All photography provided by and Copyright Sebrina Evans.
Pin for Later