Beer52 - Boxes of Brew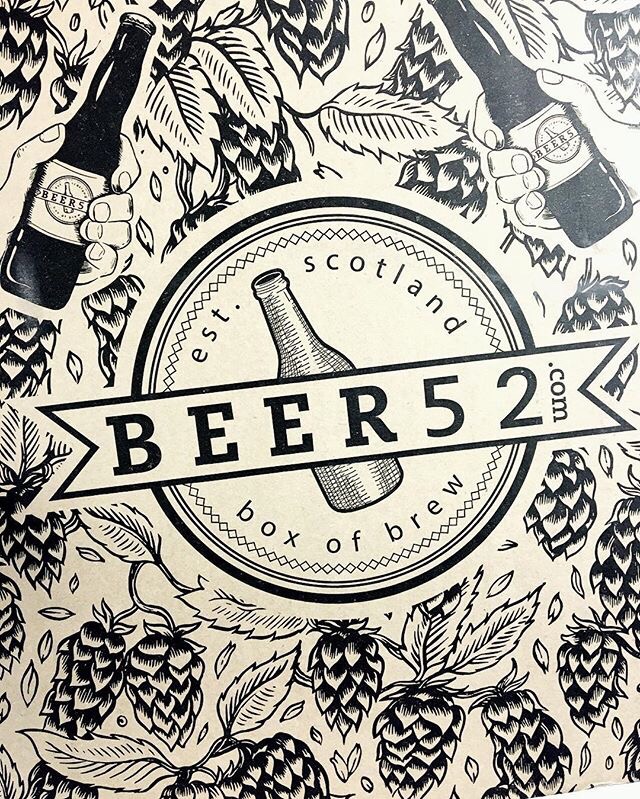 Commissioned post in collaboration with Beer52
Something rather spectacular is going on down the pub and at home – something you don't see written about amongst the reports of binge drinking and recession-hit pubs. There's a revolution going on. Away from mainstream media, beer has been reinventing itself. Across the country, small breweries are refreshing, reviving and reinventing beer as we know it.
You'd have to go back 70 years to find as many breweries in the UK as we have now. From genuine Czech-style pilsners and golden ales that pack a pint full of flavour, to zingy India pale ales (IPAs) and mighty export porters and imperial stouts – today, there is such an incredible variety that if you think you don't like beer, you just haven't found the right one yet.
Beer and good food go hand in hand. A juicy burger and a bottle of American beer? Steak pie with a glass of ale? Perfect. The foodie revolution that has swept Britain over the past 20 years is predicated on localism, natural ingredients, bolder flavours and artisanal methods. Small-scale brewing ticks every box.
Beer 52 claim to be "the largest and fastest-growing craft beer community in the world" and have . Their founder, self proclaimed craft beer obsessive, James Brown started the club after he went on a craft beer road trip from home in Edinburgh to Faro, on the back of his dad's Harley-Davidson. Stopping at tiny pubs and brewhouses along the way, he found beers that were not only delicious, but that he'd never heard of before. Beers that he wanted to be able to share with other like-minded folk, and the concept of Beer52 was born.
Beer52 offer a subscription 'Box of Brew' service that for £24 per month (or at a discount dependent on the plan you sign up for), sends you 8 beers once a month. Now £24 a month sounds like a bargain doesn't it? And it is at just £3 a bottle for craft beers from independent micro-breweries, the proof was certainly in the supping. Plus subscribers also receive the in-house Ferment magazine and a tasty snack in every box and there is a reward scheme which includes glassware, bar blades and journals.
I received a bag of all natural Soffle's Spring Onion & Italian Cheese Pita Chips, which whilst delicious simply reminded me of a grown up Ritz biscuit.
Through these beer boxes we can explore the UK beer scene, travel the world of brewing, enjoy new styles and get reacquainted with old styles. It doesn't matter if you're a through and through craft beer nerd, a casual imbiber or completely new to beer, the subscription box has something for everyone; a key part of it's success. It also fills the gap for those that don't have access to a local specialist beer merchant or those among us that just like surprises.
I received the Scottish box and was impressed with the quality of all the beers that had been sent, there was a decent range of styles included from light and bubbly larger to deep and malty beer. The beers in the box were:
Brewdog Jack Hammer: Lots of spicy, citrusy, and peppery hops are complemented by a solid maltiness. Citrus notes are lifted by this American-style IPA's dry finish and carbonation. A good, clean tasting beer.
Brewgooder Clean Water Lager: Dark gold, clear with a small creamy white head. Fresh but muted citrussy scent. The sweetish taste has an underlying spicy, grainy note.
Fyne Ales Scotland Jarl: A light and golden ale with a full on citrus hit.
Stewart Brewing Radical Road: Three different American hops—Magnum, Cascade and Centennial—are used in this beer.
Tons of fruity, piney, citrus and tropical fruit notes. Toasted bread and other malts subtly make their presence known in this moderately bitter, medium-bodied beer. Balanced and easy-drinking—it's very nice indeed. My favourite beer in this box.
Paolozzi Lagar Re-Born: This Munich helles style lager beer has a perfect bitter-sweet balance and fabulously sparkling appearance. Clean and perfectly balanced, with a superb head and malty aroma
Lerwick Brewery Lerwick IPA: Golden to Amber colour with an off white head. Lovely aroma, with a grassy citrus bitter sweetness
Black Isle Scotland Organic Blonde: A light biscuity blonde style beer loaded with New Zealand Organic Hallertau Aroma hops. This continental style beer carries a hint of honey sweetness which balances with the dry, crisp, refreshing palate
Black Isle Scotland Organic Red Kite: An amber colored ale with a balance of thirst quenching citrus and nutty malt flavour, with a classic aromatic finish to this ale.
As with most brands these days Beer52 are active across social media, including a Blog, Facebook Page, Instagram & Twitter.
So if you fancy sending your tastebuds on the ultimate craft beer road trip, Beer52 are offering £10 off Culinary Travels reader's first box, simply use the unique voucher code CULINARY10 when you shop. Hop (geddit?) to their website for more info and check out those boxes: www.beer52.com
Photography kindly supplied by Beer52