Bring Home a Delicious Souvenir: New Cooking Skills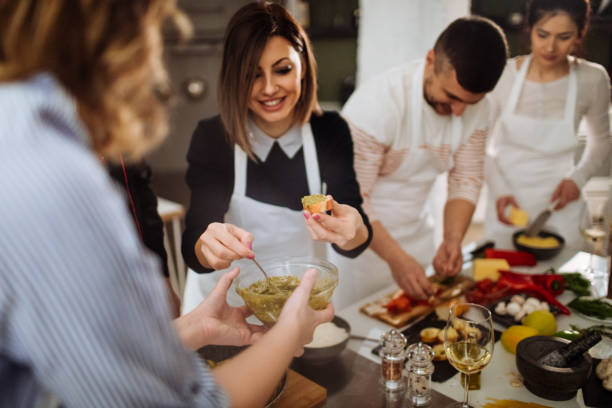 This is a guest post by Susan Doktor, a journalist, cookbook editor, and business strategist who hails from New York City. Formerly creative director for the cookware company Calphalon, she has been privileged to collaborate, cook, and travel with talented chefs from around the world.
We can learn a lot about a culture from the foods that define it. We can gain insight into a nation's agriculture, economy, prevailing religious beliefs, and other priorities from the answer to a simple question, "What's for supper?" Countless travellers would agree that we can glean even more and take away rich, one-of-a-kind experiences from breaking bread with the people we meet when we're abroad, too.
If you love food and you love to travel, there's one more thing you might want to consider taking home as a souvenir of your travels: new cooking skills! Whether you build your entire trip around them or lightly season your itinerary with them, cookery classes are widely available in many countries. In others, culinary education is more of a hidden gem worth seeking out. Either way, studying with a native chef and learning to cook with local ingredients can spice up your travel experience and your journey unforgettable.
Where to Find Cookery Classes
Do you have Google on your phone? Use it! It can be just that simple to make cookery classes part of your next travel adventure. There are many companies nowadays that specialize in booking "gourmet" tours and, often, culinary instruction is built into the experience. Any number of cruise lines are offering similar opportunities. When you book a culinary cruise, cookery classes are typically held onboard. But cruise companies have invested a great deal of money making their kitchens quite fabulous. Just be sure, if you're booking a culinary education tour, that you won't just be an observer in class. Hands-on instruction is far superior and you're more likely to retain what you learn when you do what your instructor is showing you rather than watch from a distance.
The Do-It-Yourself Option
If you're more of a self-starter or prefer to have greater control of your holiday destiny than a packaged culinary holiday might offer, you have an equally broad menu of delicious educational choices. Many large cities are home to schools that train professional chefs and some of these institutions offer classes to cooking enthusiasts who aren't enrolled in degree programs. In New York City, the Institute of Culinary Education hosts thousands of amateur chefs each year for recreational classes. Or you can take a page out of Julia Child's book and study at Le Cordon Bleu in Paris. Chocolate sculpting anyone? Whether you want to focus on a core capability like knife skills or get hyper-specific and learn to make Chinese dumplings, professional cooking schools can be a great resource when planning a cookery class on your holiday.
Think Small
Professional cooking schools offer many advantages, including a wide choice of classes, highly-credentialed instructors, well-equipped facilities, and solid reputations. But they're certainly not the only way to go. If you're willing to do a bit more research, you can also find cookery classes hosted by famous chefs, cookbook authors, and experienced instructors who operate their own businesses. Joanne Weir, who earned her culinary stripes at Chez Panisse in San Francisco and then rose to prominence as a public television cooking show host and James Beard award-winning cookbook author, hosts periodic culinary tours in fabulous destinations like Marrakech, Spain's Basque region, or even floating down the Danube. And there are many more chefs and authors like her. Do you follow a favourite chef? There's a chance you could study right beside the person who inspires you. Celebrity chefs will often post news of tours and classes they are hosting on their websites so you can start your search there.
The Joy of Cooking with Friends
Foodies flock—and often travel—together. Another way to enjoy cookery classes while travelling is to book your own group culinary event. Many teachers are glad to host group classes under arrangements you make yourself. Find some friends, find a teacher, and find a kitchen and you're off and running. Many cities have community kitchens you can rent for the occasion. Some vocational schools that offer culinary classes rent their kitchens when school is not in session, too. Among all of the ways we've discussed, arranging private cookery classes may be one of the pricier ways to go. Then again, If you use a travel credit card to pay for your expenses, it could be a great way to rack up some points and earn travel rewards.
What to Bring to Cookery Class: A Checklist
I don't know about you, but I'd be lost in the kitchen without my trusty Wusthof knives. You may feel the same about your chef's knife. Nothing makes you feel at home in a kitchen like having your best, fully-forged friend in hand. So take a tip from professional chefs who never travel without their own knives and tuck your lucky knife into your bags. But not in your carry-on, of course.
Don't leave your camera in the car. You'll want to take pictures of your culinary creations before they wind up in your belly. You may even want to take photos of your fellow students in action. Cooking inspires camaraderie. In any case, you'll want to preserve your memories. You may even want to document the techniques you're learning with short videos, should you need a refresher course when you're back in your own kitchen.
It's no secret that food and wine go hand in hand. And many of us like to enjoy a glass while cooking, too. While wine may be served in the classes you sign up for, it never hurts to bring a beautiful bottle to share. If you know what's on the menu for your class, choose one that complements the dishes you'll be learning to prepare.
The last thing you should bring to a cookery class is your best manners. You'll be sharing a kitchen with others, something many home chefs aren't accustomed to doing. Be extra mindful of safety. You know the drill: wipe up any spills you see on the floor. Don't leave knives hiding in a basin full of soapy water. Turn pot handles inward toward the stove. Respecting others' personal space and being extra tidy is essential in a group cooking setting.
Travelling During COVID-19
Global travel restrictions and safety concerns have turned many of us into armchair travellers for the time being. Your culinary holiday may have to wait a while. Fortunately, the culinary education community has risen to a difficult occasion with an array of options for virtual learning. So while you're waiting to depart, you can continue to indulge your passion for food and learning. Bon appetite!
Disclaimer: Images from stock photography site UnSplash
Pin For Later
Keep Up To Date with Culinary Travels
Make sure you subscribe to my newsletter to avoid missing out on any of my bonus content. I promise not to spam you or bombard your inbox. You can also follow me on my social media, Facebook, Instagram, Pinterest and Twitter, I love to interact with my followers and I'd truly appreciate if you were to share any of my content too.