Work, Pleasure and a Full Stomach. Food and My Travels in the UAE (Guest Post)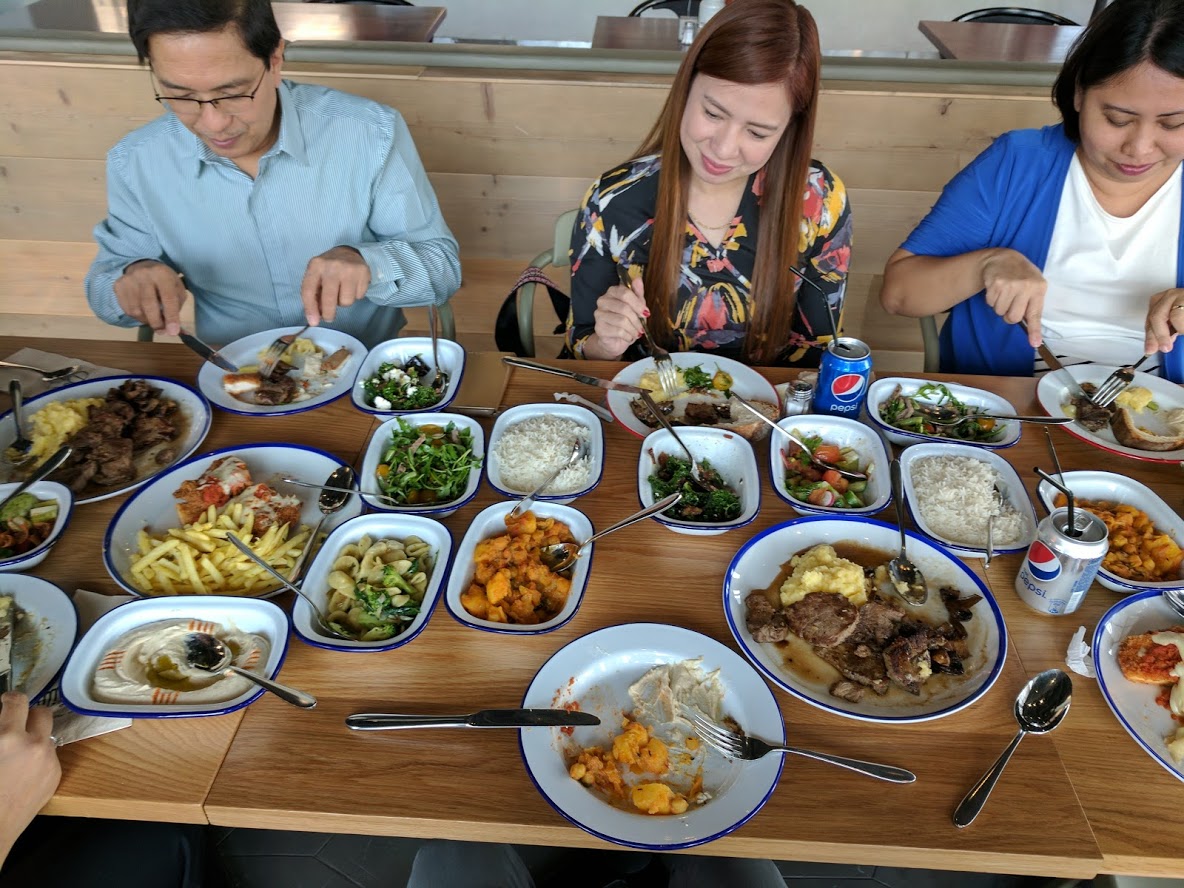 I have had the pleasure of spending a lot of time in the UAE over the last 10 years. Mainly in Dubai but also in Abu Dhabi and some of the lesser-known Emirates. Dubai is known for flashy hotels, fast cars, horse racing and of course tourism, but it is not all as superficial as you may think.
Undoubtedly the cultural element does not rise to the fore, but that doesn't mean that it is any less and interesting place once you get to know it.
When you visit a place enough times you start to build a mental list of your favourite spots for breakfast or dinner, and if you are like me, once you have found a good place, you like to visit over and over again! Here are a few of my experiences from the UAE that hopefully, you can take on board the next time you visit the Emirates.
Don't knock the mall
So the mall is not the first place you think of when it comes to food and drink, but in Dubai, this couldn't be further from the truth. Dubai Mall is located downtown next to the towering Burj Khalifa.
It not only contains a sprawling food court, which is great for a quick lunch when you are shopping or just wanting some variety and nothing too expensive, but it also contains some outstanding restaurants.
The food court will have all your regular fast food places plus several very good Indian, Chinese and other Asian options, to cater for the huge number of overseas workers in Dubai. There are also numerous ice cream parlours, pizza places and chicken shacks, all cheap and cheerful, clean and quick eats for when you are on the go or have the family in tow.
My favourite restaurant at the Dubai Mall is probably Entrecote Café de Paris, which is on the ground level towards the back of the place heading towards the fountains. It has a wonderful ambience as you sit next to an indoor waterfall and enjoy a steak and their signature sauce. It is not quite as good as the one in Paris, and can be a little busy, but is worth the wait for a god steak if that's your thing.
For something a little less heavy and more refined I recommend Katsuya, which is a wonderful Japanese place that has balcony dining that looks out over the fountains. It is a welcome change to go to a quiet, serene place and sit and watch the masses from above. A great date night place as you can walk the fountains afterwards at night, which is nice.

The Souq Al Bahar
On the other side of the Burj Khalifa Lake is the Souk Al Bahar, which is a man-made 'souk' which houses lots of quaint and lovely smelling shops catering for tourists. It is a nice place to walk around and has a calm and pleasant atmosphere.
Among the great eateries over there are Baker and Spice which is a real mash-up of different culinary styles but is very homely, and Bice Mare, which is one of the better Italian restaurants in this area of Dubai.
Breaking Fast
One of my more interesting experiences involving food in Dubai was when I was there during Ramadan in 2014. Although there are places for non-Muslims to eat during fasting hours, you generally are subtle and gran something to eat behind closed doors so as not to offend or show off the fact you are eating.
This sets you up quite nicely for breaking fast in the evening or having 'Iftar'. Now there are a lot of places to have Iftar in Dubai of course, but a spectacular feast was presented upon me at The Dusit Thani, which is downtown on Sheikh Zayed Road. The banquet (there is no other word for it) is set on the top floors of one of the two towers that make up the hotel, so the views are also spectacular.
I have also broken fast at a sort of giant marquee that was laid out near the ocean on the Palm and shared Iftar with hundreds of others, which was certainly an amazing experience and one I was proud to be part of.
If you get chance do try the traditional, end of Eid, celebration cookies - Ma'amul, sometimes spelt Ma'amoul. Ma'amul are crumbly shortbread style biscuits made with semolina and/or flour which are stuffed with nuts or dates and daintily decorated either by use of intricate moulds or by hand painstakingly with tweezers. They are most often associated with Eid al-Fitr but are perfect at any time.
Friday Brunch
No trip to the UAE is complete without taking part in Friday brunch. Most hotels will put on brunch on Fridays, as this is the first day of the weekend in the UAE. Brunch is normally a help yourself affair with endless servings of whatever food you can imagine and bottomless champagne and bucks fizz.
The first brunch I went to and one I have been back for many times is at the Jumeriah Beach Hotel. This won't be your cheapest option but it will surely be one of the best! Every possible world cuisine waited on hand and foot in beautiful surroundings next to the beach, it couldn't be a nicer way to spend a Friday lunchtime!
Although the above all focus mostly on Dubai, I can highly recommend a stay at what is now the 'W Hotel' on Yas Island in Abu Dhabi. I have had some amazing meals here and went on a spectacular tour of the Yas Marina Circuit, and the hotel is an architectural marvel, with the most amazing rooftop pool, and a cool nightclub if you are ever in the mood for that sort of thing.
One piece of advice if you have not visited the UAE before is to shop around for hotel prices. All 5 stars are going to be pretty good, you won't find a bad one, but sometimes an amazing room in a 4 star is better, especially if you want to be specifically downtown or on the beach etc.
Just remember how many amazing food options there are, use the tips here to help guide you and if all else fails there is always the Dubai Mall!
Pin for Later
Keep Up To Date with Culinary Travels
Make sure you subscribe to my newsletter to avoid missing out on any of my bonus content. I promise not to spam you or bombard your inbox. You can also follow me on my social media, Facebook, Instagram, Pinterest and Twitter, I love to interact with my followers and I'd truly appreciate if you were to share any of my content too.