Halloween Ghoulyard Cake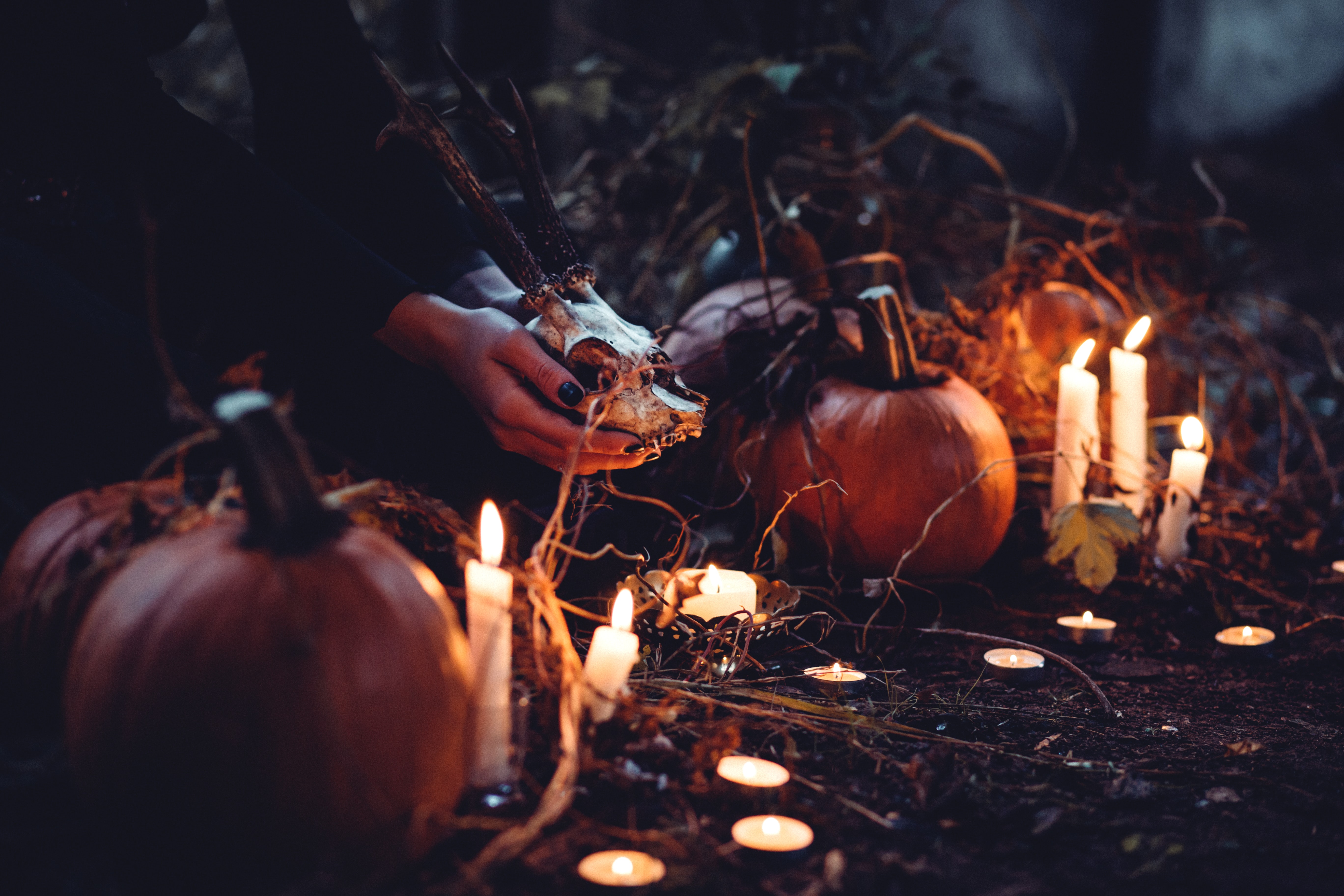 History of Halloween
Ever since the time of the Druids, many customs and traditions have evolved in celebration of Samhain (pronounced sau-an) - meaning the end of summer, which is New Year's Day in the Celtic Calendar.
When Christianity came to Ireland, the church took a dim view of Druidic festivals and created the vigil of All Soul's Evening or All Hallow's Eve on October 31st, the Feast of All Saints on November 1st, and All Souls Day on November 2nd. All three days were regarded as one of the most important times of the year and were celebrated throughout Ireland with feasting, merrymaking and divination games on Halloween, the completion of farming activities by Samhain, and rituals out of respect and remembrance for departed kinfolk on All Souls Day.
In the old days, it was believed that on this night, hobgoblins, evil spirits and fairies travelled about the country in great numbers. For protection against fairy mischief, holy water was sprinkled on animals, food offerings were left outside the house, oatmeal and salt were put on the heads of children, iron or a dead ember from the fire were put in an infant's cradle, and little ones were taught not to eat wild fruits on this night, or afterwards because it was believed that the Puca, a particularly nasty spirit, went about spitting on them.
It was also the custom to make a special cross called a Parshall. Two small sticks were laid crosswise and shafts of wheat were woven around the junction until the cross was secured. It was then hung over the door on the inside of the house to help protect the family from illness, bad luck and witchcraft until the next Halloween when a new cross would be made. The old cross would then be moved to another part of the house.
'Everyone has debts at Halloween' is an old Irish proverb and this was a time when people attempted to settle up. Workers were paid, as was the rent, and farm folk secured crops and livestock for the hard winter to come.
While the adults were completing these chores, children visited relatives and friends and were given gifts of apples and nuts. They also played lots of games. One very popular divination game called for all the unmarried young people to fasten an apple on a string and twirl it around before a fire. The one whose apple fell off first would be the first to marry; he or she whose apple remained until the end would die unwed. If an apple was peeled in one long strip, and the peeling is thrown back over the left shoulder, the shape it made as it lay on the ground showed the initial of the future spouse. Another method of divination was for the inquirer to stick pips on her cheek, naming each for a possible husband. The one that stayed there longest denoted the mate to be. Or a pip similarly named could be placed on the bars of the fire, with the words: "If you love me, bounce and fly, If you hate me, lie and die." Other activities included bobbing for apples, which remains popular today, as does snap apple which is trying to take a bite of an apple hanging on a string.
The Halloween tradition of the bonfire in Ireland is said to also have originated during Pagan times when the Celts lit huge fires on the hills so the spirits could find their way. It was also said that these fires would help to keep away evil spirits. Another old Irish Halloween tale says that if you drop a strand of your hair into the flames and dream of your future husband or wife to be, your dreams will come true!
For many centuries, Hallowe'en was a day of abstinence, when no meat was eaten. But that doesn't mean Irish households didn't enjoy the best of other foods. Even in the poorest of homes, the wife would make every effort to prepare a special meal for the family, and more prosperous neighbours would be certain to help her achieve it with gifts of milk, butter, vegetables and other ingredients.
Traditional Foods for Halloween
A favourite traditional dish of yesteryear which is still popular is Colcannon and it's very easy to make. Boiled potatoes are mashed and then mixed with cooked green cabbage and the mixture is then seasoned with salt and pepper to taste and a large hollow is made in the centre in which a generous amount of butter is placed to melt. Whether served in individual bowls or from a common dish, the custom is to dip a spoonful of the potato mixture into the butter before eating it.
However, the most famous of Halloween foods would have to be barmbrack, a yeasted fruit bread. I love a slice of brac, lightly toasted and slathered in salty butter.
Modern Halloween Food Trends
These days you're more likely to see ghoulish and garishly decorated sweet and savoury foods galore, but, I'm not all that good at decorating, sure, I haven't the patience for it, so I went for a deep, dark chocolate 'Ghoulyard' layer cake, one which is devilishly easy bake. Despite the name this cake tastes heavenly - tender crumbed, filled and frosted with luscious chocolate ganache.
To get an almost black finish I used dark chocolate but you can use milk (or a combination) if you wish, I think this all dark version might be a bit too bitter for some children really.
Swap out the Halloween decorations and you could serve this cake any time of the year.
Some More Recipe Inspiration
Savoury
Chili Mac Halloween Stuffed Peppers
Halloween Food: Giant Sub Sandwich Halloween
Mummy Jalapeño Popper Crescent Rolls
Sweet
Halloween Candy Dipped Spider Marshmallows
Gluten-Free, Vegan, Ghost Cupcakes
Instant Pot Halloween Spider Web Cheesecake
Halloween Wicked Witch Finger Cookies
Adorable Ghost Mini Muffins with Fondant
Drinks
Stormy Hallows Eve Rum Halloween Cocktail
Witches Brew, A Kid-Friendly Halloween Punch
Trick or Treating
Back in the days before mass commercialism took over the festival and trick or treat became a somewhat dreaded rather than fun event (how many times do we open our local newspapers to see mass destruction in the name of trick or treat?), the evening would have been spent listening to seanchaí, stories of the past would be told along with ghost stories and Halloween games played. Turnips were the things to carve most typically too, they must have been much harder work than a pumpkin but just as, if not more, eerie.
From what I can remember I was never all that keen on going for the trick or treating but I did love the carving of the pumpkins.
Now here's an interesting side note for you, according to Irish legend Jack-O-Lanterns were named for a man called Jack who couldn't enter Heaven because he was a miser and couldn't enter Hell because he'd played jokes on the Devil so he had to walk the earth forever with his lantern until Judgement Day. The fire burning within the lantern is supposed to ward away evil spirits.
How do you celebrate Halloween where you live?
Chocolate Ghoulyard Cake
Yield: 12
This is a deep, dark chocolate layer cake, one which is devilishly easy bake. Despite the name this cake tastes heavenly - tender crumbed, filled and frosted with luscious chocolate ganache. Perfect for any occasion.
Ingredients
For the CakeFor the Ganache
75 grams best-quality cocoa powder (sifted)
100 grams dark brown muscovado sugar
250 millilitres boiling water
125 grams soft unsalted butter
150 grams golden caster sugar
200 grams self-raising flour (sifted)
50 millilitres hot espresso
2 large eggs
100g dark chocolate chips
For the Ganache
75 millilitres hot espresso
50 millilitres double cream
25 grams dark brown muscovado sugar
175 grams unsalted butter (cubed)
325 grams best-quality dark chocolate (chips or finely chopped)
Instructions
Preheat the oven to 180°C or the equivalent.
Line the bottoms of two 20cm round sandwich tins with baking parchment and grease the sides with butter.
Put the cocoa and 100g dark muscovado sugar into a bowl and pour in the hot coffee. Whisk to mix, then set aside.
Cream the butter and caster sugar together, beating well until pale and fluffy; obviously, this is easier in a freestanding mixer but it can be done by hand.
Add one egg, followed by a spoon of flour and combine, add the other egg and combine.
Incorporate the rest of the flour into the cake mix.
Stir in the cocoa mixture and gently fold in the chocolate chips.
Divide this chocolatey batter between the 2 prepared tins and put in the oven for about 25 minutes, or until a cake tester comes out clean.
Take the tins out and leave them on a wire rack for 5–10 minutes, before turning the cakes out to cool.
As the cakes are in the oven, get started on your frosting: put the espresso, cream, muscovado sugar and butter in a pan over low heat to melt.
When this mixture begins to bubble, take the pan off the heat and add the chopped chocolate, swirling the pan so all the chocolate is coated but do not stir.
Leave for about 1 hour, whisking now and again.
Set one of the cooled cakes, with its top side down, on a cake stand or plate, and spread with about a third of the frosting, then top that with the second cake, regular way up, and spread the remaining frosting over the top and sides, swirling away with your spatula.
Notes:
The ganache frosting is softer, stickier than you may be used to. So, don't panic. The mixture will seem very runny for ages once the chocolate has melted and you will think you have a made a shimmering glaze, beautiful but not good for frosting a cake; just leave it a short while longer. Do not put it in the fridge - you'll have a solid block in moments (yes, I learnt the hard way). It never quite dries to the touch, but this is, in part, what makes the cake so devilishly good.
Sodium (milligrams)
496.34
Cholesterol (grams)
227.89
Nutritional Info automatically completed from Recipe Generator.
Copyright Georgina Ingham | Culinary Travels
cake, recipe, devils food cake, Halloween, chocolate, chocolate cake
cake, Halloween, festive baking
Did you make this recipe?
Pin it
Keep up to date with Culinary Travels
Make sure you subscribe to my newsletter to avoid missing out on any of my bonus content. I promise not to spam you or bombard your inbox. You can also follow me on my social media, Facebook, Instagram, Pinterest and Twitter, I love to interact with my followers and I'd truly appreciate if you were to share any of my content too.