Hello October, Here's Blogtober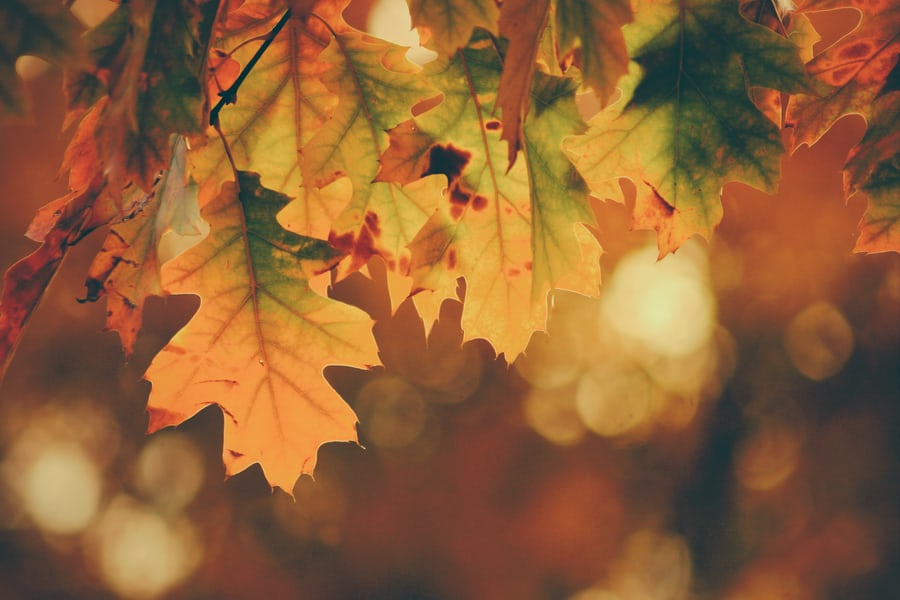 October has landed and autumn, the season of mists and mellow fruitfulness, is in full swing, bringing with it the arrival leaves turning deep green to burnt yellow and crimson, pumpkins and of course Halloween.
What is Blogtober?
Blogtober is an event that some bloggers take part in on an annual basis to help ensure that they are writing on their sites frequently and to help them discover a small bit more about one another, by asking a few seasonal themed questions.
When Claire at Stapo's Thrifty Life Hack's invited me to join, I just couldn't say no.
What's your favourite autumnal scent?
When I think of autumnal scents I'm immediately drawn to the aroma of sweet bakes, heady with pumpkin spice, but, when I sit and contemplate a while, I think of the musty aroma that hangs in the air on long, cold, walks while the leaves crunch underfoot. That is my favourite autumnal scent, for it brings with it a certain melancholy but underpinned by happy memories.
Do you prefer pumpkin pie or apple pie?
Easy! Apple pie every single time, but not just any apple pie. It has to be baked in the style my Grandmother used, a 'plate pie', remember them? A shallow pie, made with the crumbliest sweet shortcrust pastry I have ever eaten, filled with sweet softened apples and once baked scatted with a little granulated sugar. Serve, with softly whipped double cream, or homemade custard. Either way, it's a delight.
What's the one autumnal tradition that you have?
Not so much a tradition, but, the time of year that I get preserving. Jam, sunblush tomatoes, cordial to name but a few.
What are you planning on dressing up as for Halloween?
Not this year. I'll be at work doing the day job. However, this year I've started to do more Halloween themed baking for this website. Stay tuned for a spooky recipe round-up which will be coming to Culinary Travels soon.
What are you most excited for about autumn?
Honestly, I feel I should say that I'm looking forward to going for some long walks and upping my running. Sure, there's nothing better than the cool air and leaves crunching is there? But, the truth is, that's not quite right. What I'm most looking forward to is cooking up warming comfort foods, like pies, stews and crumbles.
What's your favourite scary movie?
I'm don't particularly watch that many 'scary movies', preferring a good drama or thriller. My favourite scary movie though has to be The Exorcist. Normally I prefer the books but this was one case where the movie was way better than the book was to read.
What is your favourite Halloween sweet treat?
Barmbrack, an Irish sweet bread, which is traditional at Halloween. So I suppose, going back to the question of the autumnal tradition, I always bake a few batches of this scrumptious bread.
Favourite item that's pumpkin spiced?
That's tough. It'd be a toss-up between by autumnal spiced apple cake and the pumpkin spice candles I'm using right now.
What is your warmest autumnal memory?
It sounds rather corny but my favourite autumnal memories involve long country walks with my family and our dogs, stopping off for lunch in a small rural pub on the way back. I've more of a longing for city living though these days but still enjoy getting to the countryside or seaside for a stroll.
What is your favourite autumn must have?
My autumn must-have is I suppose more of my autumn outfits of the day. I love pairing oversized cosy jumpers with ripped skinny jeans and converse or leggings with knee-high boots. That's when I'm not in comfy, cosy hoodies that is.
Pin It
Over to you
What are your favourite autumnal moments? Why not leave me a comment with your thoughts?
Keep Up To Date with Culinary Travels
Make sure you subscribe to my newsletter to avoid missing out on any of my bonus content. I promise not to spam you or bombard your inbox. You can also follow me on my social media, Facebook, Instagram, Pinterest and Twitter, I love to interact with my followers and I'd truly appreciate if you were to share any of my content too.