Rome - The Ultimate Guide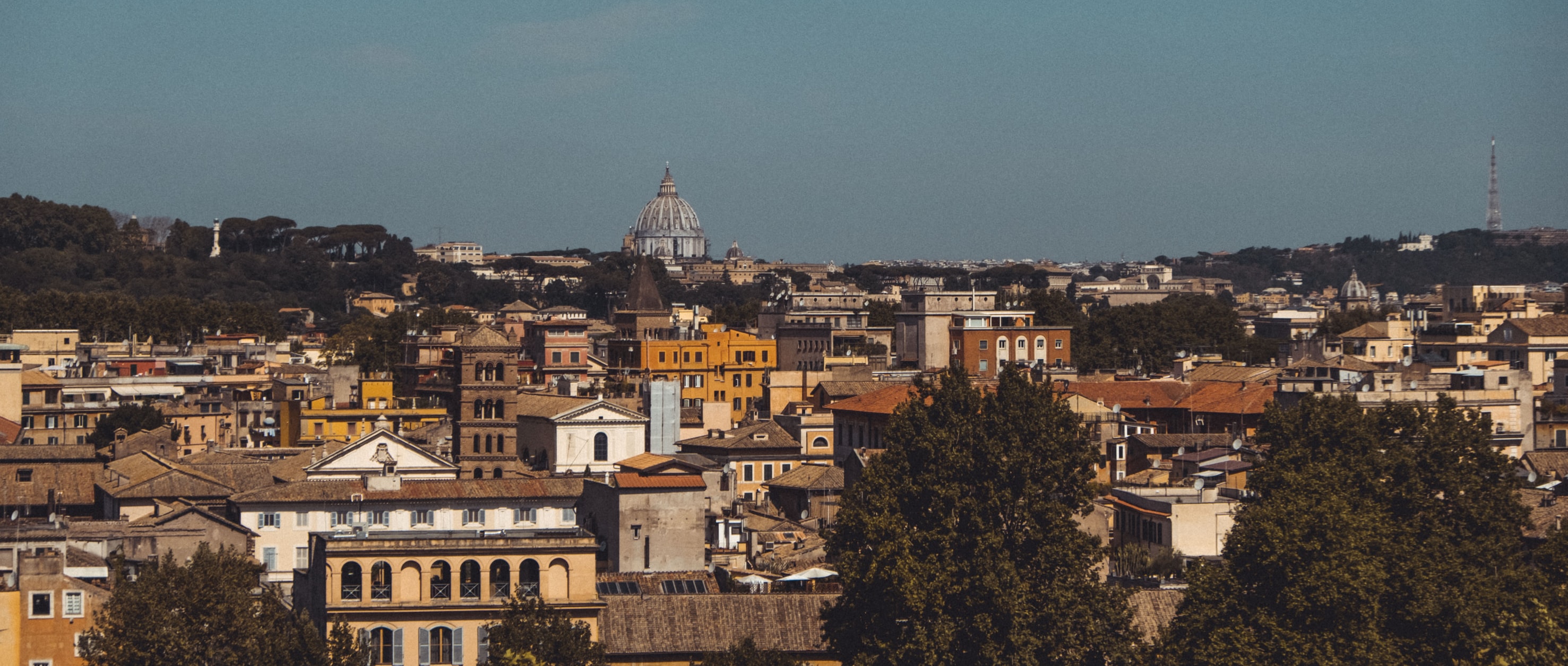 This is a commissioned post in collaboration with Travel Scoop.
It's easy to see why Rome is a popular destination for tourists from around the globe. With a history that spans over a thousand years, you can expect to find great ancient architecture, works of art and bountiful history in this beautiful city, especially as it is dedicated to protecting this historical and cultural heritage. If you're going to be visiting the city, we have created the ultimate travel guide to Rome to help you on your travels.
Rome is perhaps as famous for its cuisine. And it's easy to see why when it plays such an important part of the local culture. The beauty of Italian food is the simplicity and passion behind it. Imagine, a glass of wine and a plate of pasta in the right setting can make the heart race.When paired with soaking up some local culture on the nightly passeggiata, grabbing a slice of pizza from one of Rome's many pizzerias, it becomes almost magical.
Rome is indeed irresistible, so why not make the trip and live la dolce vita. This guide will help you figure out: where to stay, the best places to visit and of course, where to eat.
How to Get There
Rome has two airports, the major hub Fiumicino (also known as Aeroporto Leonardo da Vinci) and Ciampino. Both are operated by Aeroporti di Roma.
Unusually for a smaller airport served mostly by low-cost carriers, Ciampino is closer than the main airport to the city centre (9.5 miles from Termini station). In comparison, Fiumicino lies 20 miles south-west of central Rome.
Fiumicino lies 20 miles south-west of central Rome, has a train station is right next to the main departures and arrivals hall. There are frequent trains to the city's main Termini station (Leonardo Express, 35 minutes), while another line, FM1, connects with stations in the southern and eastern suburbs.
Ciampino has a bus station; the journey to Termini station lasts around 40 minutes. SITBusShuttle and Terravision provide the service.
Taxis to central Rome apply a flat rate, currently €48 (£41), the higher cost is somewhat mitigated for in the shorter journey time, especially on early or late arrivals.
Getting Around Rome
I'd highly recommend walking for the majority, if not all of, your city centre journeys. Rome is fairly compact, and it is much easier to get around on foot rather than by car. Driving is not for the faint-hearted. Traffic is often congested and slow-moving. And many of the 'rules of the road' you are used to are very different from those in Italy.
Alternatively, run by the municipal transport agency ATAC (atac.Roma.it), Rome's bus network is a reportedly efficient and extensive service. Tickets are very reasonably priced and can be bought at metro stations, newspaper stands or tabacchi; just look for the blue T sign, ask for 'un biglietto per l'autobus, per favore'.
Where I Stay & Why
Whatever your accommodation requirements, Rome has something for you. From plush world-famous five-star hotels to family-run budget-friendly hotels and self-catering accommodation. There are great deals to find in Rome all year through.
I'm going to explain my favourite neighbourhoods, but Travel Scope can help you out with finding the great deals.
Trastevere
Trastavere is where I stayed on my first trip to Rome. I stayed in a tiny hotel. And when I say tiny, I could pretty much stretch my arms to the sides and touch both walls and I'm only 5'2"! What the room lacked in space, the neighbourhood made up for in charm. Trastevere is now my number one recommendation for the best area to stay in Rome.
To me, it feels like one the most authentic areas of Rome, with winding cobblestone streets opening up onto vibrant piazzas filled with markets, washing hung of balconies and locals going about their day.
From Trastavere it's only a short (20 minutes) walk to all of the main city centre attractions. So, the location is convenient for exploring the main sights of Rome, but with a true feeling of relaxation when you return to your accommodation. I'm not going to lie, Rome can feel frantically full-on, but I love that.
If you didn't fancy doing the 'tourist trail', Trastavere is an attraction in itself. With small, mostly family-run shops and markets, fabulous places to eat or grab a coffee, and beautiful churches that you will have seemingly all to yourself. It's just far enough off of the beaten path to avoid the hoards of tourists.
Centro Storico
The centre of Rome is a tightly packed tangle of cobbled streets and laneways, which are home to Renaissance palaces, ancient ruins and they open up onto breathtaking baroque piazzas. The historic centre is the Rome many come to see. Its stunning streets teem with boutiques, cafes, trattorias and stylish bars. While market traders and street artists work its vibrant squares. There are famous sights galore which the guidebooks will tell you to visit. But look a little closer and you'll also find a host of monuments, museums and churches, many with works by the likes of Michelangelo, Caravaggio, Bernini et al.
Prati
The Prati neighbourhood is the best area to stay in Rome if you are looking for somewhere a little quieter, away from the hustle and bustle, yet within easy reach of the centro storico. It's particularly good for families as it is close to the main attractions, but much calmer and less noisy, particularly at night. Full of fabulous shops, restaurants and bars, you will not miss out on the good food or shopping opportunities.
Prati has the Vatican Museums and St. Peter's Basilica practically at its doorstep, making it a handy base for those on religious pilgrimages too.
Food & Drink Tips
1) Avoid places in the tourist hot spots, with big photographs or printed boards outside - go a few streets away for some real authentic Roman cuisine
2) Avoid places where staff are trying to hustle you in - good places will not need to do this, the food will speak for itself. Instead, go to small family-run trattorias, often these places have no menu but go with the dish of the day and trust your tastebuds.
3) Roman cuisine is known for 'quinto quarto' (the fifth quarter), the distinctive style of cooking created by the workers at the Testaccio slaughterhouse towards the end of the 19th century. Wages were partly paid in-kind with offal, this was known as the 'fifth quarter' and offal continues to play a part - challenge yourself to try tripe, liver or sweetbreads, they are so good.
4) Do not drink wine with pizza, it is considered bad for the digestion - instead, order a beer, sparkling water (aqua frizzante) or a fizzy soft drink.
5) Make a reservation - if it's a restaurant you really want to eat at, don't miss out, plan ahead.
6) If a restaurant adds a 'coperto' (cover charge), it doesn't mean it's a tourist scam - this is the norm.
7) A caffé (a shot of espresso) will usually cost about 1 euro at the counter, depending on the place. Sitting at a table will cost a little more, but sometimes it's worth it to rest your feet and enjoy the atmosphere.
8) Do not order a caffe latte or cappuccino after 11 am - it is highly frowned upon and you may even be refused - but you can instead order a refreshing caffe fredo, a sweetened iced coffee or granita al caffè, a black coffee blended with ice, often with whipped cream on top.
9) If you ask for a latte instead of caffe latte, you will receive only milk.
10) Do not under any circumstances ask for a flavoured syrup to be added to your coffee - you will, without doubt, offend the barista, you can ask for a caffe corretto if you want a shot of liqueur adding. The liqueur will be grappa unless you ask for something else.
Where to Eat
There are hundreds of places to eat in Rome.
Below are my favourites:
1) Da Enzo (Via dei Vascellari)
Da Enzo is the Roman trattoria you see in your minds-eye when you dream of Italy, oh and maybe in The Godfather. There are bottles of wine stacked along the walls, checkered tablecloths, and daily specials scribbled on a chalkboard. It's small, but that makes it all the more fabulous.
Bar la Licata is a casual, quick stop that excellent coffee and fabulous food options for lunch. It's near the Colosseum, so it's the perfect haven to go and relax after a morning of exploring the Roman Forum.
Testaccio is widely considered to be the best neighbourhood for Roman cuisine and this restaurant doesn't disappoint. The restaurant might be a bit off the beaten track compared to the central options, but that's part of what makes it so special. This place is always filled with locals, and their Roman pasta speciality, cacio e pepe (pasta with cheese & pepper) is out of this world, and for a bit of excitement, it is finished tableside.
4) Roscioli Salumeria con Cucina (Via dei Giubbonari)
This culinary heaven lies just steps from Campo de Fiori and serves Roman classics alongside a mouthwatering array of fresh cheeses, cold cuts and pickled products straight from the deli counter. Getting a seat is hard if you don't' reserve a table, but, a great alternative is to gather some delicious items and head off for a picnic.
5) Trattoria Monti (Via di S. Vito)
One of the most dependable and delicious restaurants in Rome, Trattoria Monti seems to get better with time and it remains a favourite among locals. The reasons for its popularity are simple: friendly service, ambience, excellent food and a huge wine list. The cuisine, like the family that runs the place, is from the region of Le Marche, so meat features prominently on the menu. There are many seasonal vegetarian options too.
This is a rustic, cosy place that invites long, lazy meals with good company. Like the ambience, the menu is rustic but refined, with a lovely selection of inventive dishes that make the most of the season's ingredients. The wine list is also wonderful, with an unusually good selection by the glass.
Da Francesco, a tiny trattoria in Piazza del Fico. The interior is nondescript, with a chalkboard menu, a couple of tables, and an always-smoking wood-fire pizza oven. They have tables outside too, which allows you to take in the local atmosphere while devouring one of the best pizzas you will ever eat.
Where to Drink
From historic cafés and bars (as coffee shops and cafés are most commonly referred to) almost hidden down back streets, you'll be spoiled for choice when it comes to coffee in Rome. A caffé (a shot of espresso) will usually cost about 1 euro at the counter, depending on the place. Sitting at a table will cost a little more, but sometimes it's worth it to rest your feet and enjoy the atmosphere, and, of course, the views.
Do not miss:
The oldest coffee shop in Rome, situated on one of the cities most famous and expensive streets. Think splendour. This opulence. The interior decor is all red velvet chairs, marble tabletops and ornate art on the walls. Stand at the bar instead of sitting at a table to save a few euro, if you must. Grab a delicious pastry while you're here and soak up the experience.
2) Da Nina (Via dei Vascellari)
A small family run place with great coffee and a splendid selection of freshly baked cakes and pastries. A lovely place to sit back, relax and reflect on your holiday. The staff really appreciate it if, you have a little Italian, you put it to use.
3) Sant Eustachio (82 Piazza di S. Eustachio)
A local institution, Sant Eustachio has been caffeinating Romans since 1938. What sets this, an unpretentious place apart is the unusual preparation method – if you want your coffee zuccherato (with sugar) the barista will do it for you by adding a spoonful of a sweet, frothy foam made from the first few drops of an espresso whipped with sugar.
When it comes to bars in Rome, a scene forever defined by old-fashioned but ever-charming enotecas (wine bars), new rooftop lounges and cocktail bars are appearing quick fashion, so there are lots to choose from. I haven't any real favourites, preferring instead to make a decision on the spur of the moment, during my evening stroll.
What to See & Do in Rome
Rome is one of the finest and oldest cities in the world. The history of Rome spans over 2500 years and it has been a centre of power, politics, culture and development since its inception. Creation of the city is steeped in legend and mythology and there are various different accounts of how this wonderous place was built. But the Italian capital is also a living modern-day treasure that's continually evolving, offering travellers and locals the opportunity to experience the past while soaking in contemporary culture.
It would take a lifetime to see everything in this city, so I've created a list of our favourite places to see and things to do that you really shouldn't miss.
The Colosseum is one of the most renowned and iconic landmarks in the world and a trip to Rome would not be complete without visiting. The largest amphitheatre ever built, the Colosseum (or "Flavian Amphitheatre") was built between 70-80 AD and could hold up to 80,000 spectators. This building was used to hold gruesome games, gladiator tournaments, executions and even sea battles when the arena would be filled with water and ships! These events would regularly be attended by the Roman Emperors.
On-screen, the building looks huge, when you stand next to it, your breath will be taken away. It is a magnificent build indeed. Beware of the Gladiators strolling around outside, asking if you want to have your photo taken with them - the price they charge can be astronomical, so confirm prior to the photograph being taken.
Even from afar, the Vatican is stunning. Forming a picturesque view from several vantage points across the city.
Founded by Pope Julius II in the 16th century, the museums house one of the largest and most important art collections in the world and are set across 54 galleries, courtyards and hallways. You'll find thousands of ancient sculptures, works by Raphael and, of course, Michelangelo's frescoes in the Sistine Chapel. If you have time and plan well in advance, book tickets to descend into the Vatican Necropolis, located beneath St. Peter's Basilica, and visit the Vatican Gardens filled with fountains, flora and a replica of the Grotto devoted to Our Lady of Lourdes.
The queues to access the museums is normally long, and even if you decide not to wait, the very experience of looking around the Vatican Square is something rather splendid. As with the Colesseum, the sheer size of the square is rather awe-inspiring.
Visit the pasta museum to learn about the food's history and browse through works of art made entirely of, you've guessed it, pasta!
Commissioned by Cardinal Scipione Borghese in the 16th century to house his impressive art collection, Galleria Borghese remains one of the prominent museums in Rome. The Cardinal was one of Gian Lorenzo Bernini's early patrons and a huge fan of Caravaggio's. Key pieces to see include Apollo and Daphne by Bernini, Paolina Bonaparte by Canova and Boy with a Basket of Fruit by Caravaggio. The gallery was originally built as a villa and it remains immersed in Borghese's extensive gardens, so be sure to take a stroll around the beautiful park after your visit.
5) Pantheon
An ancient Roman temple dedicated to "All of the Gods," the Pantheon is one of the best-preserved buildings from ancient Rome and continues to be one of the most popular attractions with tourists. It was built by Emperor Hadrian in 125 AD on the site of a former temple built by Marcus Agrippa and it boasts the largest (unreinforced) dome in the world, measuring 142 feet in diameter. If you're lucky enough to be in Rome over Pentecost weekend, be sure to attend Sunday Mass when rose petals are dropped from the oculus during the celebration.
6) Trevi Fountain
Trevi Fountain is arguably the most beautiful fountain in Rome. Measuring some 20 meters in width by 26 meters in height, Trevi Fountain is also the largest. The origins of the fountain go back to the year 19 B.C., in which period the fountain formed the end of the Aqua Virgo aqueduct. The first fountain was built during the Renaissance, under the direction of Pope Nicholas V. The final appearance of the Trevi Fountain dates from 1762 when after many years of works at the hand of Nicola Salvi, it was finalized by Giuseppe Pannini. The name of Trevi derives from Tre Vie (three ways) since the fountain is the meeting point of three streets.
The myth, originating in 1954 with the movie "Three Coins in the Fountain," goes like this:
If you throw one coin: you will return to Rome.
If you throw two coins: you will fall in love with an attractive Italian.
If you throw three coins: you will marry the person that you met.
In order to achieve the desired effect, you should throw the coin with your right hand over your left shoulder.
Approximately a million euros worth of coins are retrieved from the fountain each year, and, this is donated to charities in the city.
7) La Passeggiata
The passeggiata is a time-honoured tradition in which the whole town participates, on Sunday evenings and holidays, if not most nights of the week. Usually while dressed up in their fanciest designer clothing, and shoes which are hardly made for walking at all. As evening falls, wherever you are in Italy, everyone comes out onto the main streets of the city or town, usually around the main piazza, through the old town or seafront. Italians tell me the movement and fresh air helps with digesting an enormous Sunday lunch or working up an appetite before dinner. In reality, it's a chance to see and be seen, everyone's busy checking out who's with who, and who's wearing what, and of course stopping for an aperitivo and a chat. In Rome, this is more than tradition, it is an art form.
Rome's culinary traditions are rooted in the Testaccio neighbourhood, making it an essential stop for gourmands and intrepid diners. The market is one of the best places to sample Rome's diverse cuisine and excellent street food as it is filled with tantalizing stands that serve everything from artichoke sandwiches and tripe stews to freshly-cooked pasta and craft beers.
Walking through Rome you can't help but notice the twisted spire of the Sant'Ivo alla Sapienza church, as it can be seen from most terraces in Rome. Designed by Francesco Borromini in the 17th century, this masterpiece of Baroque Roman architecture is one of his finest achievements is only a few steps from Piazza Navona. During the summer months, the church hosts classical music concerts in its courtyard, where you can sit and admire the intricate designs of the famous 'corkscrew spire' above.
Castel Sant Angelo, "The Castle of Angels," is an eye-catching cylindrical fortification built on the banks of the Tiber River by Roman Emperor Hadrian in the second century AD. Initially commissioned as a mausoleum for Hadrian and his family, it was later used as a fortress and castle by the popes, even including a secret escape passageway that links the structure to the Vatican City. Today, it is a museum and offers stunning views of the city of Rome and nearby St. Peter's Basilica.
The Eternal City has four national museums, featuring contemporary works, interactive videos and more alongside ancient sculptures. The museums contain important archaeological relics discovered in Rome itself and are spread across four locations: Palazzo Massimo alle Terme, Palazzo Altemps, the Baths of Diocletian and Crypta Balbi
12) Complesso del Vittoriano
It's worth climbing to the top of the "wedding cake" not only to appreciate the enormity of the structure but also to see the Art Nouveau mosaics in the colonnade and, to enjoy the view from the only place where you can see the whole city centre without the panorama being interrupted by the Vittoriano itself. Even more impressive is the view from the very top level of the monument, reached by a glass elevator accessed from behind the structure, by the side of the Aracoeli church.
13) Rome's Streets & Markets
Stroll around the streets of Rome and just take in the sights, smells and local ambience - it is a blissful way to while away some hours and get some exercise too!
You will see the cities population upholds the daily or weekly market tradition with colourful, sometimes chaotic, stalls selling everything from antiques to fresh fruit & vegetables to books. There's some fabulous shopping to be had.
14) Capitol Hill
The Capitoline Hill is the smallest among the seven hills of Rome. You can find it near the Roman Forum. Even though it is the smallest hill in Rome, it played a huge part in the religious and political aspects of Rome since the founding of the city centre.
During the middle ages, the Capitoline Hill declined and formed a new square for Pope Paul III. This square is presently known as the Piazza del Campidoglio. It was the famous architect and artist Michelangelo Buonarroti who was commissioned to do the existing design of the square.
15) Piazza Navona
With its showy fountains, baroque palazzi and colourful cast of street artists, hawkers and tourists, Piazza Navona is central Rome's elegant showcase square.
Built over the 1st-century Stadio di Domiziano, it was paved over in the 15th century and for almost 300 years hosted the city's main market. Its grand centrepiece is Bernini's Fontana dei Quattro Fiumi, a flamboyant fountain featuring an Egyptian obelisk and muscular personifications of the rivers Nile, Ganges, Danube and Plate.
The Fontana del Moro at the southern end of the square was designed by Giacomo Della Porta in 1576. Bernini added the Moor holding a dolphin in the mid-17th century, but the surrounding Tritons are 19th-century copies. At the northern end of the piazza, the 19th-century Fontana del Nettuno depicts Neptune fighting with a sea monster, surrounded by sea nymphs.
The piazza's largest building is Palazzo Pamphilj, built for Pope Innocent X between 1644 and 1650, and now home to the Brazilian embassy.
16) The Spanish Steps
The Spanish Steps are a set of steps dating from 1723, climbing a steep slope between the Piazza di Spagna at the base and Piazza Trinita Dei Monti at the top dominated by Trinita Dei Monti Church.
The steps are at the eastern end of the old city centre. From the base, there is via di Condotti the main designer shopping street and from there a maze of very narrow lanes crammed full with designer shops waiting to be explored.
The Spanish Steps remain a popular place for artists, painters and poets to visit, and at the summit of the Spanish Steps, you will find a cluster of artists painting visitor's portraits. The area can become very busy, so it's ideal to go early to get the very best views.
COVID Advice
1) Friendly warning! Right now travel from the UK to Italy is restricted.
2) Keep up to date with the latest guidelines - Local (England) Covid Alerts and Coronavirus (COVID-19) guidelines
3) Many of these places have adapted over the pandemic but these are unusual times, so please check that venues remain open.
Pin It
Keep Up To Date with Culinary Travels
Make sure you subscribe to my newsletter to avoid missing out on any of my bonus content. I promise not to spam you or bombard your inbox. You can also follow me on my social media, Facebook, Instagram, Pinterest and Twitter, I love to interact with my followers and I'd truly appreciate if you were to share any of my content too.