Fabulously Festive Celebration Cocktails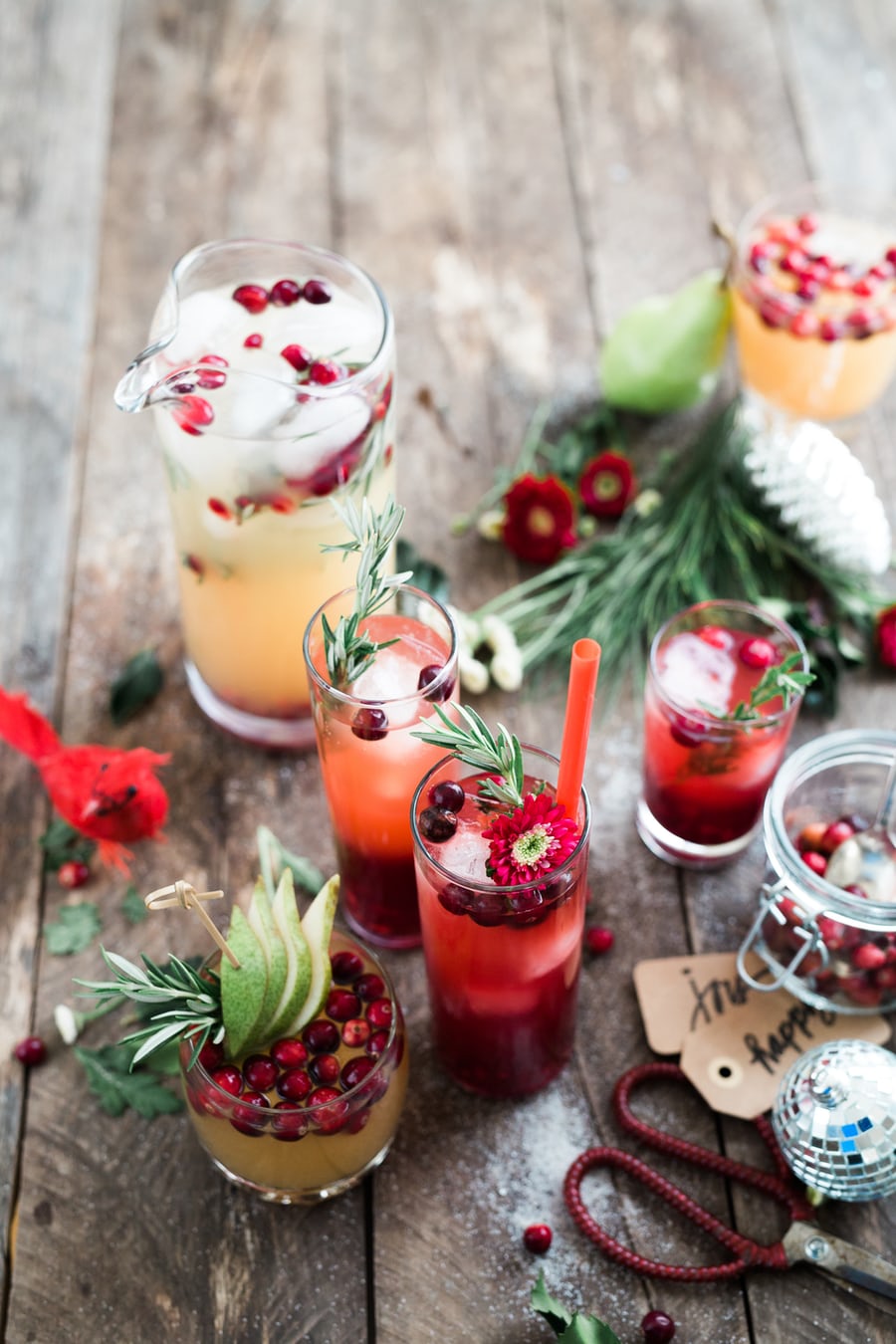 This is a commissioned article.
Festive vibes are everywhere right now. With the New Year celebrations just around the corner, it's about time that you decide what to serve to your guests. After all, savvy hosts know how to prepare a big batch of delicious punch on hand for guests to help themselves and have a good time.
No holiday celebration is ever complete without a signature drink that goes well with the delicious feast that you have prepared. And if you are looking for some exciting ideas, we are here to help you out. We have whittled a list of the top five refreshing festive celebration cocktails to help you celebrate the holidays in a good spirit. These delightfully festive martinis and fruity champagne cocktails will pair perfectly with whatever menu you have planned for your New Year's Eve dinner.
Hot Toddy with Charred Oranges
This is a classic winter drink that will leave all your guests dazzled. It is a slightly different take on a traditional hot toddy drink that gives it a refreshing fruity twist. The charred oranges impart a subtle smokey and caramelized flavour that pairs well with the drink.
Ingredients:
1 ½ cup bourbon
1 cup fresh lemon juice
¾ cup honey
2 cinnamon sticks
3 star anise
3 thyme twigs
4 small oranges
Method of preparation
Combine all the ingredients in a saucepan and cook it over medium flame for up to 15 minutes.

Cut the oranges into halves and grill on metal skewers. Heat them on an open flame for about 1-2 minutes until they are charred.

Top the drink with charred orange slices. You can also add a cinnamon stick for an enhanced look.
Pomegranate French 75
Cool and delightful, this is a gin and champagne based cocktail. Lime juice and pomegranate molasses further enhance the flavour. It is a great festive cocktail that pairs well with all kinds of foods.
Ingredients:
2 oz. Gin
½ oz. Cointreau
1 oz. freshly squeezed lime juice
1 oz. Rose wine or any other sparkling wine
½ oz. pomegranate molasses
Lime wheels and pomegranate seeds for garnish
Method of preparation
Combine all the ingredients with a lot of ice in a cocktail shaker.

Shake it thoroughly and strain the mixture into a champagne glass. Top it with wine.

For garnishing, use a lime wheel and pomegranate seeds.
Orange Thyme Old Fashioned
This is another fantastic cocktail perfect for the holidays. It features a simple syrup made with delicious infusions of thyme and orange that impart a unique seasonal sweetness to the classic drink.
Ingredients
2 oz. bourbon
1 tablespoon of orange-thyme simple syrup
1 dash angostura bitters
Orange-thyme simple syrup
1 cup of sugar
1 cup of water
4 strips of orange zest
3 thyme sprigs
Method of preparation
To make the syrup, combine all the ingredients in a saucepan. Simmer the mixture until the sugar dissolves entirely. Remove from heat and strain once it cools down.

Now, mix all the cocktail ingredients in a cocktail shaker. Add a lot of ice and shake it vigorously for 20 seconds.

Strain into a glass and garnish it with a thyme sprig and orange zest.
Holly Jolly Festive Citrus Cocktail
A perfect mix of vodka, elderflower liqueur, and fresh winter citrus juices, this cocktail is simple, refreshing, and delicious. It is much unlike the creamy and heavy drinks that people typically get for festive holidays. You can serve it topped with fizzy ginger beer to revitalize your guests.
Ingredients
2 oz. vodka
½ oz. St. Germain, i.e. elderflower liqueur
Sparkling ginger beer
1/3 cup freshly squeezed blood orange juice
1 sprig of mint or thyme
Pomegranate seeds for garnish
Method of preparation
Take a large pitcher and combine all the ingredients.

Fill up a cocktail glass with ice and pour the mixture. Top it with ginger beer.

Add mint or thyme and pomegranate seeds for garnishing.
Cranberry Clementine Rosemary Cocktail
If you are looking for something bright and bubbly to cheer up the festive season, this cocktail can be your best bet. Sweet clementines, tangy cranberries with aromatic rosemary, and a little bit of vodka blend exceptionally well. This is an excellent cocktail as it also pairs well with all kinds of food items.
Ingredients
1 small clementine
2 parts vodka
2 parts simple syrup
3 parts unsweetened cranberry juice
Dry sparkling wine
Rosemary sprigs and fresh cranberries for garnish
Simple syrup
1 cup granulated sugar
1 cup of water
Peels from 2 clementines
4 large rosemary sprigs
Method of preparation
To prepare the simple syrup, combine all ingredients in a saucepan and heat over low flame. Once the sugar dissolves, turn off the heat. Strain the mixture after it cools down.

Muddle the clementine at the bottom of the shaker. Add the other ingredients together with a lot of ice and shake thoroughly. Strain into a glass and top it with sparkling wine or club soda.

Garnish the drink with cranberries and one rosemary sprig.
These delicious festive cocktails are simple, easy to prepare, and will surely leave your guests enthralled by your outstanding bartending skills.
Happy New Year to you all, Slainte!
Pin For Later
Disclaimer: Stock photography used from UnSplash and Shutter Stock.
Keep Up To Date with Culinary Travels
Make sure you subscribe to my newsletter to avoid missing out on any of my bonus content. I promise not to spam you or bombard your inbox. You can also follow me on my social media, Facebook, Instagram, Pinterest and Twitter, I love to interact with my followers and I'd truly appreciate if you were to share any of my content too.