Kitchen Decoration Ideas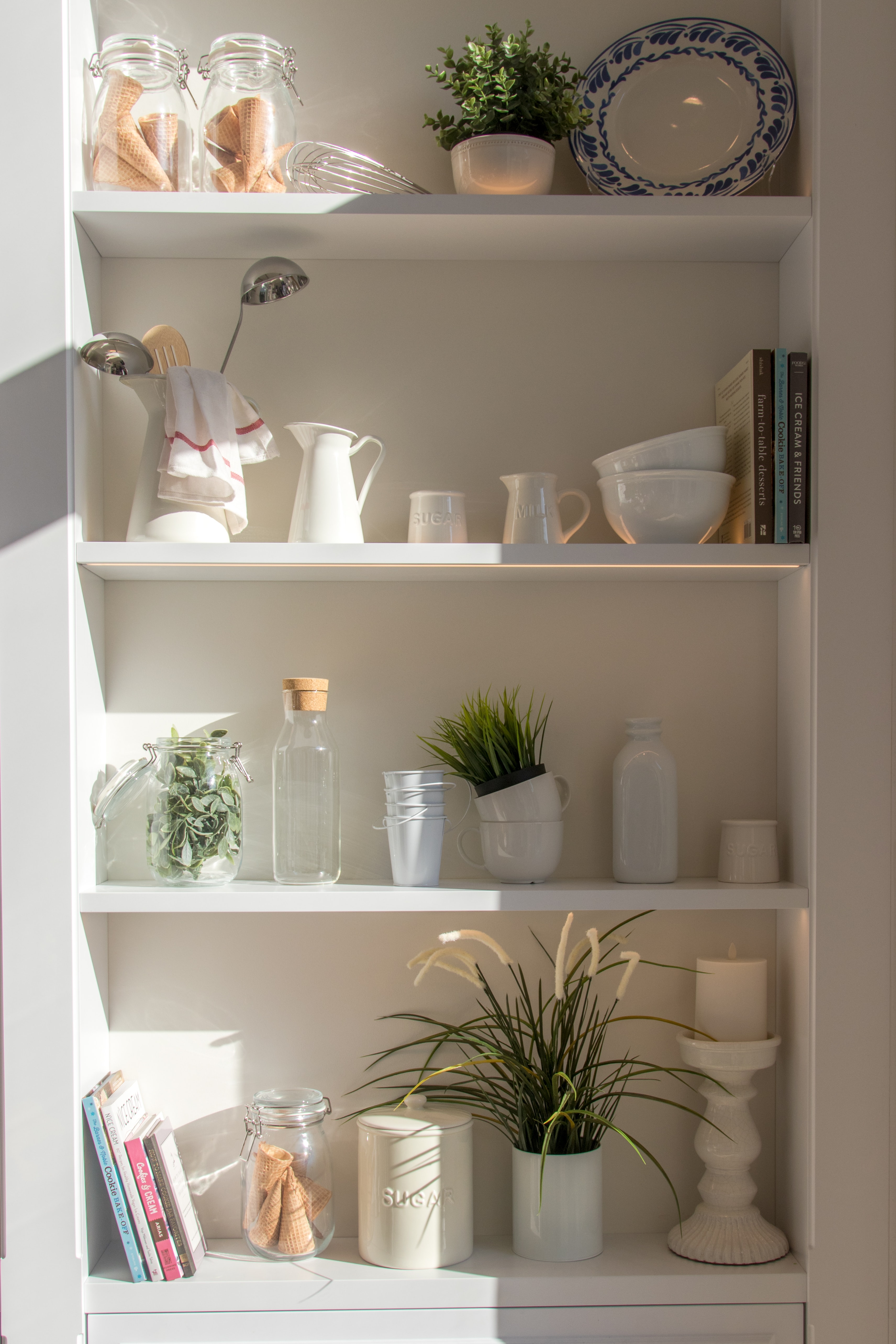 This is a commissioned post.
While most kitchens do not have the adequate space needed for a large rectangular pot or statement style, there is always an option to redefine the space using smaller elements and decor alternatives. However, that doesn't mean that your pot racks should hang from the ceiling or use a pegboard. Here are a few notable ideas that can prove extremely beneficial for your kitchen practicality and style.
Plants to the Rescue
Many kitchens do not have the necessary space to accommodate a large number of green elements. Yet, you can easily incorporate a vertical kitchen garden and ensure that your favourite herbs are at arm's length.
Incorporating a vertical kitchen is very easy and takes up a small space. It can easily use plant pots fixed to the walls to get the best results. However, it is important to ensure that the area gets sufficient sunlight and is suitable for its development.
Add a Focal Point
A large potted plant can be the focal point for your kitchen. Although this idea can be introduced into your living room yet placed inside the kitchen area, it adds a unique appeal and charm to the kitchen space. Again, it is important to have the plant in a place where the same gets the right temperature and growth conditions.
If you wish to bring a more rustic charm to the area, you can use a few old watering cans and then convert them into rustic planters. You can add flowers or herbs to redefine the way to your kitchen. If nothing else, add small planters to your kitchen window and see your room come alive with colour and charm.
A Window Box for Plants
If you wish to give a natural flavour to your room and kitchen, then the great idea is to add a window box and plant various herbs, salad leaves or even edible flowers.
Another great, somewhat quirky idea is to use old pots or pans to grow your plants in. It can be an ideal space for your herbs, lettuce, spinach, and larger ones to accommodate tomato plants.
The Storage Spaces
It is a good idea to take inspiration from high-end kitchens and bring in an 'industrial style' wall to accommodate utensils and kitchen tools. For instance - a simple bar can be placed inside the kitchen along with a few hooks, making an ideal place to hang pots and pans. You can add small buckets or retro tins to store utensils and knick-knacks. You can also paint a pegboard and then use the same to hang your tools.
The Hideaway
You can use creative ideas and bring in hideaway furniture and accessories to handle your small kitchen appliances. For instance - a magnetic bar can easily accommodate a variety of knives, etc. You can bring in an expert to maximize the kitchen space and attain the best results. Another great idea is to bring in roll-out cabinets, tables, drop-down or wall-mounted tables, etc., to get the best results in small kitchens.
Bring in Better Counter Space
To create a contemporary kitchen, you need to ensure that the decor is minimalistic. This means that you need to invest in keeping uncluttered kitchen countertops. This helps to add a specific charm to your home and also brings in functionality. You can easily prep and cook your favourite food by putting some appliances and countertop items like spice jars away.
Using a cooktop to cover your range can be a good idea, and you can easily get enough space to accommodate your cooking needs without needing to worry about working in a cluttered space.
Pin for Later
Keep Up To Date with Culinary Travels
Make sure you subscribe to my newsletter to avoid missing out on any of my bonus content. I promise not to spam you or bombard your inbox. You can also follow me on my social media, Facebook, Instagram, Pinterest and Twitter. I love to interact with my followers and truly appreciate it if you share any of my content.