Simple and Delicious Blood Orange Curd Recipe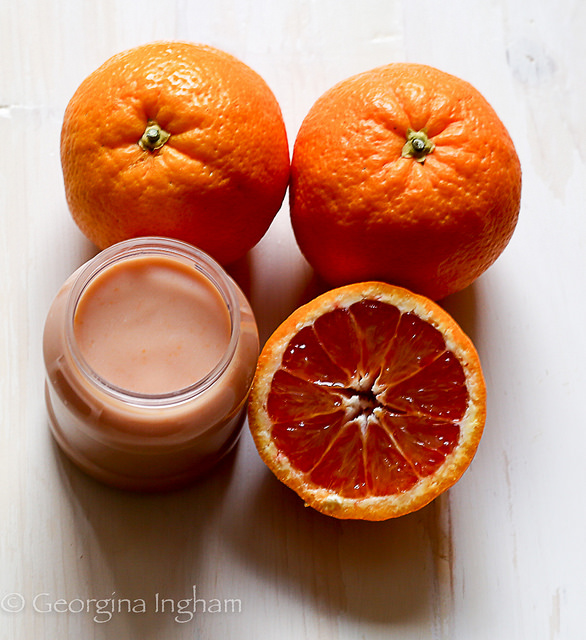 Anyone who regularly reads this blog or my published work will know I love bold citrusy flavours in my food. Citrus brings such warm, mood enhancing vibes that it can give even the simplest plate of food some zest. When the kitchen is filled with their scent the effect is startling, even if the weather outside the window is dull and grey the kitchen will be filled with joy. And this blood orange curd recipe brings all those scents into your home.
Citrus fruits always make me think of hot summer days and foreign holidays; think Floridian oranges, and lemons from the Amalfi Coast. But surprisingly enough many citrus fruits are in season and therefore at their best in the winter months.
From Citrus Drizzle Cakes, Lemon & Herb Roast Chicken and Sicilian Cheesecakes the humble citrus fruit knows no bounds. But, it is in marmalades, cordials and other preserves where they really come in to their own, they steal the show and nowhere more so than in a citrus curd.
My original plan was to make a classic lemon curd however, my fruit bowl was overflowing with blood oranges after my organic fruit and vegetable delivery had arrived and despite my best efforts I eat precious few of them in their original form. So I decided to vary the recipe a little. After all, blood oranges are sexy and luscious, to see them go to waste would be sacrilegious indeed.
This blood orange curd is vibrant, tart yet perfectly sweet and silky smooth. It is as perfect spread on your morning toast as it is filling a Victoria Sponge, but given that we are in the middle of the Easter holiday it seems only fitting to pair the curd with some Hot Cross Buns and Hot Cross Bun Loaf, oh, and some extra extravagance clotted cream.
Blood oranges have a very short season, from late December through to the end of March. So you need to make the most of their thrilling, spicy tartness while you can.
Go make this simple and delicious blood orange curd recipe. Right now! It is much easier than its reputation would have you believe. That I promise you.
Blood Orange Curd
A vibrant tart, yet smooth orange curd
Most recipes call for the mixture to be stirred with a wooden spoon, but I find using a mini-whisk gives a lighter more pleasing result.
Ingredients
zest and juice of 7 unwaxed blood oranges

zest and juice of 1 unwaxed lemon

350g granulated sugar

200g salted butter

6 eggs

2 egg yolks
Instructions
1. Put the orange zest, orange juice, lemon zest and juice, the sugar and the butter, cut into cubes, into a heatproof bowl set over a pan of simmering water, making sure that the bottom of the basin doesn't touch the water.

2. Stir with a whisk from time to time until the butter has melted.

3. Mix the eggs and egg yolks lightly with a fork, then stir into the citrus mixture.

4. Let the curd cook, stirring regularly, for about 10 minutes, until it is thick and custard-like. It should feel heavy on the whisk.

5. Remove from the heat and stir occasionally as it cools.

6. Pour into sterile jars and seal.

It will keep for a couple of weeks in the refrigerator.
Details
Prep time:
Yield: 4 standard size jam jars