Homemade Pasta - The Ultimate Guide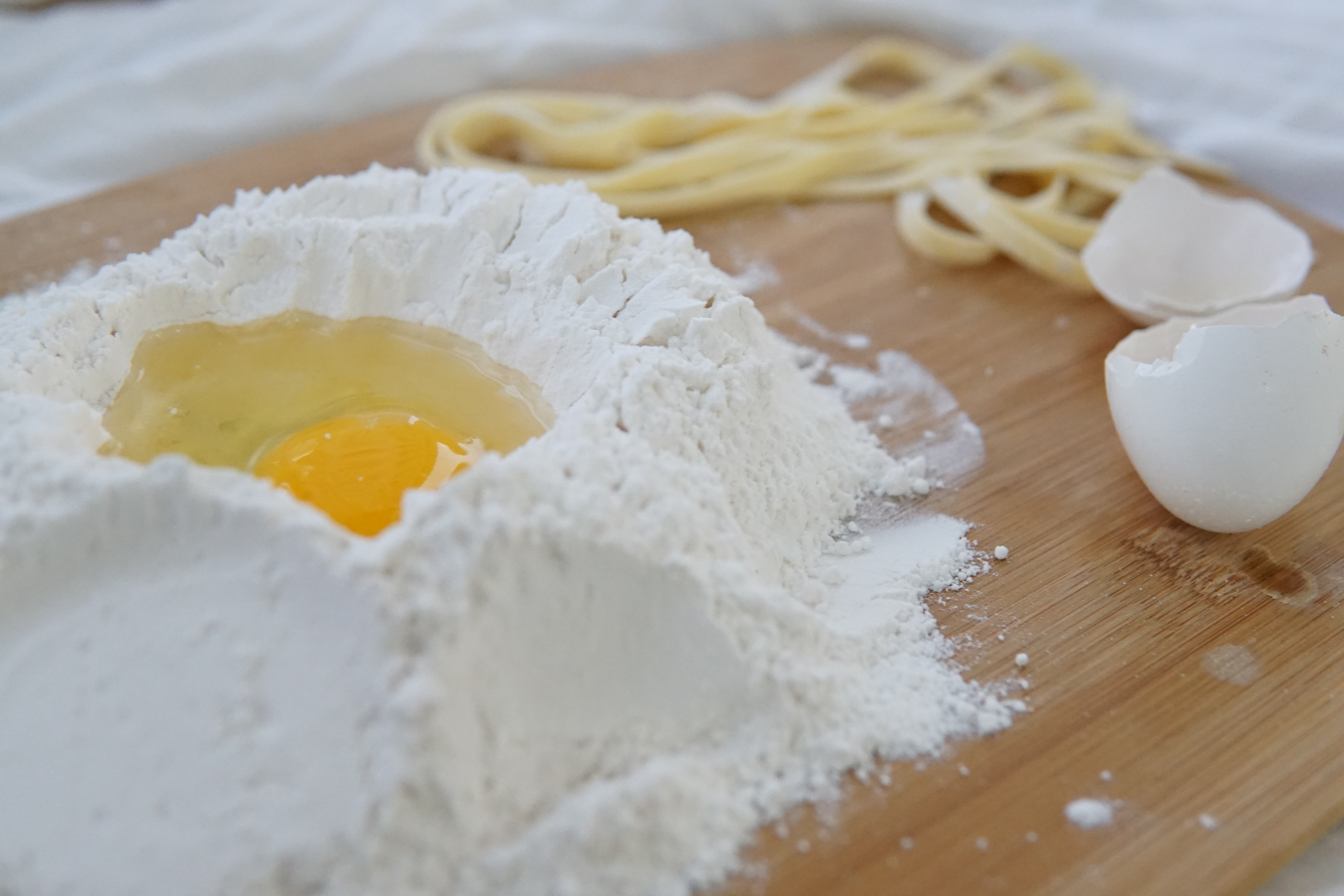 This is a guest post, kindly contributed by Karen from Karen's Pasta.
My love of pasta started at a young age, l was about 10 or 11 when my mother started to make her "Thursday special" spaghetti Bolognese. My mother was a war baby, and her idea of Bolognese sauce was minced beef, an onion, some dried herbs and a stock cube. The spaghetti came in long sticks, far too long for the home cooks domestic pan, so it was snapped in the middle and added to the boiling water. Oh, the memories!
Move on a few years to my twenties, and I received a gift of a pasta machine; I planned the amazing pasta I was going to make, but in reality, it sat in the back of my cupboard for years, alone and forgotten.
The light bulb moment
Social media has a lot to answer for, scanning pages to "like", I came across a pasta-making page, beautiful pasta, coloured,herb-filled, laminated, all shapes and fillings I'd never even heard of, and that was that I was hooked line and sinker.
Pass me the flour
OO flour is the most well-known pasta flour which can be found easily in most supermarkets, but another flour, semola, is widely used, (Durum wheat flour), and this can be found online from good stockists.
OO flour needs to be combined with eggs, but the semola flour can be made much simpler, with warm water, making it ideal for vegans.
Coloured pasta dough
Made by adding fresh vegetables, food dyes or even dried vegetable powders to the flour creates the most colourful of kinds of pasta, beetroot for pinks, spinach for greens, butterfly pea flowers for beautiful blues; the list is endless.
If you are using fresh vegetables, they need to be blended down to a liquid and added to the flour along with the egg in OO flour, or the warm water with the semola flour.
Let's talk dough
Roughly speaking,100gs of flour plus egg or liquid equals one portion. I don't add salt to the dough, as the water the pasta is cooked in has salt added to it.
I hope I've spurred you on to have a go, and if you've got that pasta machine lurking in the back of your cupboard, go find it, dust it off and have a go!
Pasta, Culinary Travels, Italian, Homemade, Recipe
Italian, Pasta, Guest Post
Italian
Yield: 1
Fresh Pasta
Fresh pasta is so much easier to make than you might have thought. The process is simple and the options available to you in terms of colour, shape and fillings are vast.
Ingredients
Egg Pasta
100g 00 flour
1 large egg
Semola Pasta
100g semola flour
50 millilitres warm water
Instructions
Egg Pasta
Put the flour, either on a board or in a bowl, make a well in the flour and crack the egg into it. Bring the dough together with a fork, then get your hands in and knead into a silky dough, cover and leave to rest for at least half an hour.
Semola Flour
Put the flour, either on a board or in a bowl, make a well in the flour and gradually add the water into it.
Bring the dough together with a fork, then get your hands in and knead into a silky dough, cover and leave to rest for at least half an hour.
Rolling the Pasta
Once your dough has rested, set your pasta machine on the widest setting, take about a golf ball size of dough and flatten it with your fingers.
Take the dough and feed it through the machine, do this at least six times, folding the dough each time.
Now, on your pasta machine, take the setting down to the next notch, and feed your pasta through, just once and don't fold, keep repeating, going through the settings getting thinner, until your happy you have the pasta thickness you want
Notes:
Coloured Pasta
Colouring pasta is my thing, laminated pasta, stripes, stars, flowers, any shape you can imagine can be laminated into pasta sheets to create little edible visual delights.
These are made by adding any shape of coloured pasta onto a plain sheet of pasta dough, then feeding through your machine.
Shaping the Pasta
Using the cutter attachment on your machine will give you strips, but if you want to be a bit more adventurous, so many more shapes are easily achieved using pasta tools found online, I recommend a pasta wheel cutter, a ravioli cutter and a gnocchi board, as this can be used to make several pasta shapes that require ridges, and of course, pasta gnocchi.
Sodium (milligrams)
476.50
Nutritional Info automatically completed from Recipe Generator.
Copyright Georgina Ingham | Culinary Travels
Did you make this recipe?
Pin for Later:
Keep up to Date with Culinary Travels
Make sure you subscribe to my newsletter to avoid missing out on any of my bonus content. I promise not to spam you or bombard your inbox. You can also follow me on my social media, Facebook, Instagram, Pinterest and Twitter, I love to interact with my followers and I'd truly appreciate if you were to share any of my content too.