Pappardelle wth Ragu of Slow Roast Tomatoes & Pancetta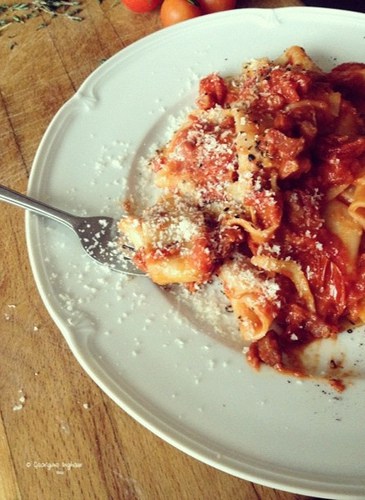 Picture this: It's a chilly evening. You're craving something rich, but you don't feel like slaving over a stove.
Not really that hard to imagine is it? The weather has certainly changed with a vengeance here recently. Not that we've seen much of the summer sunshine yet, but sure it now looks and feels more like Autumn than supposedly flaming June now.
For evenings like this, pasta is my easy-reach comfort meal. Just the thought of pasta alone is enough to comfort you. Let's face it, a plate of pasta is like a hug on a plate. Especially this pappardelle with tomatoes & pancetta.
This pasta dish looks very impressive, people will think you've been slaving away for hours but, it honestly is quick to prepare and simple to make.
The sauce has only a few basic ingredients: tomatoes (tinned & sunblush), garlic, herbs, olive oil, pancetta, a splash of vinegar and a pinch of sugar. A splash of double cream can be added at the end if you wish, to give the sauce an added luxurious depth. I added some home made sunblush tomatoes to the sauce, but you could use store-bought or at a pinch leave them out completely.
The vinegar I used was Malatesta's ancient vinegar which is according to the website, is obtained through the natural fermentation in wood shavings and the ageing in oak barrels for over three years; in this way, the colour of the vinegar becomes brick red and the smells become soft even if the final acidity is about 9%. It's vinegar for lovers of old traditions…..
To me, it tastes like a top-notch, aged, red wine vinegar. You could easily swap it for a red wine vinegar or even a balsamic, but please don't use your best one here – it's not like me to say this, but a cheaper, sharper, thin balsamic is the best option.
Adding some cubetti di pancetta adds a savoury, salty, heavenly porcine background flavour which really enhances the sweet tomatoes. How could coming across nuggets of crisp pork not be good? Though, of course, you could leave out the pork for a vegetarian version.
Another on my 'must-try' list is to swap the pancetta for Calabrian Njuda. Nduja is perhaps the ultimate salami from Calabria, the most typical, the most rustic, the most powerful, fiery and irresistible in flavour. Originally from Monte Poro, near Capo Vaticano, it is widespread throughout the region. Its name is etymologically related to andouille, the French tripe sausage, even though most sources agree this salami was probably introduced into Calabria by the Spanish. Strong and marked in flavour, but at the same time quite smooth and tender, the Nduja is prepared from finely minced cuts of select pork, skillfully seasoned, and packed into natural sausage skins.
Inspired by Nigel Slater's smokey tomato pasta sauce I deliberately allowed the sauce to 'catch' around the edges when roasting the tomatoes.
As a devoted fan of the wonderful Nigel Slater, I often turn to his books, not just for inspiration but for relaxation, he has a way with words that could lift the stresses from your shoulders and make all feel well again in the world. If you're not familiar with his books, do look them out. My favourite has got to be The Kitchen Diaries.
I served the pasta with a glass of Vernaccia di San Gimignano.
Mentioned as early as 1276 as a flourishing trade product and by Dante in the Divine Comedy. The vine is believed to derive from Greece and it is evident that the Vernaccia was beloved in Tuscany already 800 yrs ago. Later on, Vernaccia was surely served at the table of popes and of the Medici family.
Vernaccia is supposed to mean "native" and shares its name with other Vernaccias in Italy (Oristano, Le Marche and Sardegna) that however are completely different. The Vernaccia di San Gimignano is a grape strictly connected to the area and cannot be found in any other wine region.
Internationally, it is probably the least appreciated Tuscan wine, probably because this indigenous grape is quite acidy, a little bitter and not particularly fragrant as, for example, the widely known Chardonnays. It can take a little getting used to, and since the white wine market is dominated by fresh whites from the cooler regions, it has been difficult for the Vernaccia to show its worth. Next time you're looking at Italian wines, why not give this little beauty a try?
Eat, enjoy, and imagine you are on holiday in sunny Italy.
I am entering this comforting dish to the CookBlogShare Round-Up.
Pin it for Later:
Pappardelle with Ragu of Slow Roast Tomatoes & Pancetta
Yield: 2 Portions
Prep time: 15 Min
Cook time: 1 H & 30 M
Total time: 1 H & 45 M
A super easy, comforting, family & budget-friendly dish.
Ingredients
2 tablespoons extra virgin olive oil
1 garlic clove, finely sliced
1 tin chopped tomatoes
250g sunblush tomatoes
1 teaspoon fresh thyme, leaves removed from the stems
1 tablespoon red wine vinegar
1 teaspoon granulated sugar
50ml double cream
100g cubetti di pancetta
250g fresh pappardelle
Parmigiano, grated for serving
Instructions
Preheat the oven to 160c or the equivalent.
Place the tinned tomatoes, sunblush tomatoes, thyme, garlic, olive oil, sugar and vinegar into a baking dish.
Roast in the oven for 1 hour or until softened and thickened, stirring every 20 minutes.
Now increase the oven temperature to 180c or the equivalent.
Cook the pasta according to the packet instructions.
While the pasta is cooking fry the pancetta until crisp and golden, add it to the tomato sauce, along with the double cream and return to the oven.
Drain the pasta, add it to the sauce, toss through and serve scattered with Parmigiano.
Sodium (milligrams)
85.91
Cholesterol (grams)
107.90
Nutritional Info automatically completed from Recipe Generator.
https://www.culinarytravels.co.uk/blog/26112015160605-pappardelle-wth-ragu-of-slow-roast-tomatoes---pancetta/
Copyright Georgina Ingham | Culinary Travels
Pasta, Pappardelle, Italian, Ragu, Pancetta, Tomatoes, Sunblush Tomatoes, Easy Recipe, Meat, Pork, Parmigiano,
Pasta, Dinner, Easy Meals, Meat
Italian
Did you make this recipe?