Ultimate Chocolate Peanut Butter Layer Cake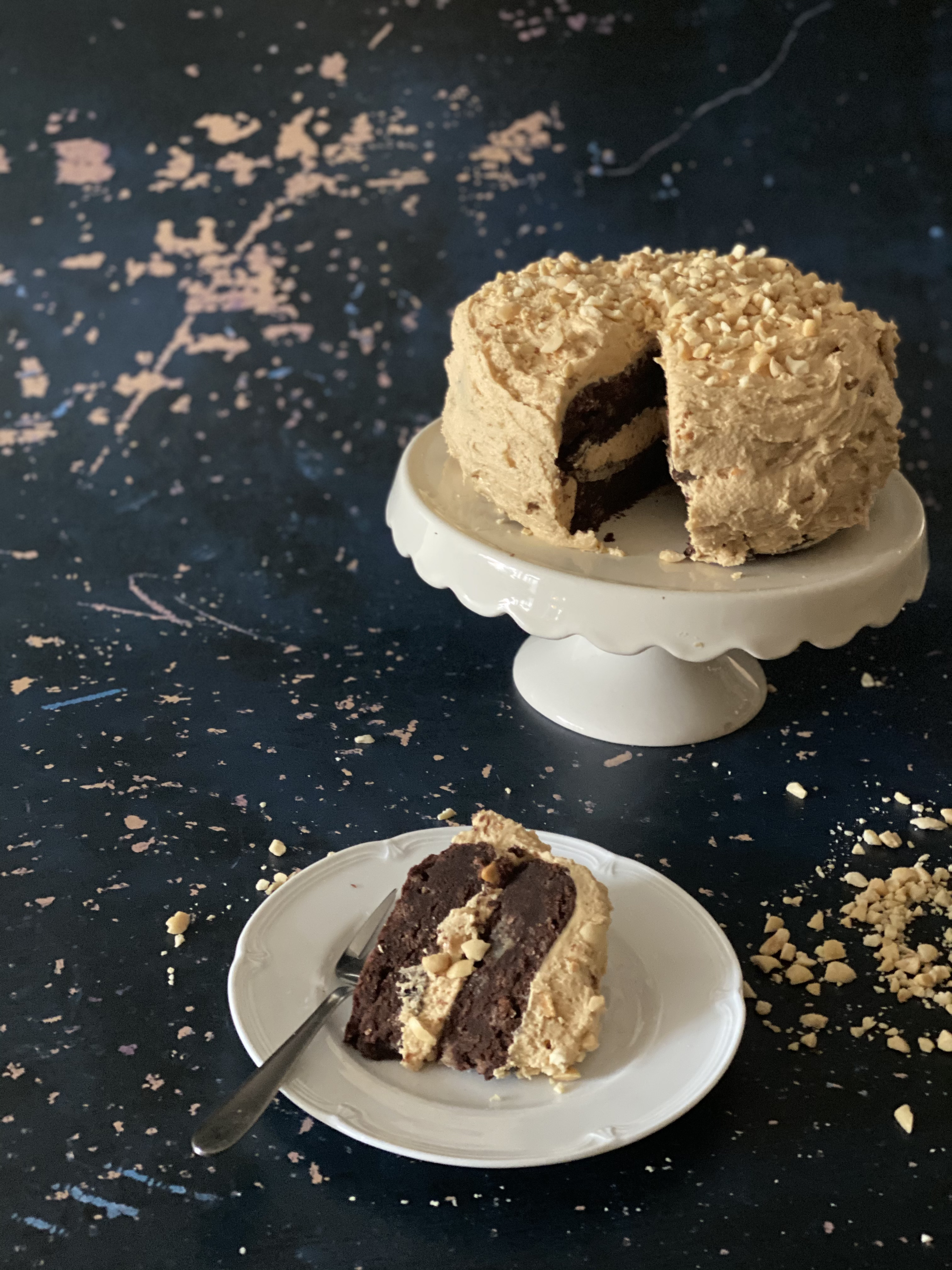 Today is not for the faint of heart… Sure this cake is not the healthiest option, but it is a sweet treat, not an everyday meal component. Make it. Eat it. Enjoy it. Share it.
Chocolate and Peanut Butter — a combination after my own heart. If you are craving an extra rich chocolate cake with a thick peanut butter frosting with bites of crunchy salty peanuts, this cake is for you. This is one of the moistest cakes I have ever made. Every bite is sheer perfection.
This moist chocolate sponge with fluffy peanut-flavoured buttercream is inspired by Nigella Lawson's new book Cook, Eat, Repeat, and it is a truly decadent celebration bake. If you have a free-standing food mixer and a food processer, this cake will be a doddle to make, not to say you cannot make the cake by hand, but I reckon it'd count as a daily work out for all the effort that's in it.
The sponge cake is more like a deep, dense, fudgy chocolate brownie, most likely from the batter being so liquid. Fabulous as this is, it is the super smooth and fluffy frosting which makes this cake so good. The only way I can describe how good the frosting is is to say it's like a Snickers bar in mousse form. The cake and frosting are surprisingly not overly sweet, making the peanut butter the star of the show. If you have a peanut butter lover in your life, this Chocolate Peanut Butter Cake will be their favourite forever.
Nigella recommends making a four-tier cake but alas I ordered some of the specified ultra-shallow tins and promptly lost them amidst the chaos of my baking cupboards. Instead, I used standard cake tins (20cm diameter), to no detriment.
Do I need any special ingredients for Chocolate Peanut Butter Cake?
The easy answer here is no. You do not require anything fancy-schmancy for this decadent cake, but you do need to purchase the best quality ingredients you can afford to make this ultra special.
You'll need
Plain flour
Cocoa powder
Salt - I like sea salt flakes.
Water
Sugar - brown and caster
Butter - salted
Vanilla extract
Eggs
Dark chocolate chips
Crunchy peanut butter - I like Skippy.
Marshmallow fluff - yes you may have to shop for this but once tasted you'll never be without it.
Salted peanuts
Tips for Making the Best Chocolate Peanut Butter Cake
Use a good quality dark chocolate and cocoa powder.
Ensure your cake batter is spread evenly between all three cake tins, so they bake evenly.
Allow proper cooling time before assembling or frosting cake; otherwise, you will have a messy melted frosting on your cake plate.
Do not over bake your cake as this is guaranteed to result in a dry cake. As all ovens are different, check your cake by conducting a skewer test five minutes before the end of the recommended baking time.
Can I Make this Peanut Butter Cake Ahead, How do I Store?
Yes, it is best within the first couple of days after baking; but, good luck keeping it around that long! This cake disappears quickly!
If it's going to be longer than a few hours before you serve it, I recommend storing this Chocolate Peanut Butter Cake in the fridge to be on the safe side. Before serving it, allow the cake to come to room temperature for the best flavour and texture.
You can prepare the frosting up to 1 day ahead. Cover and store in the fridge. Whisk frosting briefly before using.
You can freeze the cakes for up to five months, defrost fully before using.
Would I Bake this Cake Again?
I totally would but I wish I'd added some chopped Reese's peanut butter cups between the layers – every peanut butter and chocolate lovers favourite, am I right? Just to take that peanut flavour up another notch. What do you think?
Pin for Later
Recipe
Chocolate Peanut Butter Layer Cake
Yield: 16 Slices
This Peanut Butter Chocolate Layer Cake Recipe is made with layers of moist chocolate cake, fluffy peanut butter frosting and crushed salted peanuts! It's rich, delicious and perfect for celebrations.
Ingredients
Chocolate Sponge
200g salted butter
250ml hot water, from a recently boiled kettle
50g cocoa powder
100g soft light brown sugar
125g golden caster sugar
1 teaspoon vanilla paste
2 large eggs
225g self-raising flour
100g dark chocolate chips
Peanut Butter Frosting
300g icing sugar
150g soft unsalted butter
200g crunchy peanut butter
100g marshmallow fluff
2 teaspoons vanilla extract
Instructions
Chocolate Sponge
Heat the oven to 180c or the equivalent. Butter two 20cm sandwich tins (or four tier-cake tins) and line them with baking parchment.
Melt the butter over a gentle heat before adding the just-boiled water.
Place all the dry ingredients into the food processer and gradually add the butter/water mixture on a low speed.
Add the eggs and vanilla extract.
Mix gently until you have a smooth batter, fold in the chocolate chips and pour and scrape evenly into your waiting tins.
Bake in the oven for 16–18 minutes (or approx. 7 minutes for the ultra-shallow tins), by which time the cakes will be beginning to shrink away from the edges, and a cake tester will come out cleanish; it is a damp cake, though, so it's good to have a few crumbs clinging to the cake tester.
Leave the cakes in their tins until cold. Meanwhile, make the frosting.
Peanut Butter Frosting
In a freestanding food mixer beat the butter, peanut butter and marshmallow fluff together very thoroughly at medium speed; around 3 minutes before beating in the vanilla extract and salt.
Still beating, but now at a low speed, patiently add the sifted icing sugar a spoonful at a time. Once it's all in, turn up the mixer to medium speed and carry on beating for 2 minutes, scrape down the sides, to incorporate any icing sugar clinging to the bowl, and beat again for 30 seconds to 1 minute until you have a soft, aerated and mouse-like texture.
To Assemble the Cake
Peel away the lining papers from the cakes and place one of the layers, flat-side up, on a cake stand or plate.
If this is a 2-layer cake, spread, ideally, with a bendy spatula or palette knife about a third of the icing evenly onto the waiting cake layer, taking it right out to the very edges of the circle; this will bulge out a bit when you place the other cake on top, which will make it easier for you to ice the sides. And if this is a 4-layer cake, just think in terms of spreading the icing 1cm thick.
Top with your second cake, placing it domed-side up, so that the two flat sides are meeting. Then spread another third of the icing over the top. And if making a 4-layer cake, create your tower, spreading 1cm thickness of icing between each layer, and on the top.
Use the palette knife to get a dollop of buttercream onto the side of the cake, then spread it gently to cover and smooth, carry on until the cake is covered all the way around. Then run the offset spatula on top and all-round the cake again to smooth the buttercream.
Leave plain or decorate with crushed peanuts, chocolate chips or any other way you fancy.
Notes:
Make Ahead - Prepare the frosting up to 1 day ahead. Cover and store in the fridge. Whisk frosting briefly before using.
Store - Store leftovers in an airtight container in a cool place for up to 5 days.
Freeze - Freeze the sponge layers, individually wrapped in a double layer of food wrap and a layer of foil, for up to 3 months. Unwrap and defrost at room temperature for 2–3 hours.
Sodium (milligrams)
327.97
Cholesterol (grams)
70.78
Nutritional Info automatically completed from Recipe Generator.
http://www.culinarytravels.co.uk/blog/05022021172841-chocolate-peanut-butter-cake/
Copyright Georgina Ingham | Culinary Travels
Chocolate Cake, Celebration, Peanut Butter, Chocolate, Cake,
Baking, Recipe
American
Did you make this recipe?
Keep up to Date with Culinary Travels
Make sure you subscribe to my newsletter to avoid missing out on any of my bonus content. I promise not to spam you or bombard your inbox. You can also follow me on my social media, Facebook, Instagram, Pinterest and Twitter. I love to interact with my followers, and truly appreciate it if you share any of my content.