Yangzhou Fried Rice AKA Yeung Chow Fried Rice, a Quick & Easy Recipe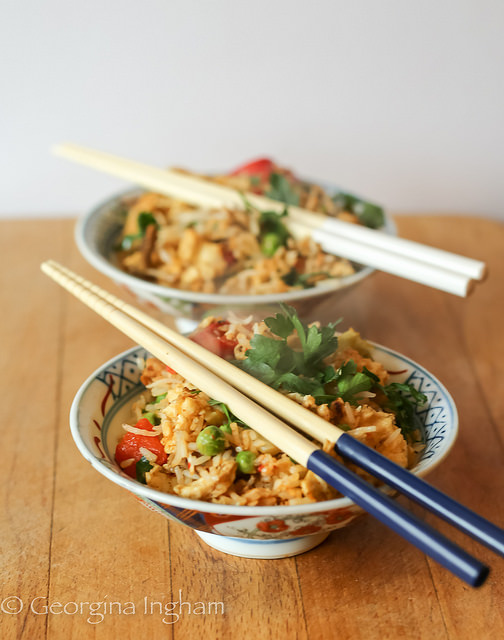 Every Grain of Rice by Fuchsia Dunlop is a paean to China's rich tradition of frugal, healthy, yet delicious home cooking. Every Grain of Rice is not a restaurant style cookbook. Rather one that celebrates the day to day food that is cooked at home. And shows us how to make vegetables taste luscious with minimal effort and how to make a little meat go a long way. The flavours in even the simplest of Fuchsia's recipes will amaze and inspire you. In particular, the Yangzhou fried rice recipe!
Heston Blumenthal hit the nail on the head when he said "Fuchsia has a rare ability to convey an encyclopaedic knowledge of Chinese cuisine in a compelling and totally delicious way".
I have tried many recipes for fried rice over the years but none as delightful as Fuchsia's Yangzhou Fried Rice recipe. She apparently first wrote the recipe for a Chinese New Year's feature in a magazine and a friend told her afterwards that it had been such a hit with her children that she has been making it almost weekly ever since. I think, with some amendments along the way, I probably make it about once a fortnight. Yes it really is that good.
Yangzhou Cuisine
The city of Yangzhou is in the eastern Jiangsu Province and is one of the ancient centres of Chinese gastronomy and the heartland of what is known as Huaiyang Cuisine. Oddly though, very few of its dishes are known in the West. Yangzhou fried rice, or Yeung Chow fried rice as you will most likely see it, is one of the few exceptions and graces the menu of almost every overseas Cantonese restaurant.
This recipe is a takeout menu staple, but this homemade version is definitely food fit for an emperor! It is a colourful, fragrant mixture of rice with diced meats, seafood and vegetables. Traditionally it contains a little sea cucumber and crab meat as well as fresh bamboo shoots. There are many versions though, even in Yangzhou itself, of this simple fried rice dish but the classic recipe includes a little flavour injection of chicken stock.
Preparing the Rice
One important note about the rice, you want your rice to be chewy in your fried rice so make sure you use leftovers or prepare it the day ahead. Fluff your rice after cooking and keep in the fridge overnight or up to a couple of days. Chilling the rice like this will make it loose moisture and gain the required dry and chewy texture.
If you're having curry or another dish with rice, simply double the quantities and you'll be able to whip up this super speedy take-out classic for dinner the following day in less time than it would take to order and wait for a Chinese takeaway to be delivered. And, as with nearly everything homemade, it will be way better in the taste stakes too.
Do not worry if you don't have every ingredient. Sea cucumber is hardly easy to come by in the UK for example. The key is simply to have a selection of colours, tastes and textures amidst the rice. Generally, I make this dish when I have a selection of leftovers in the fridge; roast chicken, shrimp, bacon lardons, roast peppers, etc. I always add more eggs than Fuchsia recommends though. Fuschia uses one whole egg plus an egg yolk in her recipe (serves 4). I like to add at least one egg per person.
Yangzhou fried rice can be served as a meal or as a course as part of a special Chinese meal. Unconventionally, it can even be served as a side dish. Sriracha mandatory.
This dish is a great way to love your leftovers so I'm entering it in to the
No Waste Food Challenge
hosted by Elizabeth's Kitchen Diary.
Yangzhou Fried Rice AKA Yeung Chow Fried Rice
This recipe is a takeout menu staple, but this homemade version is definitely food fit for an emperor! It is a colourful, fragrant mixture of rice with diced meats, seafood and vegetables. This version is far better than a takeout and is ready in a fraction of the time.
Ingredients
100g Cooked chicken
50g Bacon
4 Spring onions
4 Eggs
5 tablespoons Wok oil
50g Shrimps
50g Frozen peas
50g Roast peppers
2 teaspoons Shoaxing wine
100ml Chicken stock
2 tablespoons Soy sauce
600g Cooked rice (long grain or basmati)
50g Fresh coriander
Instructions
1. Cut the chicken and bacon into small dice.
2. Finely slice the spring onions and roast peppers.
4. Heat 2 tablespoons of wok oil in a seasoned wok over a high flame.
5. Add the raw bacon to the wok and stir-fry until cooked.
6. Add the chicken, spring onions, shrimps, peas and peppers and stir-fry until everything is hot and sizzling.
7. Add the Shoaling wine and stock and bring to the boil then pour off into a bowl.
8. Rinse and dry the wok and return to the heat. Add the remaining wok oil.
9. When the oil is hot add the beaten eggs and swirl around the base of the wok.
10. When the egg is half cooked add the rice and stir-fry using a wok scoop to break up any lumps of rice.
11. When the rice is very hot and smells fragrant, it will also make a popping sound around the edges of the wok at this point, add the bowlful of prepared ingredients.
12. Mix well for another couple of minutes before stirring through the coriander and serving.
Details