Curry In A Hurry
I'm an ardent Nigella Lawson fan and I owe a lot of my kitchen abilities to her. She was the person who really inspired me to get adventurous in the kitchen - I had a box set of How To Be A Domestic Goddess and How to Eat: Pleasures and Principles of Good Food
given to me as a Christmas present a few years ago and since reading them keeping me out of the kitchen would be hard enough to give someone a full time job.
Despite that when I received my copy of Nigella Express
I really felt something was missing. It just didn't feel like the Nigella I 'knew', too much rushing round and not enough time spent pottering around the kitchen in that effortless 'Domestic Goddess' type way.
However the more I read it and cook from it, the more I'm liking it.
Although the "Curry in a Hurry" didn't sound anything extraordinary or different, once I'd cooked it I was totally converted. The flavours were rounded and mellow but with a spiciness too, comfort in a bowl for cool autumnal nights.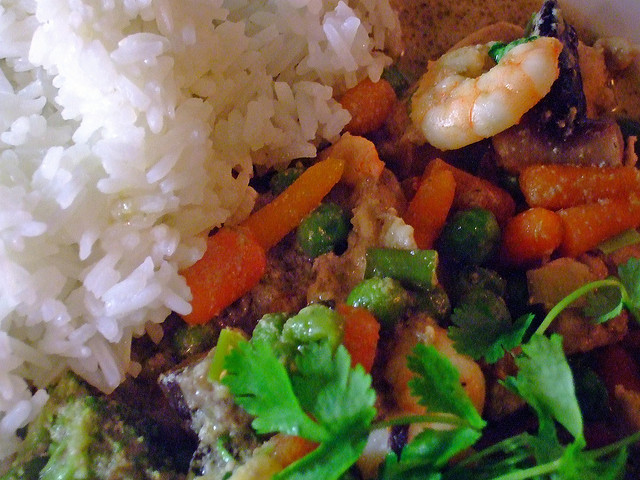 I altered the recipe slightly by using chicken breast, king prawns and mixed vegetables and served with fragrant Thai Jasmin Rice