Porchetta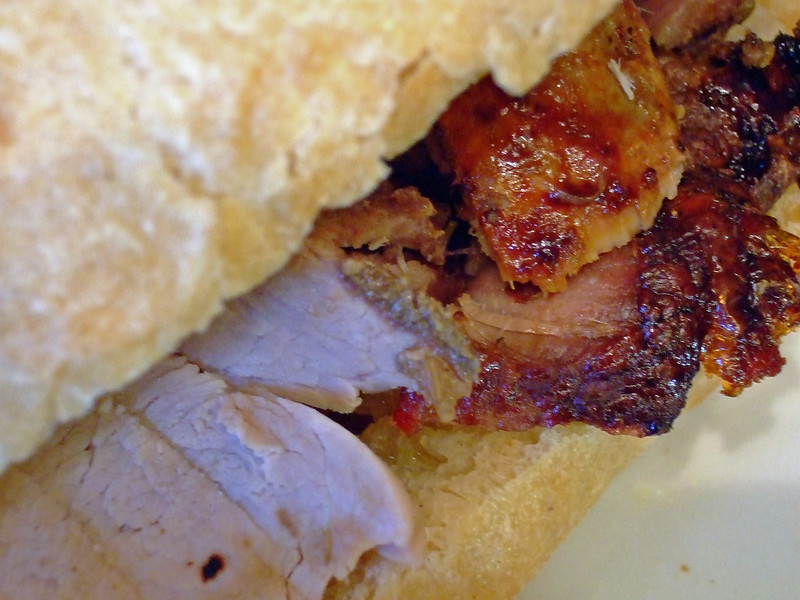 The first time I came across Porchetta was around 10 years ago on a family holiday to Italy. We visited the Umbrian city of Assisi. Assisi is most famed for its Basilica and religious connections with many making pilgrimage trips.
I confess, my resounding memory was of porchetta stuffed bread rolls which dripped with vibrant green and peppery olive oil. Oh, how my mouth waters at the very thought.
We bought the rolls from a veritable Aladins cave of a shop - La Bottega dei Sapori - my suitcases were laden with food and drink treasures when I returned.
Have I inspired you to travel to Italy? If so, take a look at The Voyageurs Collection, they can create tailor-made holidays to Italy, the home of Porchetta, where every detail is curated to you and your needs. Enjoy access to their additional services, including private transfers, local Concierge service, fast track through customs and more.
Anyhow I digress, porchetta is a large boneless pork roast most typical of Lazio and even more noticeably the area of Ariccia in the province of Rome (according to the fabulous Rachel Roddy - if you haven't any of her cookbooks you need to rectify that problem); however, it can be located in various guises across Italy. Generally, the body of the pig is gutted, deboned and seasoned generously with salt, pepper, garlic and various herbs, then it is rolled so that the flavourings snake their way through all the meat, before being slowly cooked in a 'hog roast' style. Don't panic I have a homestyle recipe for you.
I like to use boned and butterflied pork shoulder but belly pork is equally as good. Unless you're a master butcher or fancy a bit of kitchen skill development, ask your friendly local butcher to complete this for you. Roast the pork low and slow and once it's out of the oven, leave it till it's still just warm then slice it thickly and stuffing it into ciabatta rolls. At a push, you can use soft, squidgy farmhouse style bread but don't go for anything too crusty.
You could always make your own ciabatta, a no-knead recipe maybe a little time consuming but like the porchetta, there is minimal effort involved.
As Nigella Lawson rightly points out, "you can just carve it and eat it more sedately with knife and fork, but for the echt experience, pretty well unbeatable, you need to taste this aromatic, slow-cooked pork in sandwich form at least once".
I do love porchetta eaten in 'Sunday Roast' style with braised fennel and dark leafy greens such as savoy cabbage or kale and a light gravy made from the juices and some white wine, reduced and given a glossy sheen with a dot of butter.
Whichever way you eat Porchetta it is a delight.
Porchetta
Inspired by Forever Summer by Nigella Lawson & Five Quarters by Rachel Roddy
The ultimate flavour of an Italian summer.
Ingredients
1. 2 kilograms pork shoulder (de-rinded, boned and butterflied)
2. 3 tablespoons olive oil
3. 1 large onion
4. 4 cloves garlic
5. 1 tablespoon fennel seeds
6. 1 fennel bulb
7. 1 tablespoon fresh rosemary
8. 2 fresh bay leaves
9. 1 teaspoon pepperoncino / dried chilli flakes
10. 1 teaspoon salt 2 teaspoons ground black pepper (preferably from freshly crushed peppercorns)
Instructions
1. Place the pork skin-side down on a clean work surface and season it generally with salt.
2. In a food processor blitz the onion, garlic, fennel bulb and herbs until a fine paste.
3. Rub the paste over the flesh of the pork with your fingertips, massaging it in.
4. Roll the porchetta up tightly and tie it at 2cm intervals with kitchen twine.
5. Cover with baking paper, then cling-film and leave to rest in the fridge for at least 6 hours (overnight is best).
6. Remove the meat from the fridge at least 1 hour before roasting.
7. Preheat the oven to 180°C/160°C Fan/gas mark 4/350? and put the pork in a roasting tin and cook for around 4 hours. It may need covering towards the end of the cooking time, so look at it after about 3 - if it looks as if it's beginning to darken too much to tent it loosely with foil.
8. For the last 30 minutes turn the oven up to maximum to crisp the skin into deep golden crackling.
9. Leave to rest for at least 30 minutes before carving and serving.
Details
Prep time: 7 hours (but only about 30 minutes is hands-on)
Cook time: 4 hours Total time: 11 hours
Yield: Serves 6
Keep Up To Date with Culinary Travels
Make sure you subscribe to my newsletter to avoid missing out on any of my bonus content. I promise not to spam you or bombard your inbox. You can also follow me on my social media, Facebook, Instagram, Pinterest and Twitter, I love to interact with my followers and I'd truly appreciate if you were to share any of my content too.