It's Giveaway Time with Spice Pots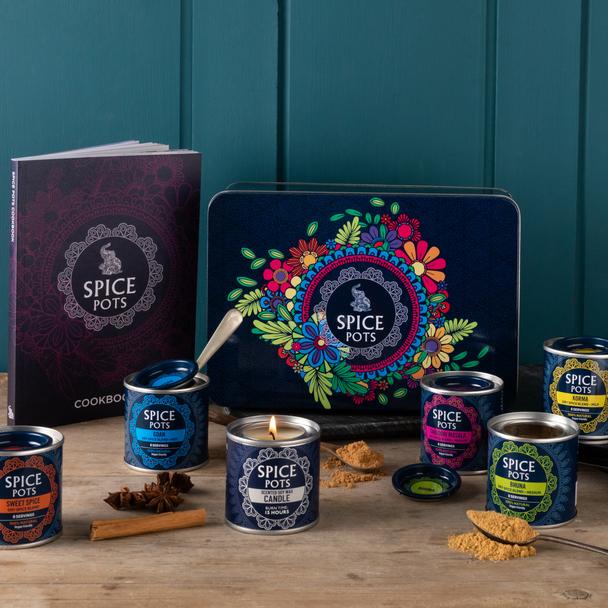 The Christmas period is fast approaching and what better than a gorgeous giveaway from Spice Pots to help you either grab yourself a little gift or to gift this on to the serious foodie in your life?
Who & what are Spice Pots?
This small, family business was founded in 2014 by a sleep-deprived Mum of 3 living in rural Scotland, looking for a shortcut to producing healthy tasty curry.
"I had learned to cooked proper curry years before when I lived in India, but now with 2 toddlers and a newborn baby and living half an hour from the nearest shop, the idea of making a curry from scratch seemed totally ludicrous. So, I found a way to batch-blend my favourite spice combinations and adapt my favourite curry recipes so that it was possible to cook the food I loved, even with 3 small people hanging off my legs!" Melanie Auld.

The Spice Pots mission remains the same, to make cooking easier! And, they certainly achieve their mission. Their spices are expertly blended, giving a truly authentic taste. Their recipes are well written, easy to follow and allow you to achieve perfect results at home, every time. Whether you are a truly passionate cook, happy to spend hours unwinding in the kitchen or a frazzled, time-pressed cook who simply wants good food on the table fast, Spice Pots are a true delight.

The company is based in East Lothian in Scotland.
Spice Pots - What's on offer?
Cookbooks: The original version, plus a newer vegetarian recipe book

Gift sets: There's something for everyone here from letterbox sets, to student starter packs to the cooks' collection and much more. All sets are based on their signature blends of Korma, Tandori, Goan, Bhuna and Sweet Spice. All the sets are gorgeously designed.

Spice pots: Beautifully designed (you'll want these tins on show, not languishing in a store cupboard), individual pots of authentic spice blend goodness.

Refills: Eco-friendly packages of the spice blends ready to decant into your original spice tins.
What you have the chance to win
I'm collaborating with Spice Pots to give one lucky reader the chance to win a Luxury Indian Spice Tin - 5 Indian Spices, Cooks Candle and Cookbook, worth £34.95. If you miss out go buy one, it's a bargain honestly.

The Luxury Indian Spice Tin set is both aesthetically pleasing and practical, for the food lover, blogger or influencer in your life it will add some Pinterest worthy chic to their kitchen, whilst opening up a whole new world of Indian inspired meals with some perfectly balanced spice blends and easy to follow recipes. Many of which can be on the table in less than 30 minutes.

Not only is this a beautiful, delicious gift, but it is also eco-friendly as well!
This Cooking Gift Set contains:-
Korma Spice Blend - Mild but packs a punch with flavour
Bhuna Spice Blend - A wonderful balance of flavour and spice
Tandoori Masala Spice Blend - Medium in heat and super versatile
Goan Spice Blend - Award-winning and the hottest in the range
Mixed Sweet Spice Blend - for delicious baking
Indian Cookbook - 150 pages of mouthwatering Indian recipes, some with a western or modernised twist.
Cooks Candle - smells divine and neutralises cooking odours
Gimme some recipe ideas
Channa Massala (Chickpea Curry)
Dhal Makani (Creamy Lentil Curry)
Kheema Bhuna (Minced Meat Curry)
Saag Paneer (Indian Cheese and Spinach Curry)
If you try any of these recipes, or any utilising Spice Pots, and share them on social media please tag me #CulinaryTravels (@CulinaryTravels) and Spice Pots #MakeitSpicePots (@SpicePots) as we would love to see your creations and will do our best to re-share and engage with everyone. Thank you.
How to enter?
Wouldn't you like to have the chance to try your own Spice Pots Luxury Indian Spice Tin set? Of course, you would! So what are you waiting for? Enter the competition for the chance to win and add spice to your day with Spice Pots!

Giveaway open to UK residents only.
What if I don't win?
Bargain Alert! Use the code CulinaryTravels to get 15% off your order!
Pin it!
Keep in touch with Culinary Travels
Make sure you subscribe to my newsletter to avoid missing out on any of my bonus content. I promise not to spam you or bombard your inbox. You can also follow me on my social media, Facebook, Instagram, Pinterest and Twitter, I love to interact with my followers and I'd truly appreciate if you were to share any of my content too.