Spiced Honey Bundt with Salted Butterscotch Sauce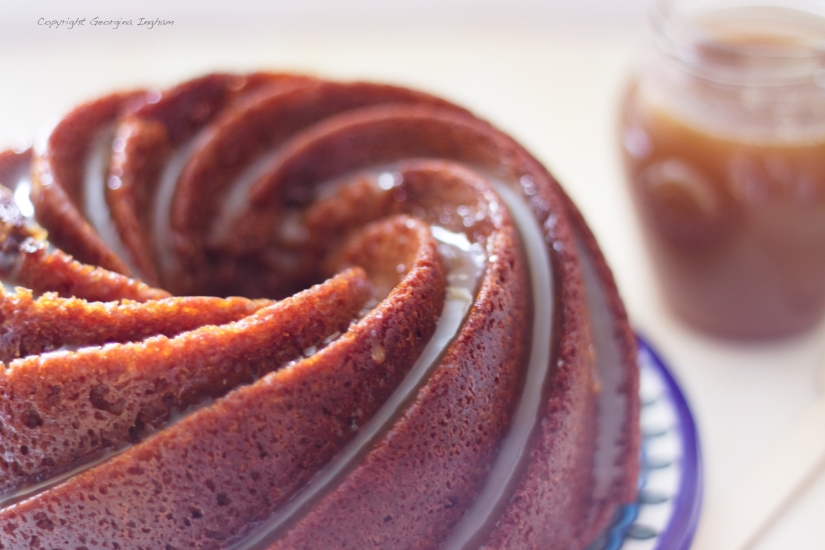 Today, I'm sharing a honey bundt cake that transforms itself into the perfect treat to have with a cup of coffee or tea or even as a delicious no-fuss dessert. Well, the weather is still rather frightful, so what could be better than to do some baking, especially during this lockdown period. Sure, the lockdown has scuppered many a plan. So why not expand your baking repertoire and try my Spiced Honey Bundt Cake with Salted Butterscotch Sauce?
Punchy flavours are what's needed in these cold, dull days of winter. Spices like cinnamon, cloves, and cardamom combine with coffee and honey create a perfectly sweetened honey cake with an incredible texture and delicious flavour. And only gets better the next day! I used mixed spice in this cake, but you could substitute this with pumpkin spice or
Spice Pots
fabulous sweet spice blend.
What's even better is that it is simple to make and takes only around 30 minutes of your time, then you can sit back and relax while the heady aroma of this sweet, spiced cake permeates your kitchen. Doesn't that sound like bliss>
B
undt
cakes
are one of my favourites to bake. Why? Because they look so magnificent, take the plainest of cake mixes and bake in a bundt and you've gone from zero to hero with no effort at all.
Why Use Honey in Cakes?
In baking, honey performs many roles beyond sweetening items. Products that contain honey dry out more slowly and have a reduced tendency to crack, this is a result of honey's hygroscopicity. Honey also provides more uniform baking with a more evenly browned crust at lower temperatures due to the sweetener's fructose content.
Honey also imparts a rich aroma to cakes and improves the texture and mouthfeel. Although the quality of all the ingredients matter, the quality of the honey is really what makes this cake. Buy local honey rather than a mass-produced product if you can.
Never used honey in a cake? You must; the results are fabulous!
Salted Butterscotch Sauce
Sweet and salty is a great combination.
Salted caramel
has continued to be extremely trendy. Unlike many food trends, this one is really proving itself over the test of time. And I love it. Is Butterscotch the same as salted caramel? No, they're similar but not the same. The main difference is in the sugar. Caramel is often made with granulated sugar, while butterscotch is made with brown sugar.
You can of course swap the salted butterscotch for caramel if you like, but the end result will not be the same. The deep, toffee notes in the butterscotch really go well with the sweet spiced cake, not to mention the dark amber glisten of the decorated spiced honey bundt.
Helpful Hints For Cake Baking
1) Make sure to grease and flour your bundt pan properly.
2) Do not over bake your cake as this is guaranteed to result in a dry cake. As all ovens are different, check your cake by conducting a skewer test five minutes before the end of the recommended baking time.
3) Whenever using honey in a recipe, always measure the oil beforehand as this will allow the honey to pour out of the measuring scales easily.
4) I use a 6 cup Heritage Bundt Pan from Nordic Ware but if you don't have a Bundt pan this cake can, of course, be baked in a round, square or loaf pan, but this will require some calculations.
Spiced Honey Bundt Cake with Salted Butterscotch Sauce
Yield: 16
Prep time: 30 Minutes
Cook time: 1 Hour & 30 Minutes
Inactive time: 1 Hour
Total time: 2 Hours
This flavour-packed, spiced honey cake with salted butterscotch sauce is a cake fit for dessert. Add a spoon of softly whipped cream to complete the plate.
Ingredients
Spiced Honey Bundt Cake
500g self raising flour
150g light brown sugar
3 heaped teaspoons mixed or pumpkin spice
2 eggs
250g butter
300ml honey
300ml milk
Salted Butterscotch Sauce
4 tablespoons brown sugar
50g butter
150g golden syrup
150ml double cream
1/4 teaspoon sea salt
Instructions
Spiced Honey Bundt Cake
Preheat the oven to 180c or the equivalent.
Grease and line a 25cm springform cake tin.
Put the dry ingredients into a large bowl and mix to combine.
Melt the butter and honey in a saucepan, then add the milk and leave to cool slightly before adding it to the flour mixture along with the eggs.
Whisk the mixture until smooth and pour into the lined tin.
Bake for 1-1 1/2 hours.
The cake will rise during cooking, but fall slightly on cooling, though you want the middle to remain slightly sticky.
Let the cake cool completely before taking out of the tin and serving with the salted butterscotch sauce.
Salted Butterscotch Sauce
Melt the sugar, butter and syrup in a small pan.
After approximately 5 minutes bubbling away (or when a dark golden caramel has formed) add the cream and whisk well - be aware it will splutter.
When the sauce is smooth, add the salt and remove from the heat.
Serve hot or cold.
Sodium (milligrams)
551.28
Cholesterol (grams)
74.25
Nutritional Info automatically completed from Recipe Generator.
https://www.culinarytravels.co.uk/blog/13012021112741-spiced-honey-cake-with-butterscotch-sauce/
Copyright Georgina Ingham | Culinary Travels
Bundt Cake, Cake, Recipe, Salted Butterscotch Sauce, Spiced Honey, Honey,
Baking, Cake, Recipe, Bundt, Sauce, Sweet Treat, Pudding, Dessert
American
Did you make this recipe? I'd love to know how it turned out! Please let me know by leaving a review below. Or snap a photo and share it on Instagram; be sure to tag me @CulinaryTravels on Instagram and hashtag it #CulinaryTravels
Pin for Later
Keep up to Date with Culinary Travels
Craving more? Make sure you subscribe to my newsletter to avoid missing out on any of my bonus content. I promise not to spam you or bombard your inbox. You can also follow me on my social media, Facebook, Instagram, Pinterest and Twitter. I love to interact with my followers, and I'd truly appreciate it if you were to share any of my content.