Autumnal Spiced Apple Cake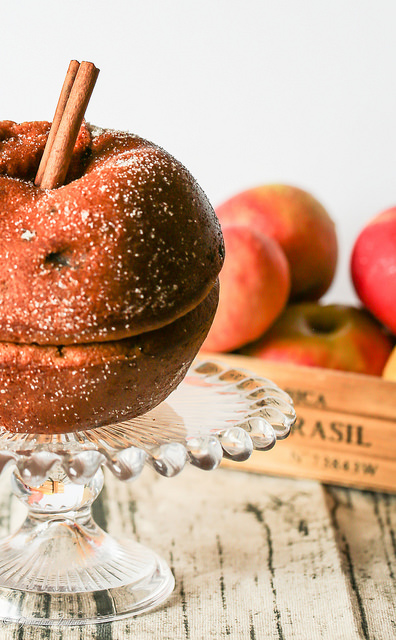 Autumn, 'tis the season for apples. Apple picking, apple crunching, apple pies & crumbles, not to mention the Halloween apple bobbing. Of course, autumn also shouts plums and pears and pumpkins, but they'll just have to wait until another day. Of course where apples lead, cinnamon duly follows. Today is all about autumnal spiced apple cake.
With a Nordic Ware Apple Pan sitting, gathering dust in the pantry, and a great desire to bake it was fate that the two things would collide. I give you my Autumnal Spiced Apple Cake. A bake that takes all the goodness of the somewhat old-fashioned yet delicious stuffed baked apple and transforms it into a cakey pudding.
The result - a light, tender, airy sponge with filled with apples, from my garden no less, Calvados soaked raisins and a little pumpkin pie spice. Topped with a superbly simple salted toffee sauce and we were in dessert heaven.
There's a hefty dose of sour cream in the batter helping keep a slightly sticky crumb, while the cooking apple lends a very necessary tang to the finished bake.
Whether you bake this in a fancy Nordic Ware pan or standard springform cake tin, it is a swoon-worthy pudding. The aromas wafting from the oven as it bakes will imbue your home with the scent of autumn, while the eating of it will inhabit your belly with comfort and warmth. This pudding is a giant hug in cake form.
Omit the glaze at your peril; this pudding is not the time to be watching calories, it is the time for home comfort and indulgence. Serve with ice cream, creme fraiche or double cream. Personally, I do not feel custard would work well here; it would be too sickly sweet.
Autumnal Spiced Apple Cake
A sweet soft sponge cake studded with cubes of apple and raisins, enhanced by gently aromatic sweet spices.
Ingredients
For the Cake:
200g Butter, softened
200g Golden caster sugar
3 Eggs
250g Self raising flour
200g Apples, peeled and cored
100g Raisins
100ml Calvados
300ml Sour cream
2 teaspoons Pumpkin pie spice
1 teaspoon Baking powder
For the Toffee Sauce:
100g Caster sugar
397g Condensed milk
Instructions
For the Cake:
1. Preheat the oven to 180'c.
2. Dice the apples into roughly centimetre cubes and place in a bowl with the raisins. Pour over the Calvados and set aside.
3. Cream together the butter and sugar, until light, pale and fluffy. I use my freestanding food mixer, but you could use an electric hand mixer or even do this by hand.
4. Beat in the eggs, followed by the sour cream.
5. Gently fold in the flour, pumpkin pie spice, and baking powder.
6. Finally, fold in the apples and raisins.
7. Pour the mixture into the prepared tins (approx three-quarters full) and place into the preheated oven.
8. Bake for 30-40 minutes or until golden brown and a cake tester inserted into the centre of the cake comes out clean.
9. Turn the Nordic Ware pan immediately onto a cooling rack. Leave the cake to cool slightly in the tin before turning out for best results.
10. Make the sauce while the cakes finish cooling.
11. Spread a little of the toffee sauce (to act as a 'glue') on the bottom half of the 'apple cake' and place the top half on top carefully. Insert a cinnamon stick to create an apple stem if wished.
12. Pour the toffee sauce over the cake and serve.
1, Put the caster sugar in a small saucepan with one tablespoon of water. Place on the hob, at medium to high heat.
2. Caramelise the sugar and water mixture by letting it bubble, without stirring, for around 3-5 minutes, until dark amber in colour.
3. Turn down the heat to low and pour in the condensed milk. Whisk gently, any solidified toffee that forms in the pan will dissolve if you continue whisking over a low heat.
4. Remove from the heat and pour the sauce into a sterilised jar. Set aside until ready to use.
Details
Yield: 1 Nordic Ware Apple Pan Cake and 1 18cm round Cake
Keep Up To Date with Culinary Travels
Make sure you subscribe to my newsletter to avoid missing out on any of my bonus content. I promise not to spam you or bombard your inbox. You can also follow me on my social media, Facebook, Instagram, Pinterest and Twitter, I love to interact with my followers and I'd truly appreciate if you were to share any of my content too.