Courgetti with Crab & Brown Shrimp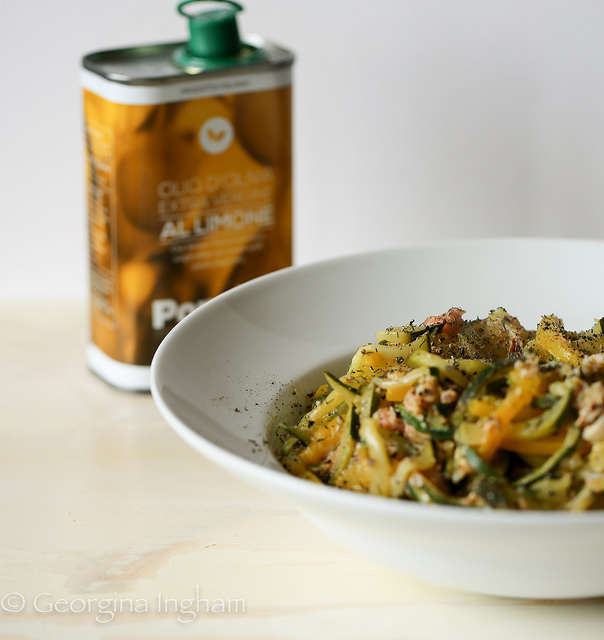 Well, today June 1st is officially the start of summer, and as I look out my kitchen window the rain beats down and I sit huddled in a warm cardigan with my dogs snuggled at my side as I write. So much for 'flaming June'. The joys of a British summer. Thankfully there are other ways of inviting sunshine into our lives, namely through food. Food so fresh and vibrant that it (with any luck) may shame the awful weather into being a little more light and bright.
Courgetti is often billed as the 'new spaghetti'. It isn't. Nor is it some sort of 'clean eating' superfood, in fact the whole notion of 'clean food' is a crock. Thankfully clean eating seems to be loosing hold somewhat and perhaps now we can embrace the notion of 'real food' and by that I mean eating seasonal, fresh, ethical produce, locally produced and sourced where possible, and avoiding the overly processed rubbish that lines many of our supermarket shelves - food that doesn't even resemble it's original parts in any way.
So, why am I giving you a recipe that requires spiralised vegetables? A couple of reasons, one I recently got my hands on a Hemsley + Hemsley spiraliser so of course I had to test it out and two, despite the clean eating connotations spiralising is actually quite a fun way to incorporate more fresh fruit and veg into your diet.
I was impressed by how easy to use the spiraliser was and how easy it is to clean, just a quick wash in soapy water suffices but should you wish it is dishwasher safe on some settings. It's also not too bulky so pretty easy to store away too, though I envisage it will be used fairly frequently here.
My courgetti with crab and brown shrimp is really a twist on the Neapolitan classic linguine al granchio. This is a dish so crammed full of zesty flavours that one could eat and give themselves the pleasant delusion they are sitting on an Italian terrace in the spring sunshine.
The key to this dish, other than using the very freshest of ingredients, is plenty of lemon, both the zest and juice are used. Lemon, as Rachel Roddy points out are "like sunshine in the kitchen, lemons are beautiful and glorious". Lemons bring food alive, they help it to sing, and never is that more the case than with seafood.
I also like to drizzle the finished dish with an extra hit of lemon in the form of Pomora Olio al Limone.
I love Pomora's olive oil and the philosophy behind them "Pomora is an adoption programme. Our goal is to create a community of food lovers and food producers who share an ethical vision. People who care about high quality, wholesome foods of known provenance; people who care about mother earth and treating her with respect; people who care about and look after each other; people, we hope, like you". You will probably have spotted Pomora tins popping up in quite a few of my photos, especially quick snaps on Instagram, so I feel I must point out this is not a sponsored post I just really do love their product.
What's more this is perfect for a quick after work dinner, this delicious meal can be made in just twenty minutes.
Which dishes or ingredients scream "summer" to you – even when the weather seems to be saying the opposite?
Courgette with Crab & Brown Shrimp
by
Ready in around 15 minutes this courgetti is a great quick mid-week meal. Heady with lemon, garlic and herbs this dish screams of light, summer eating.
1 Yellow courgette
200g Fresh crab (white & brown meat)
100g Brown Shrimp
3 tablespoons Olive oil
1 Lemon (zest & juice)
1 clove Garlic
1 teaspoon Fresh dill
1 tablespoon Fresh parsley
50ml White wine
For serving Lemon olive oil
Instructions
1. Use a spiraliser or julienne peeler to make the courgetti.
2. Heat the olive oil over a low heat and add the garlic and lemon zest and heat through until fragrant (about a minute) but be careful not to let them brown or burn.
3. Add the courgetti to the pan, season to taste with salt and black pepper, and toss to coat in the oil.
4. Add the white wine and cook for a couple of minutes, stirring over a low heat.
5. Add the crab, brown shrimp, lemon juice, dill and parsley and stir through, allow to cook for a couple more minutes until the seafood is just warmed through.
6. Serve with plenty of freshly ground black pepper and a generous drizzle of lemon olive oil, or extra-virgin if you prefer.
If you don't own a spiraliser you could use a regular vegetable peeler to slice the courgettes into very wide ribbons and then cut these into strips using a knife.
Details
Prep time:
Cook time:
Total time: