Franco Manca Tray Baked Pizza
05-August-2015
05-August-2015 12:51
in Bread & Yeast
by Georgina Ingham
Franco Manca has been on my ever-growing places to eat wishlist for quite some time. How could it not be given that the world and his wife seems to be chattering about them and posting glorious, hunger inducing photos over on Twitter every time I log on?
I was, of course, delighted when I spotted on Amazon that Giuseppe Mascoli & Bridget Hugo had released the Franco Manca Artisan Pizza to Make Perfectly at Home book. At least now I could have a go at recreating these delectable dishes at home. Sure, that's got to be the next best thing hasn't it?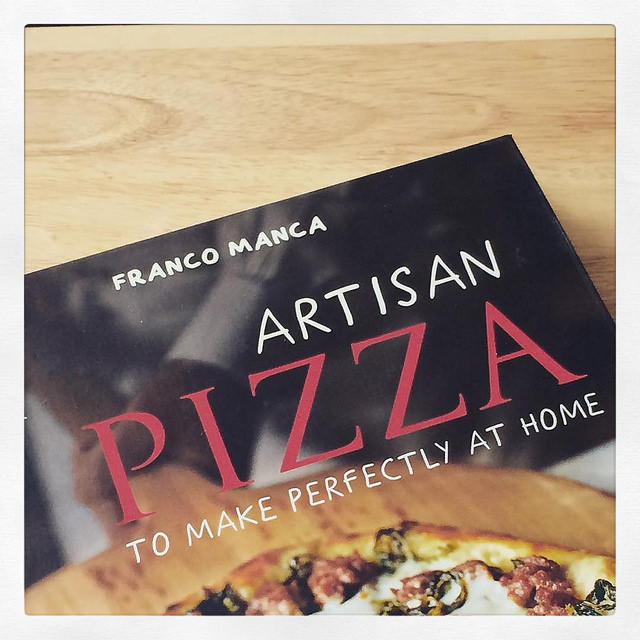 I love pizza. I wanted to eat the pizza on the cover right there and then as soon as I unwrapped the newly delivered book.
Once I'd spent a pleasant few hours devouring this beautifully crafted book, full of age-old techniques, glorious recipes and photography that makes your mouth water I just had to get baking. Wood fired oven not essential, though I wouldn't say no to having one in the garden – if you have the space, Butcher, Baker, Baby show's you how it's done.
I've made many round pizzas but never a tray baked one. I really don't know why having seen, and eaten, plenty of them while holidaying in Italy. So Dough 2 for Tray Baked Pizzas seemed like a logical place to start.
According to Franco Manca the best tray pizzas are made with a very wet and elastic dough, based on a method using a polish (an equal mix of flour and water with added yeast) which is made around 16 hours ahead of the dough. It is this pre ferment that adds both texture and flavour to the finished dough.
As we all know, good pizza is all about that base. So I decided to keep the toppings simple with a rich tomato sauce and some fior di latte (cows milk) mozzarella, which as it's pointed out in the book is always used for cooking in Italy – the fine buffalo mozzarella is placed on top of a pizza after cooking or eaten fresh in salads etc.
As I'd a jar of Brindisa Iberico pork fat (yes don't shout, I know it's Spanish) in the fridge I thought I'd give the salsa lardiata a try. I used a combination of passata and fresh tomoatoes in the sauce, along with a couple of home made sunblush tomaotes.
There's not a lot of instruction as to how thick to leave the pizza base, and I think I left mine a little too deep. Not that it wasn't good – it was delicious but next time I'll use a slightly larger tray and aim for a slightly thinner finish but surely that's part of the joy of cooking: trial and error until you reach your version of perfection?
All it needs alongside is a nice cold glass of Peroni.