Courgetti with Crab & Brown Shrimp
01-June-2016
01-June-2016 13:09
in Fish & Seafood
by Georgina Ingham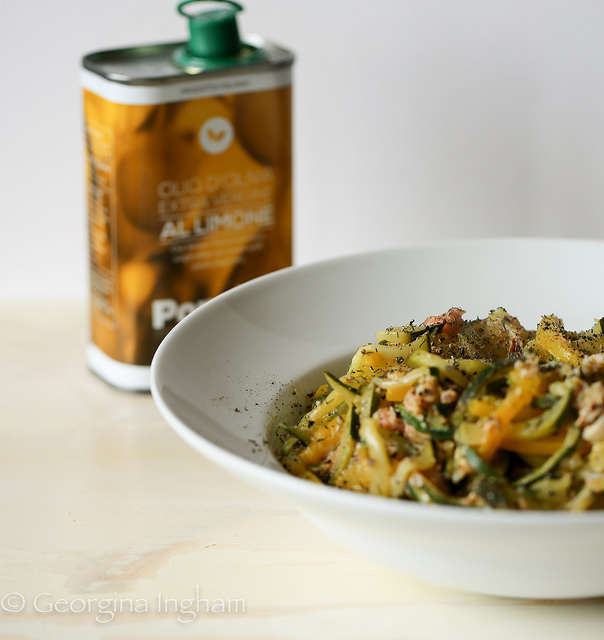 Ready in around 15 minutes this courgetti is a great quick mid-week meal. Heady with lemon, garlic and herbs this dish screams of light, summer eating.
1 Yellow courgette
200g Fresh crab (white & brown meat)
100g Brown Shrimp
3 tablespoons Olive oil
1 Lemon (zest & juice)
1 clove Garlic
1 teaspoon Fresh dill
1 tablespoon Fresh parsley
50ml White wine
For serving Lemon olive oil
Instructions
1. Use a spiraliser or julienne peeler to make the courgetti.
2. Heat the olive oil over a low heat and add the garlic and lemon zest and heat through until fragrant (about a minute) but be careful not to let them brown or burn.
3. Add the courgetti to the pan, season to taste with salt and black pepper, and toss to coat in the oil.
4. Add the white wine and cook for a couple of minutes, stirring over a low heat.
5. Add the crab, brown shrimp, lemon juice, dill and parsley and stir through, allow to cook for a couple more minutes until the seafood is just warmed through.
6. Serve with plenty of freshly ground black pepper and a generous drizzle of lemon olive oil, or extra-virgin if you prefer.
If you don't own a spiraliser you could use a regular vegetable peeler to slice the courgettes into very wide ribbons and then cut these into strips using a knife.
Details
Prep time:
Cook time:
Total time: