Yay it's Daring Bakers time again! Not only was this month different because it's the first savoury challenge I've completed as a Daring Baker but the challenge was also partly gluten free and vegan. It had been hosted by Natalie from Gluten A Go Go, and co-host Shel, of Musings From the Fishbowl neither of which are (I confess) blogs I've looked at before but I don't know how I managed to miss them as they're excellent.
I was sure making something vegan and suitable for a gluten free diet wouldn't be that difficult, especially with the challenge being simply crackers (Lavash to be precise) and dips. How hard could it really be? Very if I didn't want to spend a fortune, which I certainly didn't – I didn't want to stock my pantry with ingredients I'd never use again. That coupled with my having a rotten chest infection at the moment put ultra creativity out the window, so please excuse the fact that the dips are a little unimaginative; in fact just excuse me if I'm making absolutely no sense at all, thank you.
Lavash is common throughout the Middle East and Northern Africa although it goes by different names (obviously) and serves different purposes in different areas/with different foods, an example of this would be the Turkish Yufka which although very similar in the making to lavash is served warm while soft and supple, perfect for wrapping around meat or vegetables.
The lavash was so simple to make, in fact, I couldn't believe how easy it was. I thought I was going to run into problems rolling out the dough, getting it thin enough I mean but it was easy. I used strong bread flour containing gluten as I didn't have very much gluten free flour left and I needed to save that for Murphy's biscuits. The dough was scattered with za'atar spice blend before being baked as I wanted to follow through with Middle Eastern character of the breads, and because I love za'atar it's so fresh and vibrant without being too overpowering. The za'atar recipe comes from Arabic Bites, a fabulous blog run by Meedo & Zainab.
Raw Dough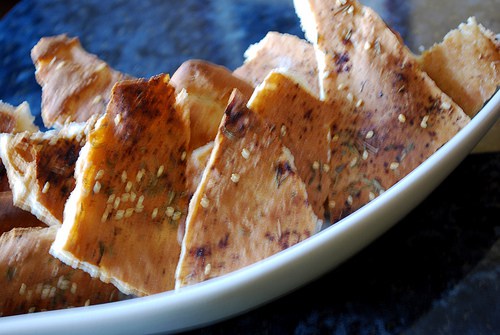 Cooked Shards of Lavash
I served the crackers with three dips – beetroot hummus, regular chickpea hummus and lemon tahina sauce. Chickpea hummus is frequently made here, but to make it into beetroot hummus I simple boiled two beets until tender and blitzed them in the food processor until a rough/smooth texture was achieved before folding through a couple of tablespoons of the hummus mix and some fresh finely chopped coriander. As for the tahina sauce well all that was blend one cup of tahina paste with 1/4 cup of water, 1/4 cup of lemon juice and one clove of grated garlic.
Beetroot Hummus
Chickpea Hummus
Tahina Sauce