Festive Rocky Road
I do realise it's only October, only the season of Autumn and nowhere near the big event that is the "C" word, so I promise I haven't lost the plot completely, but, I have made my first Christmassy sweet treat this year today.
When Nigella Lawson's new book Nigella Christmas: Food, Family, Friends, Festivities
arrived I sat with a steaming cup of tea and read through the book, ooohing and mmming over all the delightful recipes with notepad and pen to hand jotting down all the must makes for the festive season but when it came to the rocky road slice I couldn't wait until December, I had to make it right now; so I did.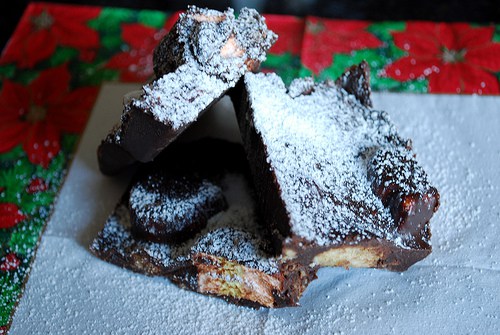 I love rocky road, there's something so enticing about it, it doesn't look much, it's ridiculously easy to make and it's not at all sophisticated no matter how hard it tries sometimes. Maybe it's because this is the kind of sweet I longed to eat as a child yet somehow never did or maybe it's the sense of it being so good for so little effort?
This festive version takes a slightly more elegant turn with it's inclusion of amaretti biscotti instead of the more traditional digestive style biscuits but it still contained the typical dried fruits and nuts. I made a couple of changes to the recipe, including dried chocolate coated cranberries and chocolate coated cherries instead of glace ones and I didn't add nuts at the request of my mum.
Only a small slice is needed as it's rather rich, but very, very good.
So I'm off now to have another small slice of rocky road and another cup of tea, while I read my other new purchases Jamie's Ministry of Food: Anyone Can Learn to Cook in 24 Hours (Jamie Oliver) and Much Depends on Dinner: A Year in the "Telegraph" Kitchen (Daily Telegraph)
(Carolyn Hart). Isn't it just great when the postie delivers some new books?