Dessert - Book Review
Dessert by David Everitt-Matthias (The two-Michelin-starred chef of Cheltenham's Le Champignon Sauvage restaurant) is his second book, one that was always going to be compared to his critically acclaimed debut, Essence.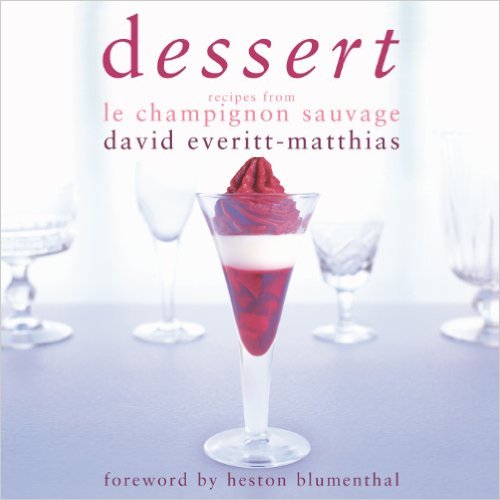 Luckily Dessert is a great success, exploring the world of desserts, and pushing the boundaries, of the dessert chef's art. Each of the book's five main chapters focuses on a specific family of ingredients: Chocolate and nut; Fruit; Vegetable, Roots, pods, seeds and bark; and Wild. There is also a section outlining the essentials and basics from which his craft begins and several pages of Petits fours – the perfect finishing touch to the book and any special meal.
On first glances though (despite Everitt-Matthias having no formal dessert chef training) this book appears to be for the serious chef, someone with the time to spend a whole day or more making a dessert and the whole professional kitchen kit and ensemble to go with that magic notion of time.
After a little further probing of the recipes though it becomes apparent that the ingredients and methods are split into sections so that each recipe can be deconstructed into its component parts, thus allowing individual elements to take centre stage as the whole dessert or to be combined with other elements from recipes throughout the book; the scope for combinations of textures, flavours and levels of complexity is endless.
Given the complexities of many of the dishes it is worth noting that each recipe has an introduction stating the origin of the dish or the idea behind it, some useful guidance on its execution and possibilities for trying other ingredients or flavours.
Those familiar with Everitt-Matthias's first book Essence will be aware of his obsession with all things wild. This 'obsession' gives his savoury cooking a particularly feral overtone and many of his recipes in Dessert follow a similar idiom. His marrying of unusual combinations of flavours, or unusual ingredients (such as Jerusalem artichoke cheesecake with bergamot glaze and peanut ice cream), does not come across as an attempt at novelty style fare but more a result of progressive cooking with a natural interest and appreciation of wild and seasonal ingredients.
The book is simply laid out. There is guidance on how to get the best out of it and notes on key and particular ingredients. There is a very useful section on suppliers and given the nature of his cooking, an all-important glossary at the back.
No expense has been spared in the publication of Dessert, which is surely just as it should be, when the author is so esteemed. It's printed on premium quality paper, making it joyous to handle. The text is set out so that there's plenty of white space around it, and the font is a good size, making the recipes easy to read. The high production standards don't stop there, either – the photography is both exquisite and inspiring; to the point that the book almost becomes tactile, you want to reach out and touch the plates of food.
Whilst I would say this book isn't for the novice cook; sure some of the techniques and length of preparation could scare them away from the kitchen forever, for the more daring and advanced dessert lovers, or those with a sweet tooth, out there this book would be a dream. On second thoughts if you haven't got a sweet tooth go to your dentist and get him to fit one, whatever it takes – this book is too good to miss out on.
It is not surprising that Chef David Everitt-Matthias has been awarded Best UK Cookbook at the World Gourmand Cookbook Awards 2009 for his Dessert cookbook. Dessert is a book of astonishing originality, destined to become a classic
With thanks to Absolute Press for the Review Copy.
Hardcover: 160 pages
Publisher: Absolute Press (20 Mar 2009)
Language English
ISBN-10: 1906650039
ISBN-13: 978-1906650032
RRP £25.00