Quadruple Chocolate Cake
Strength is the capacity to break a chocolate bar into four pieces with your bare hands – and then eat just one of the pieces.

(Judith Viorst)
Nigella Lawson's now somewhat famous Quadruple Chocolate Cake is one of my all time favourites, both for the baking and the eating of it. Baking wise, it couldn't be simpler as a food processor does all the work and as for the eating, well it is divine, but, was there room for improvement? That was my challenge.
Quadruple Chocolate? Chocolate chunks? Cocoa? Chocolate syrup ? and Chocolate sweeties?
Note though that the cake contains few ingredients, and so the quality of each ingredient is paramount to the final product – think top quality cocoa (I like Valrhona), top notch chocolate and if possible unrefined sugar.
This cake has an amazing ability to have a light sponge texture but at the same time retain a somewhat fudgy nature because of its post bake drenching with thick cocoa syrup. Quite often I make double the quantity of the syrup, especially if I'm not using a loaf pan, trust me this cake can take it.
In an effort to make this sumptuous dark beauty even more special I swapped the recommended dark chocolate for Green & Blacks Maya Gold dark chocolate – traditionally, the Maya Indians in southern Belize flavoured their cocoa with spices and in this bar of chocolate Green & Black's aim to recapture that by blending rich, dark chocolate with a subtle hint of orange that is perfectly balanced by the warmth of cinnamon, nutmeg and a hint of vanilla.
Did my experiment pay off? Well it did, kind of. Whilst the warming scents of orange and cinnamon permeated the kitchen as the cake cooked and lent an elegance to the finished flavour, it just wasn't strong enough in cocoa depth. I'm putting this down to the fact that Maya Gold is only 55% cocoa solids and in view of this would recommend you up the quantity of the cocoa powder by around another 50g (reducing the flour appropriately) if you prefer a stronger, more bitter edged, flavour.
Needless to say, this is an extremely rich cake. A thin slice would be enough for even the most hardcore of chocoholics.
The cake has great keeping qualities due to its incredible moistness; that is to say it keeps well providing you have the will power to resist taking that small slice every you pass the cake stand. Seriously though, try bake it a day before you want to eat it (difficult, difficult, difficult,) but the reward is huge – ultra fudgy, rich cake.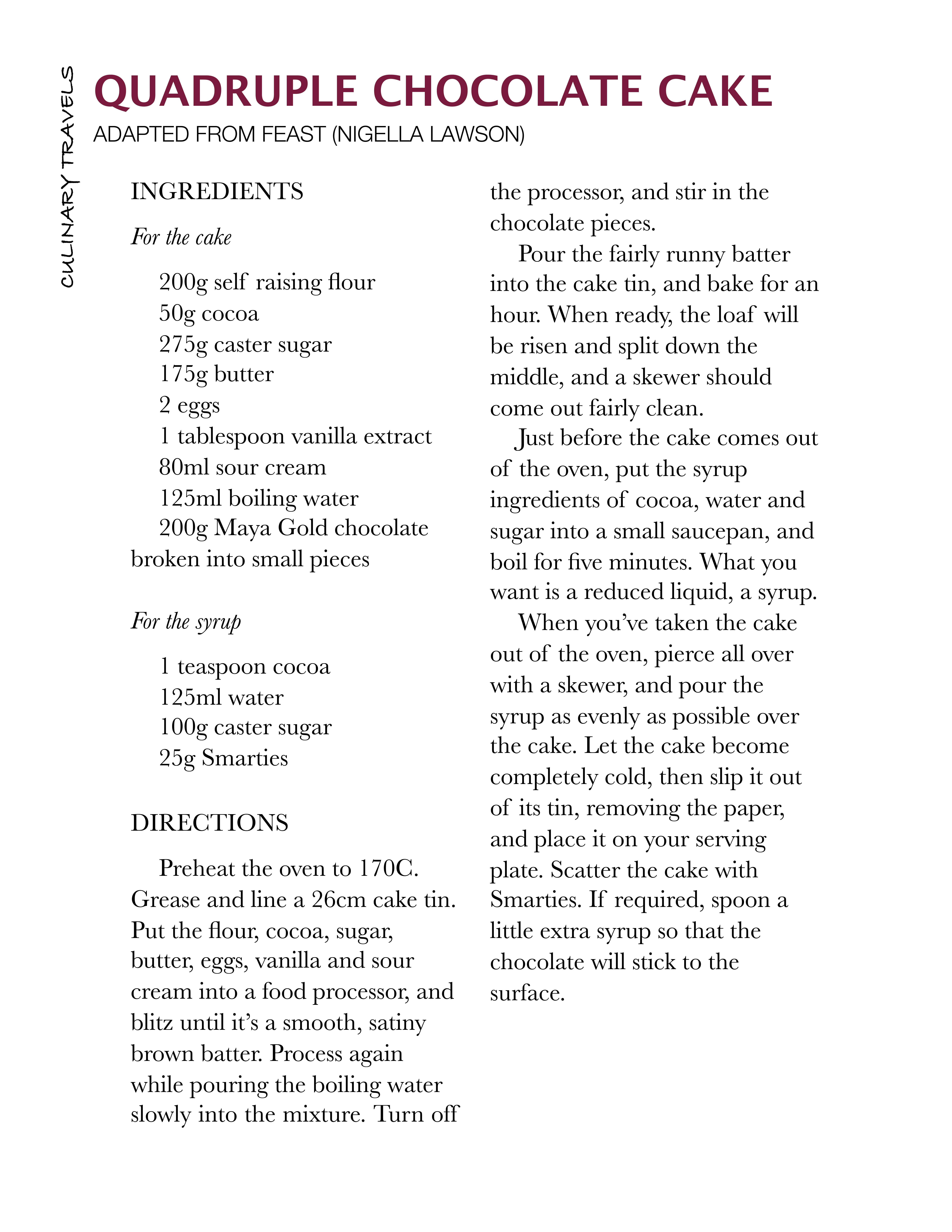 All I really need is love, but a little chocolate now and then doesn't hurt! Lucy Van Pelt

(in Peanuts, by Charles M. Schulz)