Ginger Spiced Sweet Treats - A Round Up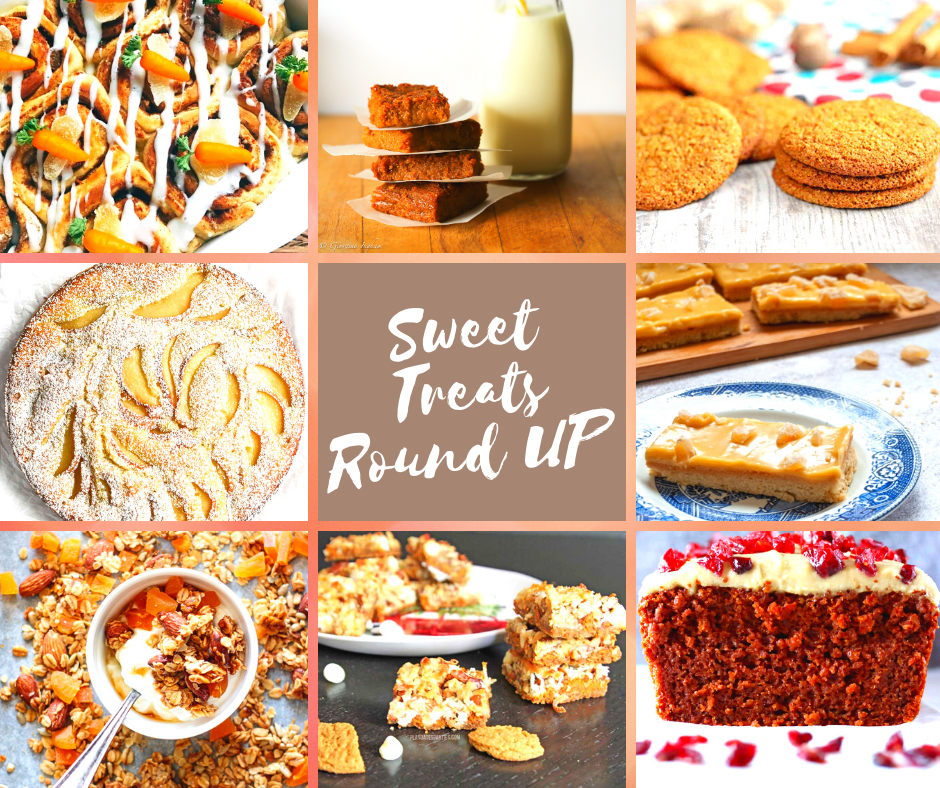 Whatever the time of year there's a ginger-spiced sweet treat to suit. Here, I and fellow food bloggers share a few of our favourites. Have I missed yours out? Leave a comment below, don't forget to leave a link to your own blog too if applicable.
Sticky Gingerbread Tray Bake - This Sticky Gingerbread is relaxingly simple to prepare, good to eat at any hour - is it the perfect treat for having with a coffee whilst you lose yourself in a good book on a rainy afternoon. Plus it keeps fabulously fresh for a few days. It can be frozen to no detriment which is always a bonus.
Keto Ginger Cookies - This Keto Ginger Cookie Recipe gives you all the flavour of ginger snap cookies without all the carbs. They're oh so delicious and take less than 30 minutes to make!
Easy Ginger Cake - Easy vegan ginger cake made entirely from store cupboard ingredients. Simply throw all the ingredients into a bowl and mix. Easily gluten-free too.
Gluten-Free Honey Gingerbread Cake - This Honey Gingerbread Cake from Raia's Recipes is perfectly spiced with deep tones of ginger and molasses. It's a wonderful holiday treat made healthier!
Ginger Layer Cake with Poached Pears and Cream Cheese Frosting - Embrace autumn with this gorgeously spiced Ginger Layer Cake topped with wine-poached pears and cream cheese frosting. A show-stopping celebration cake perfect for Thanksgiving or Christmas.
Rhubarb & Ginger Cake - This Rhubarb and Ginger Cake has a toasted almond topping, uses crystallised ginger and is utterly delicious.
Gingerbread Cupcakes with Vanilla Bean Frosting - Gingerbread is a flavour synonymous with Christmas Time so why not take this holiday favourite to the next level with these Gingerbread Cupcakes with Vanilla Frosting! Tender cupcakes made with the rich flavour of molasses and brimming with holiday spice!
Stem Ginger Oatmeal Cookies - Scrumptious, crisp and crunchy cookies with the occasional chewy nugget of warming stem ginger to catch you by surprise. Perfect for dunking in a steaming mug of coffee or hot chocolate
Gluten-Free Gingerbread Loaf Cake - This Gluten-Free Vegan Gingerbread Loaf Cake is perfectly spiced, fragrant, and covered in a rich "cream cheese" frosting.
Spiced Ginger Cookies - Sweet, soft, chewy and full of warming spices, these spiced ginger cookies are a must-try for ginger lovers! They are perfect for Holiday baking.
Ginger Crunch Bars - These ginger crunch bars are delicious but be warned – they are addictive! A buttery, crunchy shortbread base with a fudgy, sweet ginger topping
Stem Ginger Vegan Ice Cream - It's hard to believe this deliciously smooth and luxurious stem ginger ice-cream is dairy-free, but it's true! Made with luscious coconut milk and preserved ginger in syrup, it's a sophisticated dessert and uses only 4 simple ingredients.
Fresh Ginger and Pear Cake - This buttery breakfast cake is lightly spiced with fresh ginger and cardamom and topped with fresh juicy pears.
Triple Ginger Snap Cookies - The classic chewy ginger cookie with 3 types of ginger!
Pineapple, Orange and Ginger Popsicles - These fresh, firey pineapple, orange and ginger popsicles sing of sunshine and summer days.
Gingerbread Magic Bars - Gingerbread Magic Bars are a fun new take on a classic easy treat. They're bursting with so much flavour, you won't be able to put them down.
Gingerbread Cookie Bars - These Gingerbread Cookie Bars are chewy, sweet and taste just like gingerbread! These cookie bars make the best treat!
Fresh Ginger Root Cake - You had better like ginger for this recipe…I use an entire cup of freshly grated ginger, and that gingery spiciness is just spectacular!
No-Bake Mango Ginger Cheesecake - If you're a mango lover, you must try this straightforward and delicious No-Bake Mango Ginger Cheesecake very soon!
Ginger Apricot Spring Granola - This granola has everything you expect from spring: it's warm, smells sweet and will give you the power you need to start your days.
Triple Ginger Layer Cake - This triple ginger layer cake is an easy yet impressive ginger lover's dream. The heady flavour of ginger is infused throughout the layers of cake, the icing, and the decoration! Perfect for a flavour-packed celebration cake.
Yorkshire Parkin - This Yorkshire Parkin recipe is a traditional British dessert. It's a sticky oat ginger cake that's simple to make. Plus, it gets even better if you can leave it a few days to get even stickier!
Raspberry Gingerbread Pavlova - So it would make sense ginger could spice up this classic. Gingered Raspberry Pavlova might seem a little fussy, but it is really pretty simple to make and once you get all the components together, you have an impressive dessert.
Ginger Molasses Cookies and Brown Sugar Bourbon Ice Cream Sandwiches - These Ginger Molasses Cookies and Brown Sugar Bourbon Homemade Ice Cream Sandwiches are soft and chewy ginger molasses cookies stuffed with creamy decadent brown sugar bourbon ice cream.
Isabella's Ginger and Oat Cookies - These simple ginger and oat cookies are really easy to make and totally delicious. The recipe hails from a fellow food blogger who left us far too young, but I'm so glad her recipes live on.
Holiday Cranberry Ginger Cobbler - This delicious Cranberry Ginger Cobbler is packed with a spiced fruit flavour for a fun dessert.
German Christmas Cookies: Lebkuchen - German Christmas Cookies: Lebkuchen. Authentic recipe of the most popular German cookies: spicy, soft and incredibly flavorful. Give them as gifts to your family and friends! Spice mix recipe provided.
Ginger Carrot Cake Cinnamon Rolls - These Ginger Carrot Cake Cinnamon Rolls are perfect for breakfast or dessert! The dough is made with carrots and spices, and everything is packed with ginger flavour.
Old-Fashioned Sourdough Gingerbread - Sourdough Gingerbread is a rich cake reminiscent of days gone by. Plus, no one will guess you used sourdough starter discard (unless you tell them!).
Steamed Ginger Egg Custard - Steamed ginger egg custard is a very traditional Chinese dessert using only 4 ingredients and cooked in a steamer.
Cornish Fairings - Sweet and spicy ginger biscuits with the perfect amount of chewiness. Known locally in Cornwall as Cornish Fairings.
What will you be baking first?