Bacton & Surrounds, Norfolk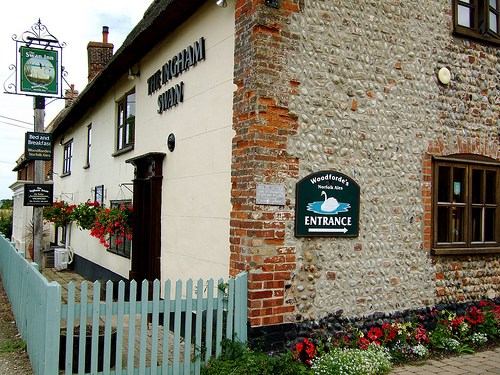 Yesterday we arrived home from a lovely week in Bacton, North Norfolk; a beautiful and peaceful part of the country.
We rented a cottage very near the beach and close to necessary amenities, although the cottage wasn't quite up to standard, it suited our needs. The garden was quite big, which certainly pleased young Murphy (as regular readers will know our 11-month-old Irish Setter), plenty of room for running around and playing with his toys, as well as looking angelic.
We were glad though that we had the car, it was so necessary to get out and about as the village we were based in had very little going on.
In the close vicinity, we had lots of lovely little villages, with farm shops, delicatessens and great pubs, plus lovely beaches; the majority of which were dog friendly.
Cromer was also local, although to be honest, we found it a little disappointing. A few quaint streets and buildings and lots of fish & chip shops but little else. I did find one great little shop though; All Things Cake, an Aladdin's cave of goodies for baking, all too easy to spend a fortune in there let me tell you. The owner also promises they'll be online in the very near future so keep your eyes open, I certainly will be.
Many a morning was spent running on the beach with Murphy; well, okay, okay, I spent most of the time walking while Murphy ran. It's hard to be so energetic in the early hours of the day, and, by that I mean 6am.
The evenings were mainly pretty quiet, consisting of leisurely meals of fresh seafood from The Lobster Pot of Mundesley or fish & chips from the local 'chippy'. I also stocked up on samphire while there too, now I just need to work out what to do with it; do you have any suggestions?
For our last night, however, we went to The Swan Inn at Ingham, I mean you have to follow the first rule of travel, don't you? Visit a pub if it's got your name in and this had. The atmosphere was great and the food delightful, combined with good company and having my faithful friend Murph with me it couldn't get any better.
Mundesley had another hidden little treasure apart from The Lobster Pot, Country Pickings, a fabulous greengrocer come delicatessen, selling a vast array of locally produced jams, chutneys, honey and other preserves. After a long conversation with the owner, I think I've convinced them to join the online group of food stores too, so I'll be keeping a close watch.
We found a lovely little pub called The Hill House in Happisburgh, a good place for an evening drink or light pub lunch, whose claim to fame is that Arther Conan-Doyle frequented there.
Happisburgh also has a great farm shop/butchers near it where we bought some lovely beer and maple-cured bacon, local sausages and some beef gluten-free ones for Murphy. We also got some gorgeous pick your own berries near there too, including, raspberries, blackberries, gooseberries and tayberries which although I've read a lot about have never had the chance to eat, needless to say, I came home well stocked up with them.
All in all a great relaxing break, with plenty of foodie reminders of the holiday. The pantry, fridge and freezer are well stocked with seafood, chutney, jam, fruits to name but a few and there are many culinary adventures to be had with it all. As for the end of a vacation, well it's back to earth with a bump, especially on my return to work, ah I suppose it has to end sometime.