Rose Chai Cookies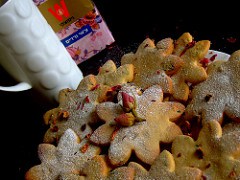 A cup if rose chai and a spiced cookie – how does that sound for a nice little snack? Well it's exactly what I'm munching on now, having been inspired by the lovely Brenda earlier today by her rose and lavender cookies.
I followed her recipe with only one alteration – I used replaced some of the plain flour with fine polenta to give a little more crunch and texture to the finished cookie.
As did Brenda, I used a green tea blend sent by the lovely Carlotta from Italy. I chose a blend containing rose, orange and cardamom, they are so delicately flavoured but oh so moreish. The kind of biscuit that you get a funny look for making but then everyone fights over the last one. I definite keeper of a recipe.
The perfect partner to a lovely cup of rose chai, sent from Israel by the wonderful Francesca, which I served in a lovely cup from the fabulous Rita from Scotland.
All in all a very global affair.